India's consumption has been displaying steady growth over the last two decades - capturing the imagination of investors across the world. The entry into the new decade was expected to demonstrate a continuation of this narrative. However, the advent of COVID-19 has slightly altered the course of this story. Even after a short bump in the graph in 2020, the consumption pattern as well as the retail market of the country is on pre-COVID growth track, the pandemic has introduced a delay of 1-2 years in the trajectory.
From managing crisis to leading

Retailers need to evaluate pivotal changes in their consumer value proposition and decide positioning options basis it.


Responsible Retail - Conscious play: Focus on mainstream sustainability, localised sourcing, fair trade and align with consumer values.


Alternate Retail – Non-traditional offerings: Focus on new business models, e.g subscriptions, renting of products, or solutions-based retailing.


Personal Retail - Individual is important: Focus on individual level personalisation, customisation of product/service.


Spectacular Retail – Experience led retail: Focus on retailtainment (entertainment, gamification, experiences and/or additional services) to engage and involve consumers in shopping experience.


Omnichannel Retail - Seamless Channels: Focus on creating uniform, smooth and integrated omnichannel experience across both instore and online channels.


Convenient Retail - Quick and Easy: Focus on ultra-convenience in in-store experience, delivery and/or online shopping journey; focus on reaching the customer through small stores in urban locations.


Value Retail – India Values Value: Focus on low pricing.
Also read: The Experience Project
Business Model Decisions

It is equally imperative for retail organisations to design the operating model with chosen direction of proposition. They need to:
Adapt store network for safety and omnichannel excellence.
Align offer through merchandising, SKU optimisation and investing in private labels.
Adapt pricing and promotions to reflect new customer needs and expectations.
Innovating purchase journeys through click-and-collect, curb side pickup, store layout redesign.
Supply chain agility through planning analytics and strategic partnerships.
Optimise customer acquisition cost by digital personalisation, channel allocation and value communication.
Develop the digital capabilities to execute all actions successfully.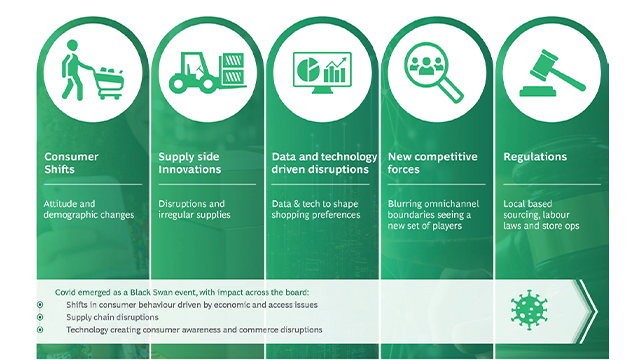 The pandemic has had a distinct impact on forces that shape the retail landscape
New Game Plan
Retail brands are developing new strategies to ace the game across the world.


Adapting network: UK supermarket chain explored fluid formats to increase availability.


Initiated several formats in different geographies.
Click-and-collect, express delivery through app, dark stores with increased timings were some of the changes.

Leading US mobile brand transforming stores to offer seamless experience.
20+ express stores launched across the country.
Other stores designated to curb side pickup option


Defining pricing and promotion: Korean mobile brand drove sales by offering discounts through partnership.


Aligning offering: Leading US supermarket launched private labels for higher revenue.
Witnessed high revenue growth for its private label products in Q2, 2020.
Launched 50+ new private label products by end of 2020.


Innovating purchase journeys: US food retailer offering safe journeys to grab market share.
Increased curb side pickup to 3X post COVID.
Offering it across 150 stores now, covering > 30% of total US stores.

Leading Indian Quick Service Restaurant (QSR) building omnichannel capabilities to ensure sales.
Offered takeaway and pick-and-drive on app.
Increased online ordering as % of total delivery by 11% year on year.
Ensuring supply chain agility: Italy supermarket chain leveraged partnership to ensure delivery.
Reported a 10-fold increase in sales via its partnership with logistics start-up, Glovo
Optimising customer acquisition cost: Chinese cosmetics company leveraged online platforms for customer acquisition.
Trained store employees to host livestreams
Increased sales by 45% versus the same period in 2019.
Long-term view
In the long term, locally adapted operating model decisions will be key to market leadership.


High Tech | Data driven play: Focus on automation; leverage Artificial Intelligence (AI), predictive tech, digital supply chain, voice tech, digital payments.


Many Indias | Regional play: Focus on customising operating model based on needs, preferences of different regions across India to better penetrate regional markets.


Alliances | Collaboration is key: Focus on creating partnerships/ alliances with other players, including unorganised retail to create one's own ecosystem and to penetrate the market, economically.


Gig | Flexible labour: Focus on leveraging gig platforms – flexible labour (day of week, time of day, location).


Multichannel | Be present everywhere: Focus on presence in both physical stores and online channels to serve all types of customer bases.


No frill | Low Cost Ops: Focus on providing bare minimum shopping experience and keeping costs at a minimum; can potentially leverage gig economy.


Process | Recovery scenario planning: Due to the uncertainty post-COVID, only one definitive recovery plan may prove insufficient. A scenario-based recovery plan and the strategies for each of the scenarios is needed for any disruptions in the future.


People | Agile and resilient organisation: Build innovative organisation and creative collaboration models with dedicated, cross-disciplinary teams to respond to problems in an agile way.


Technology | Big bets in Technology: Technology is going to drive purchase journeys going ahead. Retailers need to focus on an end-to-end digital presence from product discovery to post-purchase.
Also read: The road ahead for retail businesses
To explore business opportunities, link with us by clicking on the 'Invite' button on our eBiz Card.
Image source: shutterstock.com
Article source: STOrai Magazine. Adapted from RAI – BCG Report 'Retail Resurgence in India: Leading in The New Reality'
Disclaimer: The views and opinions expressed in this article are those of the author and do not necessarily reflect the views, official policy or position of GlobalLinker.