India is witnessing a V-shaped recovery, coming back from a 23.9 percent contraction in GDP in Q1 and a 7.5 percent decline in Q2, to neutral-to-positive growth in Q3. It is showing a strong recovery across almost every key economic indicator. As a result of the rebound, India is expected to be one of the fastest-growing economies in the next two years.


Unlike previous economic crises, COVID-19 had affected both demand and supply and led to a complete shutdown for 2-3 months. The unprecedented nature of shock, the prolonged unplanned lockdowns, the associated uncertainty about the length and severity of the pandemic, and the increased spending on essential items (such as food and other non-durable consumer products), as families hoarded these in the early stages, caused imbalance across the entire value chain. The situation was especially bad for some sectors, such as offline non-essential retail, hospitality, food services, and travel, which completely shut down for many months.


In response to this, the government announced various structural reforms to support production and accelerate demand, and various fiscal measures to try and boost the economic recovery.


Unlike previous economic crises, COVID-19 had affected both demand and supply. The unprecedented nature of shock, the prolonged unplanned lockdowns, the associated uncertainty about the length and severity of the pandemic, and the increased spending on essential items caused imbalance across the entire value chain.
The re-opening of the economy presents large opportunities for retail players that have managed to survive the crisis. We are likely to see an increase in consolidation activities, with larger established players becoming larger and many small players closing shops. The rebound in 2021 and 2022, along with India's strong expected GDP growth of 10−11 per cent (expected to be higher than both the US and China because of the increasing number of Indian households, rising consumer spending, rapidly growing rural consumption, etc.), is being further supported by rising mobile and internet penetration.


The lockdown has also pushed most brands/companies to review their business models to invest in cloud-based technologies. Artificial Intelligence (AI) and Blockchain-enabled digital procurement, Augmented Reality (AR), and Virtual Reality (VR) have helped such brands to understand and enhance the shoppers experience through a combination of in-depth consumer knowledge, channels, product positioning, and technology application. This has also enabled support towards analytics driven decision-making.
The pandemic has also pushed most brands/companies to review their business models to invest in cloud-based technologies, AI and blockchain-enabled digital procurement, AR, and VR to enhance consumer and shopper experience, and analytics driven decision-making.
The preferences of consumers are rapidly evolving and they are more aware of different brands, which can be attributed to lifestyle changes, better access to different types of data, technological advances, work from home scenarios etc. They are in fact more tech-savvy and want everything at the click of a button, which is further driving e-commerce and m-commerce across categories.


Given the evolution of consumer perspectives, needs and demands and the disruptions caused due to the pandemic, retailers and brands need to reinvent their marketing strategies and think of innovative ways to know their consumers better.
Economy & Retail
The Indian economy contracted by 23.9 percent in Q1 of FY 2021 due to the pandemic's impact as the country implemented a nation-wide lockdown. However, as the country opened up since 'the unlock', the economy bounced back, with pent-up and festive season demand narrowing the contraction to 7.5 per cent in Q2 of FY 2021. The country's GDP is expected to rebound to double digits in FY 2022.


The government has announced an expansionary budget to boost the country's growth. The union budget has redefined the Indian economy's growth trajectory in the post pandemic world, with a push for infrastructure and healthcare spending. The government expects real GDP to grow at 10-10.5 per cent in FY 2022.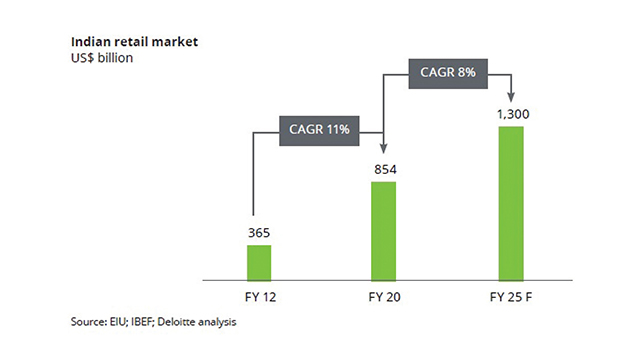 Per the World Economic Outlook by International Monetary Fund (IMF), the global economy is expected to contract by 3.5 percent in 2020. It is projected to grow at 5.5 percent in 2021 and 4.2 percent in 2022.


This GDP growth is expected to lead to growth of the manufacturing, construction, and services industries. This, coupled with more opportunities for investment and business, favourable macroeconomic indicators, and rapid growth in consumption, will drive the consumer and retail markets. India is Asia's third-largest retail market and the world's fourth largest after the US, China, and Japan.


Key Growth Drivers


Urban (Tier 2, 3, and 4 cities) growth
India is proceeding towards higher urbanisation. However, future pace of urbanisation will depend on the country's economic growth. India has consistently been adding to the number of towns and cities, along with many more metropolitan cities. This is expected to continue with the addition of more urban settlements.


Oxford Economics' global cities report estimates that 17 of the 20 fastest-growing cities in the world between 2019 and 2035 will be from India.
Indian cities are likely to contribute 70% to the country's GDP by 2030.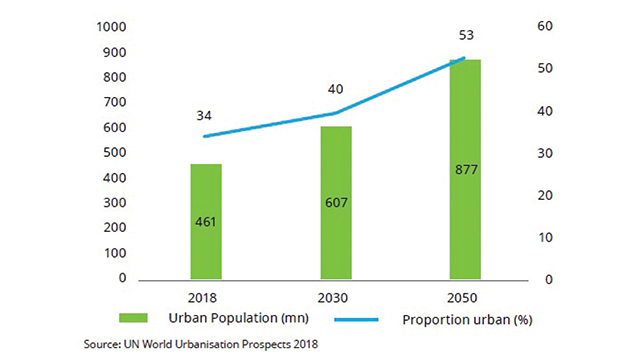 Between 2018 and 2050, urban areas in India are expected to add 416 million people.
Urbanisation will spread across Indian states with tier II and III cities such as Lucknow, Jaipur, Chandigarh, Kochi, Indore, Patna, Nagpur, and Bhubaneshwar being the next retail destinations. Retailers and private equity firms have started taking more interest in the Indian retail sector; they are investing in high-end retail malls in tier 2 and 3 cities.
Increasing number of households
The number of households is increasing, with a rise in the number of nuclear families, leading to a higher demand.
More households imply the potential for increased consumption, with greater spending capacity.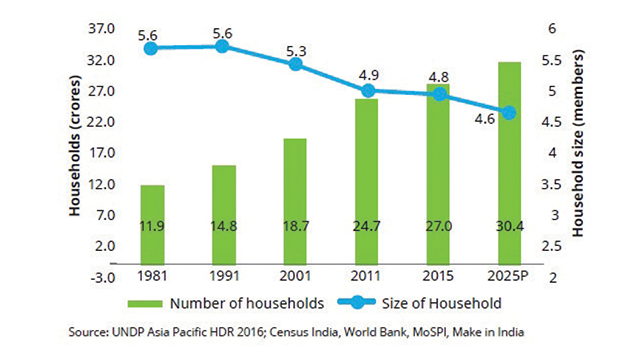 Increasing number of households with reducing household size to increase demand
Rising per capita income
Steady growth in household earnings is expected to further drive consumption. India's burgeoning middle-income households are likely to drive an increase in discretionary spends and create a shift in consumption patterns.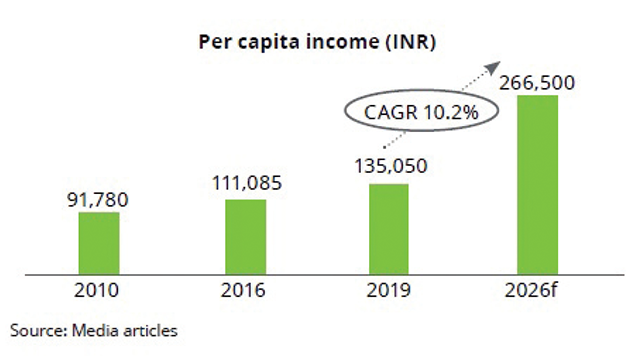 Per capita income is expected to increase at a CAGR of 10.2 percent to reach INR 2,66,500 by 2025
Increasing disposable income
Consumers' discretionary spending is also increasing with rising disposable income. Consumers are more conscious of brands and their association to their social status, leading to greater spending.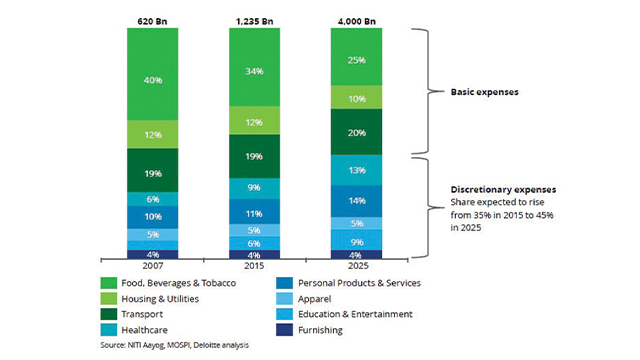 Increase in disposable income is resulting in higher consumption, leading to a rising proportion of discretionary spend

Customer's buying journey
Present: Online shopping has made it easier for consumers to research about a product, engage in online activities while shopping and make purchase decisions based on social media recommendations. Brands also get the benefit of engaging with their consumer, even post purchase, through consumer loyalty programmes, discounts and offers.


Future: A consumer will have access to AI and experiential branding. Brands will seek out consumers, who will be able to purchase products through stores on wheels and 24/7 robot-manned stores. Customers would desire zero-error and the best services and also expect Service Level Agreements (SLAs), offering a guaranteed product uptime. Brand loyalty will be customer-centric and transient.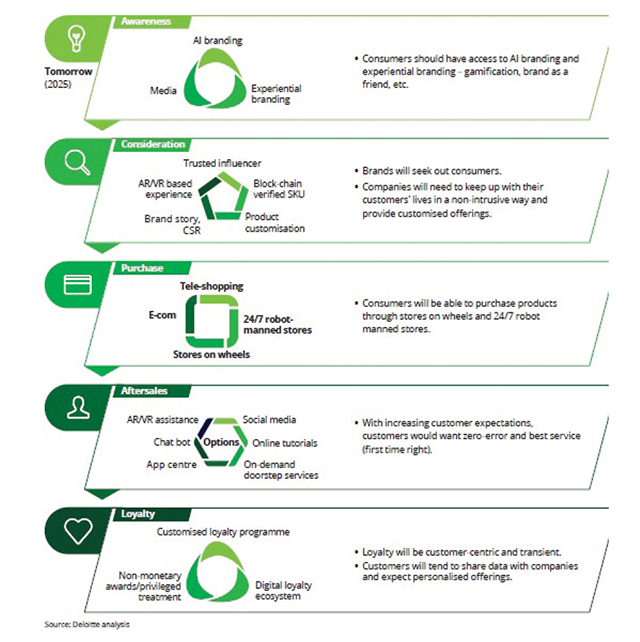 Product uniqueness, pricing transparency, and prompt service will be key in the future

Diverse generation, more expansion

The modern consumer market, which also includes millennials and generation Z, is diverse. It is expected to witness six generations of consumers by 2025.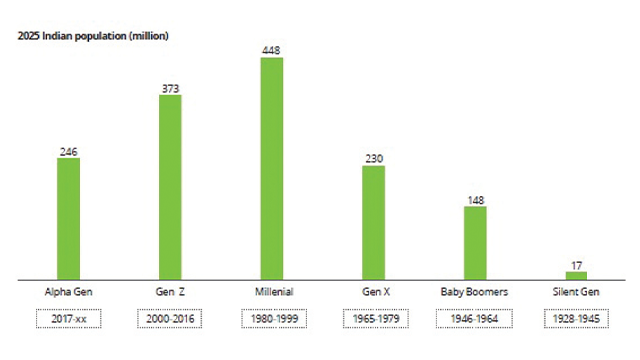 eCommerce as an influencer
Total retail sales in FY 2020 reached about US$ 854 billion, wherein eCommerce retail sales constituted nearly US$ 50 billion. The total retail and eCommerce sales are expected to increase to US$ 1,300 billion and US$ 84 billion by FY 2025, respectively.

The eCommerce market's high growth is majorly attributable to factors, including:

Increasing internet penetration: The number of internet users in India is expected to increase from 688 million in Jan 2020 to more than 1 billion by 2025, taking the internet penetartion from 50 percent in early 2020 to 70 percent in 2025. Approximately, 75 percent of the new internet users are expected to come from rural regions.


Rising number of online shoppers: The number of online shoppers is expected to increase from ~100 million in FY 2020 to ~350 million by FY 2025.


Increasing use of smartphones: Smartphone users in India are expected to increase from 502 million in 2019 to about 820 million by 2022.
The number of online shoppers is expected to increase from ~100 million in FY 2020 to ~350 million by FY 2025. Smartphone users in India are expected to increase from 502 million in 2019 to about 820 million by 2022.
Also read: A step-by step-guide to creating your own eStore with GlobalLinker
Future use of technology / digital
Internet of things (IoT): Organisations across industries have started using IoT to understand their customers, operate more efficiently, and improve their decision-making abilities. India's IoT market is expected to grow in the next few years. This growth is driven by government initiatives, increasing acceptance of smart applications, and rising internet penetration across the country. The '100 smart cities' project is one such Government initiative.


AR/VR: According to the India Mobile Congress (IMC) 2018 report, the size of the Augmented Reality (AR) and Virtual Reality (VR) market in India is expected to increase from US$ 52.7 million to US$ 234.4 million by 2023. AR-VR players improve availability of skilled talent, using both formal and vocational education.


Artificial Intelligence and Machine Learning: Applications such as improving user experience by providing personalised suggestions, preference-based browsing and image-based product searches, etc., have evolved because of advancement in AI and its use in the retail sector. AI has the potential to disrupt the entire shopping journey of consumers, positively.


Digital: Digital will be a main disruptor in the retail market as it is enabling retailers to explore news models to stay relevant and ahead of the curve. It is also changing the way consumers research and buy products. Now they browse products, understand their features, research on different websites, compare prices, and purchase through mobile phones, computers, and other devices anytime.
Video & Voice - The era of vernacular
The major drivers of vernacular content, apart from increased internet and smartphone penetration, are digitisation of rural India and a vast majority of Indian population speaking local languages (only ~15 percent of the Indian population speaks English). At present, India has nearly 200 million15 local language internet users and this number is expected to go up to 400-500 million users in 2021. About 75 percent of the internet users prefer content in local languages over English. As the content and communications are in English, brands miss out a huge chunk of potential buyers. These buyers will connect better with the brand if communications are in local language. About 41 per cent of the local language internet users said that limited content in local language remains a challenge. Four languages − Telugu, Marathi, Tamil, and Bengali – are expected to account for about 30 per cent of non-English internet users, whereas Hindi is expected to be the most used language.


Online retailers see this emerging segment as a new growth driver. The number of e-tailing customers who use Indian languages rather than English are expected to reach 165 million by 2021 from 42 million in 2016.


Winning with Consumers
Winning consumer loyalty in the digital space during an ever evolving and dynamic business age, is a big challenge. Consumers, especially millennials and generation Z, will patronise and support those companies that align with their values


Modern retailers need to make concerted efforts to attract and retain modern consumers who are conscious, demanding and pick their preference based not only on the product price, but on companies that follow ethical practices and give equal importance to emotions, brand image, product origin, environmental and social impact, and their core values.


Apart from the factors mentioned above, future consumers would want to be associated with socially responsible and environment-friendly brands that give back to society. They would value transparency, courage, innovation, and business ethics. Modern consumers want companies to be driven by purpose and value. This purpose and value should resonate in companies' marketing and promotional activities.


That day is not far when the success of a retailer will be measured in terms of consumer experience and perception. In the future, retailers' success will be driven by the following factors:
In-depth understanding of consumer behaviour
Connection with consumers, at every level
Ability to adopt disruptive technologies and business models (both offline and online)
Building technical and digital capabilities to become future-ready.


Also read: 8 Retail predictions for 2021
To explore business opportunities, link with us by clicking on the 'Invite' button on our eBiz Card.
Image source: shutterstock.com
Article source: STOrai Magazine. Extracted from the RAI-Deloitte report, 'Know Your Consumer: What you see is what you get!'
Disclaimer: The views and opinions expressed in this article are those of the author and do not necessarily reflect the views, official policy or position of GlobalLinker.