Background: Retailers around the world are at different levels of refurbishing various aspects of their business to improve customer experience and stickiness. Listed here are 8 main areas that will see a change.
In retail, it's always about the consumer. And the consumers of today want things beyond products or services. They want experiences and are even willing to pay more for it. By now, all retailers already know that and are either working on improving customer experience in some form or are planning to.
"How immersive the experience is—be it offline or online—is the key driver that will thereby lead to stickiness to the brand. Fortunately, putting the customer first is already at the center of many organizations' strategy," said Sanjay Vakharia, CEO, Spykar
The efforts retailers are putting on various fronts, are giving rise to some key trends that we will see this year with respect to customer experience. Call them trends or areas of improvement. Here's what can be expected…
1. Frictionless checkouts with seamless payments
Seamless checkouts will become norm in 2019. Be it cashier-less checkout, 'Scan-Bag-Go', self-checkout, mobile checkout kiosks or mobile app payment, alternative checkout options will see increased adoption as more and more consumers demand a frictionless experience. Retailers are adapting their point-of-sale technology to accommodate this change.
The pursuit of seamless checkouts will mean improvements in payments. Although cash continues to be the primary payment method for point-of-sale purchases and eWallets dominate for online payments, we might see retailers adopting alternative payment methods like bank transfers (UPI) at point-of-sale to enable seamless checkouts. "As internet penetration and the digital economy continues to grow, there will be room for ongoing shift of payment forms," states the Global Payments report.
2. Creative use of physical space
In a retail store, space is at a premium. And it is precisely this area that will see a lot of innovation. Retailers will become more creative with their use of space towards achieving: operational efficiency, cross-selling and up-selling through partnerships and more experiential shopping. They will find newer ways to make the store more entertaining, engaging and create wow areas.
3. Adoption of measurement matrices
Net Promoter Score(NPS) is a metric that measures customer experience and is used by a large subset of Fortune 1000 companies. It is basically the difference between the rankings given to a service / product /business by the high promoter and the highest detractor. It is being increasingly adopted by companies that want to know the impact of the efforts on customer satisfaction Kaya is one of the many companies in India using NPS as an effective tool to continuously measure service and quality.
"We use NPS to continuously monitor the performance of multiple types of employees in our business—consultation quality of doctors, therapists' interaction and the store managers' performance. Every one of our interactions are getting measured. It gives us a feel of how many customers actually promote our brand," explained Rajiv Nair, CEO, Kaya Ltd. More retailers are expected to use NPS or some other metric of customer experience.
4. More focus on employee training
A significant part of delivering a good customer experience begins with the employee. The risk of not getting the human element right is significant states a PwC report. As many as 60% consumers said they'd stop doing business with a brand if the service they received was not friendly, it states further.

"The moment of truth is the interaction that is happening between the employees and the customers. Therefore, empowering employees with training to meet changing customer expectations is an area everyone is working on," added Nair. As many as 46% of all consumers will abandon a brand if the employees are not knowledgeable.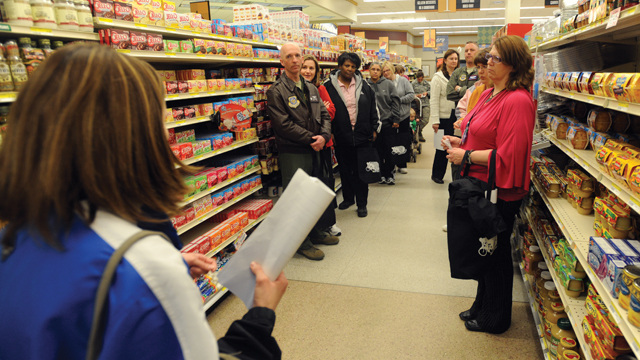 Empowering employees with training helps meet customer expectations
5. More focus on product
International retailers like Zara that have come to India are working on the product to be able to improve the quality of experience. Here, the product itself is the differentiator. "The more you are able to input on the right quality of product, the right design, the right fashion, the customer is excited with what s/he is consuming. For instance, the constant upgrading, adding of new features to a mobile phone is what draws customers in," explained Nair.
6. Adding food/other aspects to the store
Akin to loyalty lounges at airports, retailers too are creating areas within large stores to pamper customers or provide add-on facilities such as a lounge, a café or a food counter. Cafés are typically becoming a part of stores that are massive in size and where the level of involvement in the purchase decision is high as all that walking and hours spent builds up an appetite.
A fine example of this is IKEA stores. IKEA introduced an in-store café and restaurant model to increase customer stickiness which in turn resulted in an increase in sales. The IKEA store in Hyderabad houses a 1000 seater restaurant (IKEA's biggest) and a café which serves coffees, cakes, frozen yoghurt and more. Some retailers are also creating play areas to keep children entertained while one of the parent shops.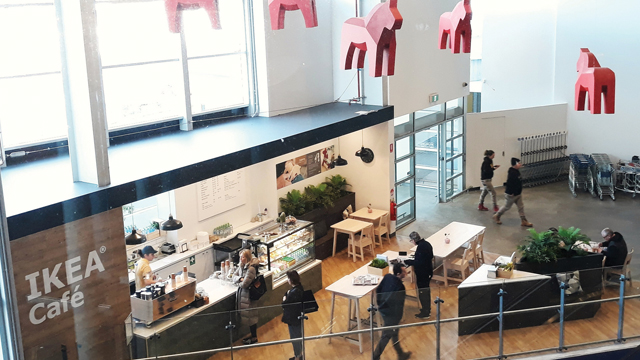 To improve in-store experience, like IKEA, more retailers are adding conveniences inside stores
7. Improved last mile delivery
Capgemini research shows that three-quarters consumers are willing to spend more if they are satisfied with the delivery services. Capgemini also found that 63% of consumers order online because they find retail stores as crowded as public transport is during rush hour. Delivery will become increasingly important as online ordering accelerates. Innovations in last-mile delivery include drones, self-service lockers, delivery to car, delivery inside home when customer is away. 82% customers satisfied with last mile delivery share their positive experience with family and friends whereas 74% increase spends with the retailers by almost 12%. Retailers (especially large retailers and those with online presence) across the globe are working on innovations in last-mile delivery using technology and innovative tie-ups.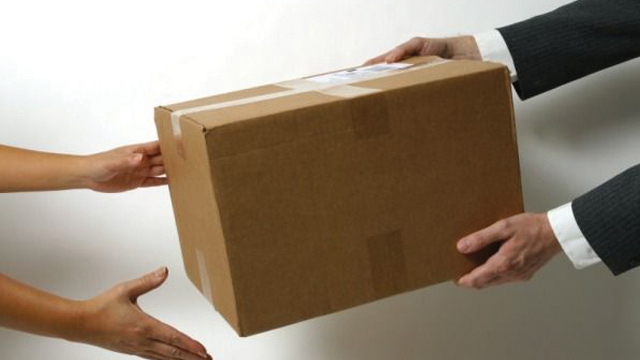 A better last mile delivery experience leads to increased referrals

8. Increased and innovative use of technology
"The trend that will redefine retail in the immediate future is overall customer experience supported by technological tools, which extends to ambience of the store, customer service, visual merchandising et al, not just products," predicted Rajesh Jain, Managing Director and CEO, Lacoste India. Artificial intelligence will be a mainstream customer experience investment in the next couple of years. Furthermore, 47% of organizations will use chatbots for customer care and 40% will deploy virtual assistants. By 2020, more than 40% of all data analytics projects will relate to an aspect of customer experience.
"For retailers, investment in technology is unavoidable," said Nanjan Balu, Director of Cosmo Sports LLP.
Done right, technology can help companies create phenomenal customer experiences and reap the resulting benefits: 82% of the top-performing companies report paying close attention to the human experience around digital and technology.
The experience imperative
By 2020, customer experience will overtake price and product as the key brand differentiator predicts US based firm Walker.
"Delivering an outstanding experience and focusing on current customers rather than obsessing about potential ones will be the key watch out in 2019. You need to talk directly to the customers, which is actually quite rare. Analysing the typical shopping process your customers go through, then finding a way to bring a unique experience to your store will be the key differentiator," said Alisha Malik, Vice President, E-commerce and Marketing, Metro Shoes Ltd.
In all experience related endeavours, the operative words are going to be seamless and frictionless. "Retail is moving towards providing customers a seamless, simple, hassle- free and personalized shopping experience. Frictionless journey from discovery to purchase supported by customer-focused services will be the key to attract and retain customers," concluded Vasanth Kumar, MD, Lifestyle International.
The Six Pillars of Experience
Based on nearly a decade of research and more than 2 million evaluations across multiple markets, KPMG has identified and validated six fundamental components of every great customer experience. They are rooted in human psychology and motivation and are relevant across B2B and B2C. They are also as relevant for employees as they are for customers.
Personalisation: Using individualized attention to drive emotional connection
Integrity: Being trustworthy and engendering trust.
Expectations: Managing, meeting and exceeding customer expectations.
Resolution: Turning a poor experience into a great one.
Time and Effort: Minimizing customer effort and creating frictionless processes.
Empathy: Achieving an understanding of the customer's circumstances to drive deep rapport.
The pillars are the DNA of commercially outstanding experiences and are the way customers describe their experiences and provide a checklist for creating both outstanding employee and customer experiences. The leading companies are competitively superior at each of them. They provide a mechanism for prioritization and sequencing customer experience (CX) implementation. (Source: Tomorrow's Experience, Today: Harnessing a customer first approach in a changing world by KPMG.)
To explore business opportunities, link with me by clicking on the 'Invite' button on my eBiz Card.

Article source: STOrai Magazine
Disclaimer: The views and opinions expressed in this article are those of the author and do not necessarily reflect the views, official policy or position of GlobalLinker, Retailers Association of India or any other organisation.