Events > Upcoming Event > Scaling up with Credit: MSME Focus
Back
Scaling up with Credit: MSME Focus
26 Nov 2020, 15:30 - 16:30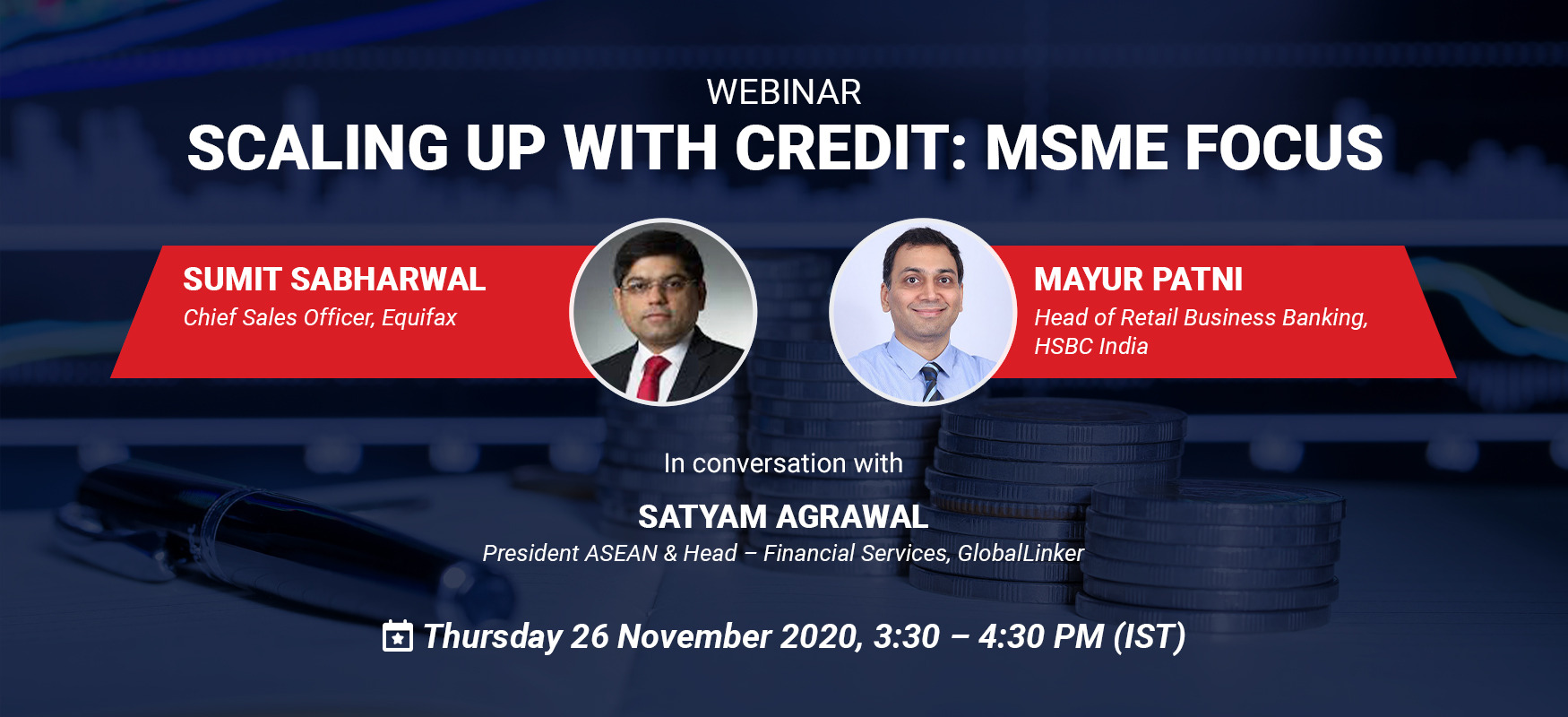 In these unprecedented times, while cash flow management is vital, maintaining a healthy credit score is just as important in order to secure loans and build a credible business identity.
GlobalLinker, HSBC, and Equifax bring to you a special webinar to help you understand how to accelerate business growth with credit preparedness.
Key focus of webinar:
A global outlook and an India specific perspective of the Credit ecosystem
How credit scores are used by lenders as part of decisioning on a loan application
Key factors that affect credit scores and how lenders have different assessment frameworks
Importance of being credit aware to improve credit
New ways that lenders are looking at assessing credit worthiness to help MSME clients prepare themselves for their credit needs
Government of India's MSME focused credit schemes and how MSMEs can take advantage of them for their business
Speakers:
Sumit Sabharwal
Sumit Sabharwal is Chief Sales Officer at Equifax India. He leads Equifax relationships with Banks, MFIs, NBFC and other Financial Institutions. Being a seasoned banker and member of IIBF, he has led growth of retail asset products for leading players in India.  
Profitable and sustainable topline growth has been a trend when he held the baton as companies grew to become large corporations. Being a transformational leader, he has led large business in India and Asia Pacific region as Business Head. 
He is an honorary doctorate from University in South Korea. He is an engineer and MBA by academic qualification. 
Mayur Patni
Mayur is Head – Retail Business Banking, HSBC India. He has an MBA from FMS in Delhi and joined HSBC as a Management Trainee in 2001. Worked across various roles in retail banking & wealth management. He set up HSBC's first branch in Vadodara and achieved a break even in record time of under 18 months. Mayur worked in the USA for 3 years managing HSBC's NRI business there. He worked in the broking entity (HSBC InvestDirect) and managed business development in Sales & Distribution, managed customer experience for the consumer bank.
Attend 'Scaling up with Credit: MSME Focus' on 26th November 2020 at 3:30 PM.