Events > Upcoming Event > Bounce Back 2.0 Indore by Dr. Vivek Bindra
Back
Bounce Back 2.0 Indore by Dr. Vivek Bindra
19 Jan 2020, 16:00 - 22:00 Abhay Prashal Building, Race Course Road,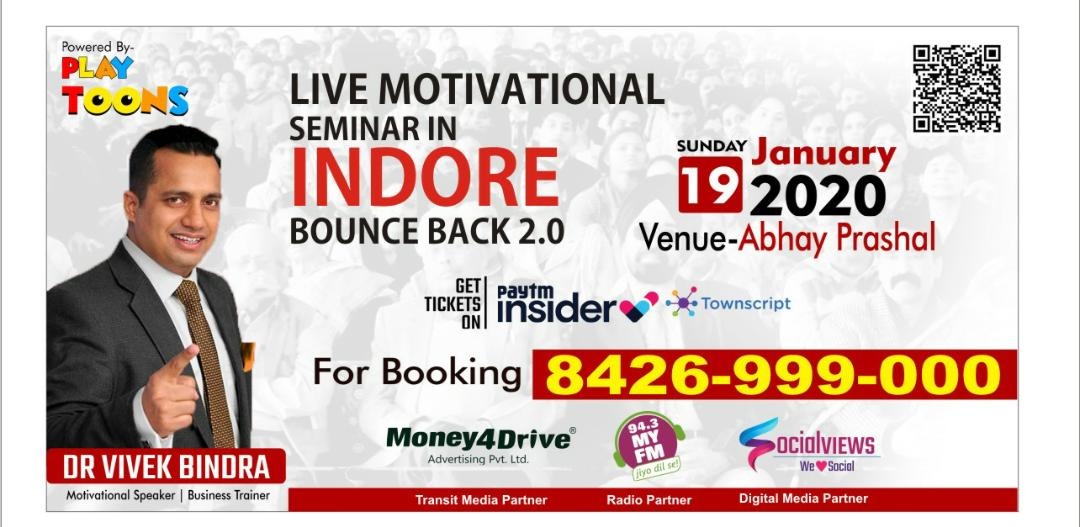 Key Learning of Vivek Bindra - Bounce Back Series
Identify your 'Limitless Limits' for Path-breaking Success.
Discover the key to identify, Understand, Analyze and Re-Orient your Belief System
Accelerate your Peak Performance Productivity Index
Develop a Laser-Sharp Focus to Achieve Your Goals
Explore, Engage & Maximize your Inner Unlimited Potential
How to convince others and Handle Crucial Conversations?
How to Build a High-Performance Team?
How to Increase your ROI in Business?
How to Remain Ahead of your Competitors by Leveraging Your Unique Signature Strength?
How to Plan Strategic Execution of Short-term & Long term Goals?
How to Handle Crucial Conversations through Emotional Intelligence?
**For any Bulk or Corporate booking query call/ WhatsApp - 9033673504