Events > Upcoming Event > TradeConnect 2019 | Singapore | 12-14 Nov, 2019
Back
TradeConnect 2019 | Singapore | 12-14 Nov, 2019
12 Nov 2019, 00:00 - 00:01 Singapore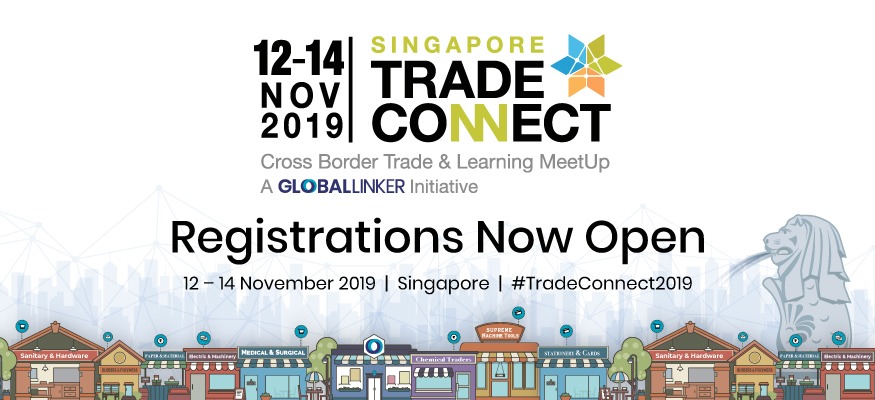 TRADECONNECT 2019 - REGISTRATION NOW OPEN. GRAB YOUR SEATS HERE  - bit.ly/tradeconnect2019
GlobalLinker's biggest international networking event for SMEs is back for it's 2nd year! 
Join us 12-14th November 2019 for TradeConnect, GlobalLinker's biggest international networking event for entrepreneurs & business owners. Meet SMEs from different countries and industries, explore cross border business opportunities, listen in on expert sessions & knowledge series, and understand how cross border trade can be made easier.
TradeConnect will be hosted alongside the Singapore Fintech Festival.
Your dreams don't have borders. Why should your business? 
Watch some of the best parts from TradeConnect 2018 here - https://www.youtube.com/watch?v=Ze6bjNBoaK8&t=4s
-------------------------
WHAT TO EXPECT FROM TRADECONNECT 2019: TradeConnect @ Singapore is a networking event tailormade for SMEs, like you!
MAKE NEW GLOBAL CONNECTIONS: Network with ambitious entrepreneurs & business owners from India, Philippines & ASEAN
MEET INSPIRING SPEAKERS: Hear from industry titans & SME experts. Reinvigorate yourself with ideas and visions for the future of SME growth.
ENJOY GREAT COMPANY & FOOD: We are all work and all play. This is your chance to connect with your community!
------------------------- 
TRADECONNECT DETAILS:
Destination: Singapore Expo Centre
Dates: 12th - 14th November 2019
Cost: Paid event, select your All Access Pass & register. Both packages cover hotel stay, conference pass, transport to & fro Singapore Expo Centre & networking gala dineer. Airfares & visa costs are not included, attendees must arrange their own travel to  Singapore.
Single Occupancy - Rs. 31,000 (incl. of GST) | Price for 1 Attendee
Twin Sharing - Rs. 40,000 (incl. of GST) | Price for 2 Attendees
-------------------------