Events > Upcoming Event > [Virtual Meetup]: Rethinking supply chain in troubled times
Back
[Virtual Meetup]: Rethinking supply chain in troubled times
24 Apr 2020, 17:00 - 18:00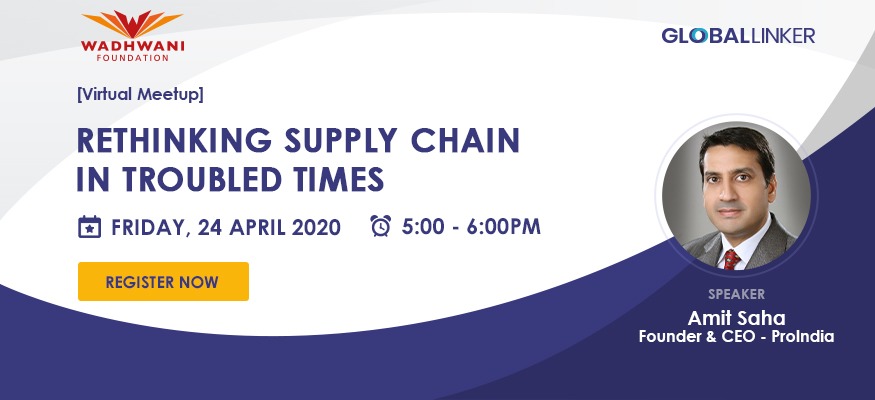 Supply chain under strain? Time to do things differently
Join us this Friday, 24th April 2020 @ 05:00 PM to participate in an interactive session to optimize supply chain in these times of crisis with our expert speaker - Amit Saha, Founder & CEO ProIndia.
GlobalLinker in partnership with Wadhwani Foundation is back with [Virtual meetup #3]: Rethinking supply chain in troubled times.
Key focus:
Analysis of current supply chain for increased productivity against cost incurred
Reducing fixed costs in the supply chain
Restructuring the supply chain for enhanced capacity utilization
Reducing 'cash conversion cycle' in the supply chain from suppliers to customers
About Speaker
Amit Saha
Founder & CEO ProIndia
A global level business manager, with 30 years of diversified experience in FMCG, Auto sector. A seasoned practitioner with hands-on experience of P&L management, strategic planning, sales & business development, supply chain management.