Enterprise: Apna Green Products
Founder-CEO: Aruna Dara
Industry: Healthcare, Medical Supplies, Pharmaceuticals
Year it was founded: 2018
Location: Hyderabad, Telangana

"Women can change the world!" With this firm belief Aruna Dara partnered with her MBA batchmate to launch Apna Green Products, a company that produces biodegradable sanitary napkins made of natural fibres like bamboo and banana fibres.

Vision to make a difference
In India more than 90% of women do not have access to hygienic sanitary napkins. Apna Green was established in 2018 to address social, economic and environmental problems. They provide comprehensive menstrual health solution by conducting awareness workshops within target communities and offering sanitary napkins at an affordable price.
Aruna shares, "We launched Apna Green with the vision of creating an ecosystem for the social and economic upliftment of women through financial inclusion, livelihood training, entrepreneurship development programmes, marketing, trading and manufacturing activities."
How the journey started
Aruna shares, "In 2016, I reconnected with my MBA batchmate after almost a decade. When we talked, we realised that we both wanted to pursue something that would be for the larger good of society. We started this business as we had our personal health issues during our periods due to the plastic pads that are available in the market. With a vision to support all women for their healthy menstrual cycle, we launched Apna Green."
The dynamic duo pooled in their resources and dedicated two years to research their product and travel all over the country to gauge the ground reality of menstrual health.
Key differentiators
Most sanitary napkins available in the market are made of plastic which makes them non-biodegradable. Added to the problem of this menstrual waste is the fact that the synthetic lining of these pads is harmful to the body and can cause infections. Moreover, these napkins are quite expensive and beyond the reach of most ordinary women. Aruna shares how the Apna Green product stands out on all of these fronts. "We are working for the menstrual health of women by bring in biodegradable sanitary napkins made of natural fibres at a very low cost. We are also thereby supporting the government towards the Swachh Bharat initiative."
Challenges
As with most businesses, Apna Green has also had to face challenges, but this has not deterred the founders. Aruna shares, "The biggest challenge is that there is less support for innovation projects. And finances, technical and marketing linkages are an issue new entrepreneurs. So, to tackle these issues we have approached mentors, NGOs and vendors who have given us great support. As for finances, we have invested our own money to take the business forward."
GlobalLinker advantage
Aruna has recently joined GlobalLinker, an online networks for MSMEs to digitise their business and to learn, network, grow. She opines, "It is a great platform, and we look forward to grow our business even further with the help of GlobalLinker." Aruna has also created Apna Green Products' very own online store for free with GlobalLinker's feature packed eCommerce platform.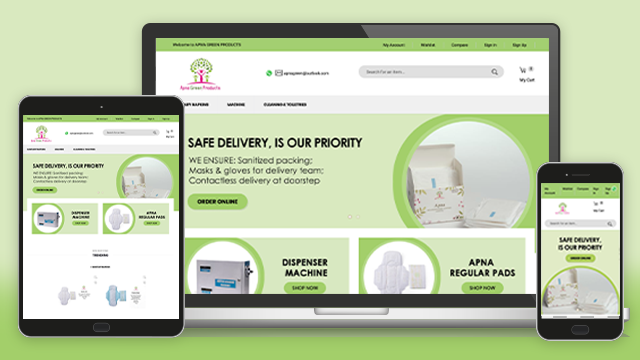 Recognition and road ahead
Apna Green Products got the 'Unsung Hero' award from the Telangana government. Aruna shares, "We are now working in Telangana, Jharkhand, and we have received invitations from Meghalaya, Himachal, for our rural programme. We are focused on bringing banana fibre sanitary napkins at a very low cost to all the women of the country."
Advice to aspiring entrepreneurs
Aruna candidly shares her success formula as being, "Commitment, continuous research and teaming up with different avenues." She advises aspiring entrepreneurs to, "Be focused and committed, mind your steps and don't lose your hope."
Also read: A commercial kitchen with big dreams and a bigger heart

Network with Aruna D by clicking on the 'Connect' button on her GlobalLinker profile.


Disclaimer: This article is based solely on the inputs shared by the featured member. GlobalLinker does not necessarily endorse the views, opinions & facts stated by the member.