Enterprise: KayJay Sharp Trendys


Managing Director: Dr J Mohanasundari

Industry: Manufacturing

Year it was founded: 1992

Based out of: Coimbatore
Dr J Mohanasundari's business journey has been one of constant learning, innovation and empowering women. She is the Managing Director of two thriving business verticals – KayJay Sharp Trendys which manufactures mini monobloc pumps and Sharp Electrodes which specialises in welding electrodes. Interestingly, Dr Mohanasundari did not always want to be an entrepreneur. In fact, she started her career as an educationist. After completing her master's degree in physics, she worked as a lecturer for 14 years. In 1992, she plunged into business at the behest of her husband K. Jaganathan who had recently established the 'Sharp' brand. While learning the ropes of business, she also pursued a management degree to equip herself to navigate the business world. After the demise of her husband in 2005 she took over the company as managing director.
With KayJay Sharp Trendys, Dr Mohanasundari has revolutionied the concept of a water pump from a heavy-duty industrial product to a domestic appliance that can be carried easily even by women. Her acumen in technology has led to many pioneering innovations in the pump industry. Since the early 90s her products have been exported world-wide.


Dr Mohanasundari is committed to empowering women and nearly 70% of the workforce in her enterprise comprises of women. She has instituted the Sharp Jaganathan education awards and scholarships to support the education of the needy. She also takes care of the education of her employees' children. She has received numerous awards, including the International Woman Entrepreneurial Challenge Award "IWEC 2013" and awards for export excellence consecutively for 11 years.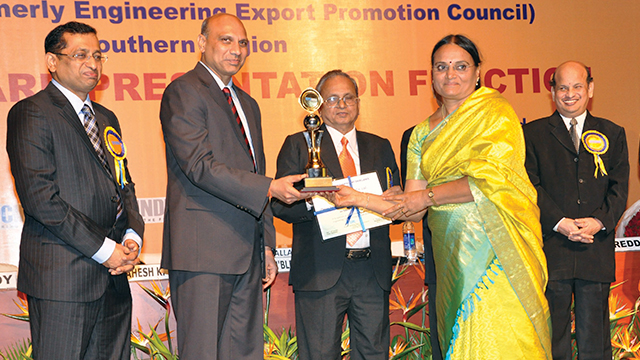 In conversation with GlobalLinker (GL), Dr J Mohanasundari (JM) shares her business journey.


GL: Tell us about your business.


JM: KayJay Sharp Trendys is a trend-setter in the field of domestic, industrial and mini agricultural monobloc pumps. 'The Little Master', the mini monobloc Domestic Water Pump was innovatively introduced in India by my husband K. Jaganathan. KayJay Sharp Trendys was established in the year 1992 in a small hamlet in Coimbatore, Tamil Nadu. Our objective has always been to produce world-class pumps with engineering excellence, with the majority of workforce being women. We have a state-of-the-art of manufacturing unit, spread over an area of 24,000 sq. ft. Our pumps are known for their perfection, quality and durability.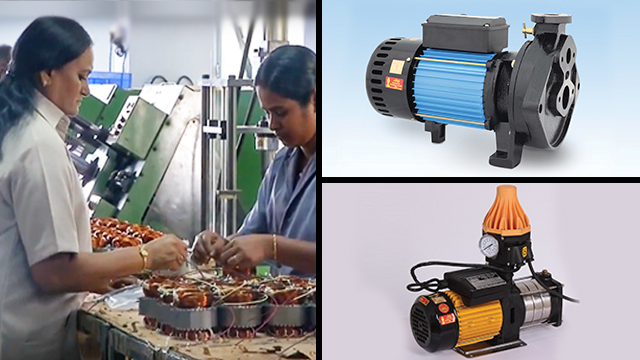 GL: Share with us your export journey.


JM: Our export journey started in the early 90's. KayJay Sharp Trendys pumps are exported to U.A.E, Saudi Arabia, Oman, USA, United Kingdom, Mauritius, Australia, Jamaica, Angola, Indonesia, Zambia and many other countries. We are an ISO 9001: 2015 company with license for the stamping of prestigious ISI Mark for most of our monobloc pumps. We have an in-house exim team to support and develop strategies for our export vertical.
GL: What are the challenges you have faced in establishing your export business?


JM: Initially we found it quite difficult to enter the export market but slowly our overseas customers themselves through word of mouth gave us multiple repeat orders. Thereafter there has been no looking back. Our pump sells itself because of its perfection, quality and durability.


GL: What is your big business dream?


JM: Our ultimate business goal is to be a 100-crore turnover company without deviating from our core philosophy of providing superior quality products.


GL: What is your message to aspiring entrepreneurs?


JM: Plan out the business and build the right team. Focus and work towards it without deviating from quality and basic principles that have been sketched out.
Network with Dr J Mohanasundari by clicking on the 'Invite' button on her profile.
Disclaimer: This article is based solely on the inputs shared by the featured member. GlobalLinker does not necessarily endorse the views, opinions & facts stated by the member.
Posted by
GlobalLinker Staff
We are a team of experienced industry professionals committed to sharing our knowledge and skills with small & medium enterprises.