Archana Bhatnagar started her entrepreneurial journey in 1979, a time when she found that a woman was not looked upon favourably for being in business. Braving many challenges while raising her family and after quitting her first company, she finally started Haylide Chemicals and step by tenacious step, brought it to a place where it is market leader in its segment. Today, the company's USP is to provide green cleaning products and is currently the only Indian company with the coveted 'Green Pro' international certification. Archana is passionate about women's entrepreneurship and started the Madhya Pradesh Association of Women's Entrepreneurs (MAWE) in a bid to make more women self-reliant. She has also spoken at international forums like the United Nations and World Trade Organisations and lends her voice to raising awareness and shaping policy.
In conversation with GlobalLinker (GL) Archana Bhatnagar (AB) shares her story and the story of her company.
GL: Tell us about your business.
AB: In 1979, I started out when the word 'entrepreneur' was little known and women from respectable families did not visit Sales tax and Income tax offices. It was almost a taboo for women to get into business, in a small place like Jabalpur.
As an army officer's daughter, with less than INR 500 in my pocket, and a one-year-old son I set about figuring out how to establish a business of manufacturing chemicals for offset printing presses and chemicals for processing of X-Ray films. My husband, Arun Bhatnagar, was the technical expert and my mentor, a thousand miles away in Delhi, with a trunk call to keep in touch once a fortnight and a weekly letter. I set up a kitchen unit at home called Bromide Chemical Industries with a partner. I got a loan of INR 15,000 after mortgaging my husband's home worth INR 15 lakhs. Women entrepreneurs were seen as 'high-risk' and it was difficult to source funding.
I travelled the length and breadth of the country, in second class trains, to meet people for sourcing raw materials and to pitch my products. My husband set up the business in Delhi and with my male business partner, we ran the business successfully. But after 12 years of successfully running the business, because of differences with my business partner, I was compelled to quit the business, without taking a single rupee or employee and decided to start afresh.
In 1992 Haylide Chemicals was born and we started manufacturing colour photo processing chemicals. My husband and two young sons were supportive of my work. I was armed with rich experience and this time I secured a loan of Rs 15 lakh, without any mortgage. Sales were good, profits rose and Haylide scaled new heights. But competition was tough against the MNCs, like Kodak, Konica and Fuji who made efforts to wipe out SME competition. Globalisation took its toll over time, it became hard to break even with costs. Technology changed to digital.
But as they say, the spirit of entrepreneurship never dies. With support from my husband, again we started in 2005 with a new 'Health and Hygiene' division at Haylide Chemicals. I started from scratch for the third time. My son, Nitin Bhatnagar, a chemical engineer now, joined forces with me to start development of new 'green cleaning and sanitising products'. The idea was to manufacture cleaning chemicals in the B2B space, with a clear USP of being eco-friendly and biodegradable.
GL: What are the challenges you have faced in establishing your business?
AB: Being a woman entrepreneur, especially four decades ago was a very challenging task. When I first entered business and I tried taking a loan I was thrown out of a bank, because women and business were not supposed to mix. To implement my green business model was a huge challenge. We were subjected to questions like, 'It is "Green" but does it "Clean"? "Will it be more expensive?"
The challenge to manufacture cost-effective, green cleaning products, was taken up by the family. My son, husband and I joined forces to build a state of the art 'Green Cleaning Chemicals Manufacturing Factory'. This new chapter was destined for success. We entered the nascent cleaning industry and established a presence with several products redefining the Indian cleaning market. Our passion to create a greener planet and live more sustainably is also being realised with this business.
Given all these challenges, I have learned that perseverance, transparency and respect for your work force, are key to success in any endeavour.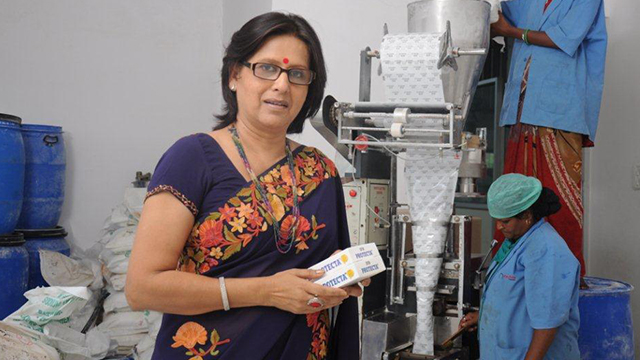 GL: What is the USP of your business?
AB: Haylide is the first company in South Asia to have 'Green Pro' certified products for housekeeping, personal care and laundry detergents. Any green certified product, used in USGBC or IGBC certified buildings is imported, which adds carbon footprint and also does not perform well in tough Asian conditions of dirt, dust and eating habits.
Besides being highly effective, our products are eco-friendly, biodegradable, skin-friendly and pH neutral. We also have toilet cleaners that use green acids, laundry detergents that have no caustics soda, which are revolutionary formulations and first of its kind products in India.
GL: Do you believe that the 'ease of doing business' in India has improved?

AB: I have something to say about women in business here. It was very difficult doing business as a woman, four decades ago. Today, there are many more women entrepreneurs. The government is trying to introduce new schemes and easy finance for startups, etc. However, the awareness of these schemes is lacking. Most states boast of Single Window Clearance, but practically there are many windows. Even government departments & ministries, do not encourage 'Make In India' or SME innovators, they always have more faith in foreign brands. Corruption continues at all levels. Women must be encouraged to be self-employed, by creating a more conducive business atmosphere. I am the founding president of MAWE (Madhya Pradesh Association of Women Entrepreneurs), an organisation that encourages entrepreneurship in women.
GL: What role do you feel GlobalLinker plays in connecting & assisting SMEs?

AB: GlobalLinker is an excellent platform to help SMEs connect with each other. It is an empowering tool that can help an SME network find the right people with whom to do business and develop sustainable relationships. Also, it is a good platform for disseminating news and articles helpful for SMEs.
GL: What is your big business dream?
AB: My dream is to provide green cleaning products, not only in the B2B space but also reach the common man, at affordable prices. Haylide should grow further and continue to consolidate its leadership position in the market. I also personally wish to continue empowering women entrepreneurs to pursue their dreams and establish their businesses better. If I empower a woman, I help empower the family. Being an enabler for their aspirations is something I will do forever.
GL: What is your message to aspiring entrepreneurs?

AB: My message to aspiring entrepreneurs is to persevere and be resilient. I as a woman entrepreneur and we as a family of entrepreneurs, have faced a lot of hardships and disappointments, but we have ultimately succeeded. Keeping your startup expenses low, try to master each and every aspect of your business. Success comes by leading through your knowledge and experience. Respect and grow your workforce and team along with yourself. There are no shortcuts to success and you should always dare to dream.
Network with Archana Bhatnagar by clicking on the 'Invite' button on her profile.
Disclaimer: This article is based solely on the inputs shared by the featured member. GlobalLinker does not necessarily endorse the views, opinions & facts stated by the member.