Enterprise: Arambagh Foodmart Pvt Ltd


Founder: Biyas Roy


Industry: Retail

Year it was founded: 2000


Based out of: Kolkata, West Bengal


It takes skill, drive and vision to reimagine an existing business and elevate it to new heights. That is exactly what third generation entrepreneur Biyas Roy did when she took over the reins of the family business launched by her grandfather, of stores selling processed ready-to-eat chicken items. Armed with a major in mathematics, masters in operations research & computer applications and business law, and an MBA in strategy & leadership, Biyas had the clear foresight to covert the existing venture into a chain of convenience stores spread across West Bengal, based on concept of the international 7-Eleven retail outlets. Arambagh's Foodmart chain of retail stores was started in the year 2000, when the concept of convenience stores was fairly new in India. Later, in 2012, the division was incorporated into a separate company.


Arambagh Foodmart has 52 retail stores in the heart of several cities and towns of West Bengal, of which 32 are located in Kolkata. They sell all kinds of grocery, toiletries, household items, in addition to their initial line of chicken products. With a promise to expand to 75 stores by 2020, under Biyas Roy's leadership, the retail chain has carved a niche for itself in the highly competitive FMCG retail market.


Executive Director of Arambagh Foodmart Private Ltd, Biyas Roy (Biyas), shares her business journey in conversation with GlobalLinker (GL).


GL: Tell us about your business.


Biyas: Arambagh Foodmart chain of retail stores was started in the year 2000, in line with the international retail chain 7-Eleven, as an experiment to add more value to the customers of the existing Arambagh's chicken chain of stores selling processed and ready-to-eat chicken items.
Later in 2012 the division was incorporated into a separate company named Arambagh Foodmart Pvt Ltd. It follows the operating format of retail and self-service outlets, or convenience stores, with an average size of 600-1,000 sq ft area. Our major products are food, grocery and other daily need items.

GL: What is the USP of your business?


Biyas: Arambagh's Foodmart follows a unique format that positions itself between the neighborhood kirana store and supermarkets. Our USP is that our convenience stores revolve around two major facts: the importance of time and value for our customer's money.
Another point that adds to the USP is the location of our stores. Our stores are strategically placed in densely populated areas yet at important junctions, to even attract customers who are just passing by. Nearly 90% of daily needs of a household are available within 10 minutes of reach or delivered free. We provide quick checkout, telephonic orders and free home delivery as well.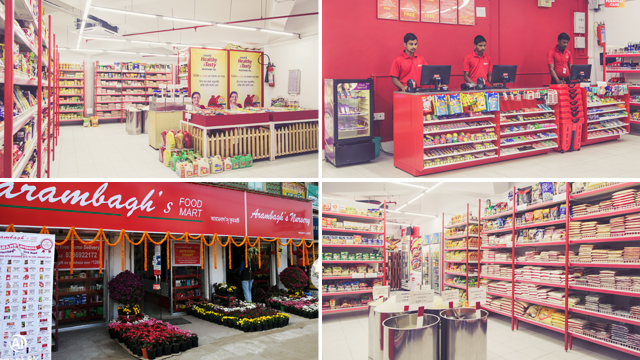 GL: What are some of the innovative things you are doing in your business?


Biyas: Many of our employees have been with us for over 30 years, since the inception of the parent company. We have also built a strong customer base over the years. To survive the growing demand and in order to retain our prized customers and employees, we came up with an innovative retention plan for older employees in order to forge a strong employee-customer relationship. Elderly customers rely on our staff members to not only deliver their groceries, but also to suggest buying options. Sometimes they drop in just to have a quick chat over a cup of tea. Customers have truly acknowledged our stores as a part of their household.


When we started doorstep delivery, free of cost for any amount and any distance, many elderly couples were the first to become our loyal customers. Their trust and dependence on our services grew to a level that they could rely on our staff to deliver them their shopping basket, that they had done someplace else. Sometimes regular customers even entrust our employees to get the grocery arranged in their kitchen. We have continued to provide this extra service to them which has largely helped us retain this precious trust and valued customers.
We also provide a free item of the customer's choice to all customers over a bill value, which has become more popular than any card-based loyalty and a deciding factor for many to shop from Arambagh's Foodmart.

GL: What is your leadership mantra?


Biyas: I strongly believe in training and developing my team to be self-reliant, so that they are able to run the day to day business seamlessly. While I prefer not to involve myself in daily operations, I like to have a thorough knowledge of every aspect of the business and keep track of what is happening around. Sharing the bigger picture with the entire team is also very important so that we all can work as a single cohesive unit towards achieving the goal.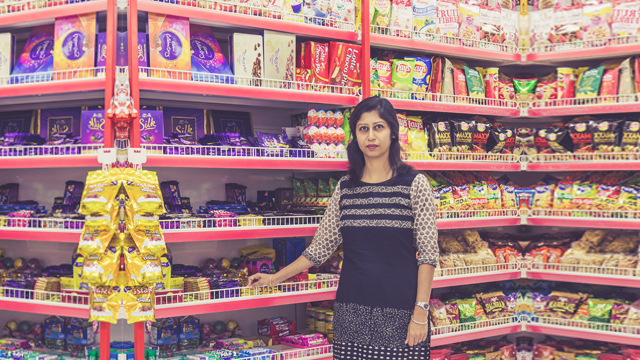 GL: What are some of the challenges you have faced in your business journey?


Biyas: When the business was established, the concept of shopping-under-one-roof was new in Kolkata and we had the first mover's advantage. However, there was no separate supply chain for modern trade, and we had to purchase on cash from local vendors assigned to general trade. It was a slow and challenging process of creating terms of trade with companies for a modern trade chain with separate margins, delivery and payment terms, and a further painstaking process of integrating the supply chain with that of the vendors' to create a faultless forecast-based automated replenishment system.


Building consumer loyalty towards service-based retailing, amidst a predominantly unorganised sector where price cutting and selling on credit are rampant, was also a major hiccup.


GL: How did you hear of GlobalLinker? How has it helped you?


Biyas: I heard about GlobalLinker from the Kolkata chapter head of RAI (Retailers Association of India). It is a great knowledge sharing platform where I could learn what other similar businesses are doing. There is a regular exchange of new ideas, through GlobalLinker, which I implement in my business. Moreover, it's a good platform to discuss challenges and find solutions.


GL: What is your big business dream?


Biyas: I personally do not believe in dreams. I believe in business goals that are ambitious yet achievable. Razor-thin margins in pure FMCG cannot sustain the cost of expansion if it is too fast or too big. Our goal is to have our footprints in all tier II cities of West Bengal by the end of 2021. We also want to educate customers of smaller cities to be reliant on quality and service-based retailing rather than price-based retailing.


GL: What is your message to aspiring entrepreneurs?


Biyas: An entrepreneur must also turn into a businessman someday. There are times when one should plunge, and times to step back and proceed with baby steps. Learn from your experience— when to expand and when to consolidate. Dreaming too big may keep it as a dream forever.
Network with Biyas Roy by clicking on the 'Invite' button on her profile.

Disclaimer: This article is based solely on the inputs shared by the featured member. GlobalLinker does not necessarily endorse the views, opinions & facts stated by the member.