March 8 is Women's Day - a day that celebrates the social, economic, cultural and political achievements of women. We recognise the achievements of women in all spheres of life, and pride ourselves as a solution that facilitates their achieving their business dreams. To commemorate Women's Day, we will publish relevant articles and profile women entrepreneurs who have taken that leap and are fulfilling their dreams. These women make the glass ceiling seem like a thing of the past; and we hope you will find their stories as inspiring as we do.

Maushumi Nag is no stranger to adversity. She is a cancer survivor, and that experience prompted her to move from her job as an IT professional to setting up a business in the beauty and wellness segment. MrilQ, as the business is called, makes 100% organic beauty products, sourced from Jharkhand, particularly designed to help with skincare. For her efforts, Maushumi has earned the Entrepreneurship Award for Jharkhand in 2014 and the 'Women of Mettle' award in 2017, in addition to being lauded by many organisations. Expanding now, globally, with a tie-up in Bangladesh and establishing a presence in Kunming China, Maushumi aims to making her brand renown worldwide by 2022.

In conversation with GlobalLinker (GL), Maushumi Nag (Maushumi) shares the story of her company.

GL: Tell us about your business.

Maushumi: I am an IT professional with a specialisation in networking. My battle with cancer changed my path from IT to beauty. But the launch of MrilQ took a further eight years which I invested in research. I travelled across the country and studied scores of traditional sciences. It was only in 2013, after extensive efforts, that I felt confident enough to launch MrilQ.

GL: What are the challenges you have faced in establishing your business?

Maushumi: Entrepreneurship is a roller coaster, always full of challenges and new learnings. When I started, people did not believe that skincare products in powder form would be effective because they thought it was too simple to work. I had to educate people that 100% natural and chemical free products are only possible in a powder form.

Coming from a conservative Bengali 'service' family, nobody accepted 'entrepreneurship' as a choice of profession. There was a lot of resistance from everyone around me. But fortunately, my husband, my daughters and my very close friends supported me in my journey.

Cash flow, building the right team, marketing are also challenges, as are limited personal and family time, no social time, not even time to research new products.


GL: Do you believe that the 'ease of doing business' in India has improved?

Maushumi: Yes, it has, especially on the policy and regulatory front. There are lots of areas which need improvement, especially in execution. The situation is improving but for entrepreneurs like me who work at warp speed, it can get frustrating. I am positive that by 2020 we will see the results of all that the government is attempting now.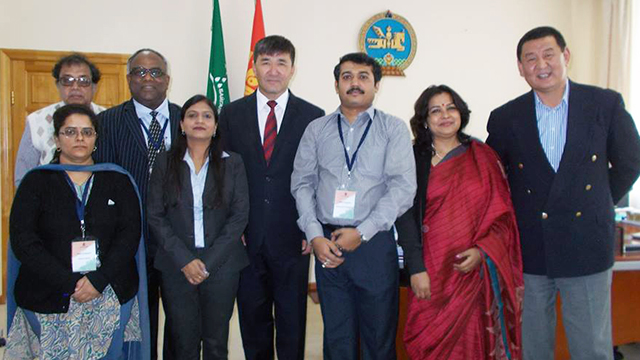 GL: What is the USP of your business?

Maushumi: To our SME partners, we deliver what we promise. To our patrons, we believe that any skin or hair problem that is caused by a chemical cannot be solved by another chemical. Going natural is the best way.

MrilQ products are 100% natural, organic and bio-degradable. Our products act as a protective barrier between the skin and chemicals in the environment and cosmetics. We have applied for patents for our products.

GL: What are some of the milestones of your business?

Maushumi: Some of the milestones of our business are:

• Winner of Entrepreneurship Award, Jharkhand 2014
• Pink Power Award, 2016
• Woman of Mettle Award, 2017
• Flagship Retail Outlet at Inorbit Mall, Hyderabad, in Sep 2016.
• First International Tie Up in Dhaka, Bangladesh (Divine Spa) in November 2016
• First Indian Franchisee store at Trichy, Tamil Nadu in December 2017.
• Second Franchise store coming up in Chennai in March 2018.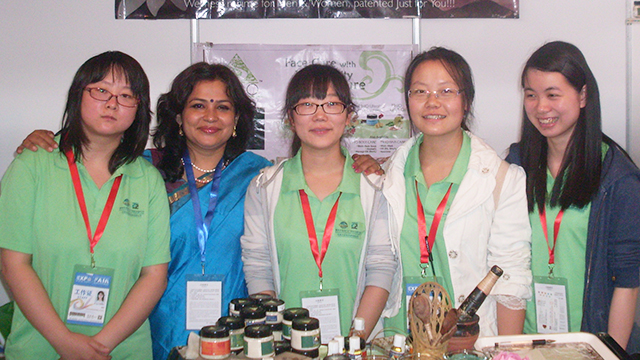 GL: What role do you feel GlobalLinker plays in connecting & assisting SMEs?

Maushumi: Entrepreneurs need networking platforms where they can connect with, get inspired by and learn from like-minded entrepreneurs. GlobalLinker enables such connections between entrepreneurs.

GL: What is your big business dream?

Maushumi: My big business dream is twofold. I see MrilQ as a global brand with franchises across the world by 2022. I want to be one of the key flag bearers of 100% natural care & wish to cure people across the globe.

GL: What is your message to aspiring entrepreneurs?

Maushumi: If you do not build your dreams, somebody else will hire you to build theirs.
Network with Maushumi Nag by clicking on the 'Invite' button on her profile.
Disclaimer: This article is based solely on the inputs shared by the featured member. GlobalLinker does not necessarily endorse the views, opinions & facts stated by the member.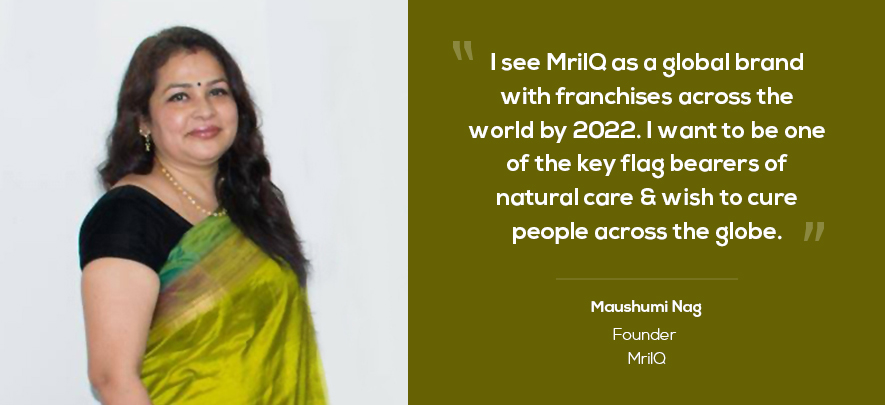 Posted by
GlobalLinker Staff
We are a team of experienced industry professionals committed to sharing our knowledge and skills with small & medium enterprises.