Enterprise: Krishnaindustries


Founder: Kirti Agrawal


Industry: Rubber, Plastics and Polymers / Rubber Products


Year it was founded: 2000


Based out of: Noida, Uttar Pradesh

Meet Kirti Agrawal, an engineer by qualification and an ingenious entrepreneur by profession. With her expertise in machining, Kirti was determined to start a manufacturing business. Initially she explored manufacturing tools, dyes, artificial jewellery until finally realising that her proficiency lay in creating rubber and plastic parts. This led her to establish Krishnaindustries in Noida, Uttar Pradesh in the year 2000. Three years later Kirti grabbed a prestigious order for the Bhurj Khalifa in Dubai and thus began her foray into exports.


Kirti Agrawal shares her business journey in conversation with GlobalLinker (GL).


GL: Tell us about your business.


Kirti: We manufacture rubber and plastic parts. What makes us unique is that we use recyclable rubber. Normally rubber is not recyclable and creates a lot of waste in the environment. Our recyclable rubber helps us cut costs and produce products in any colour, shape and size. We have a 5,000 sq feet manufacturing unit, with a capacity for over ten million pieces annually. Our company is ISO 9001 certified. Our product quality is as per ASTM International standards.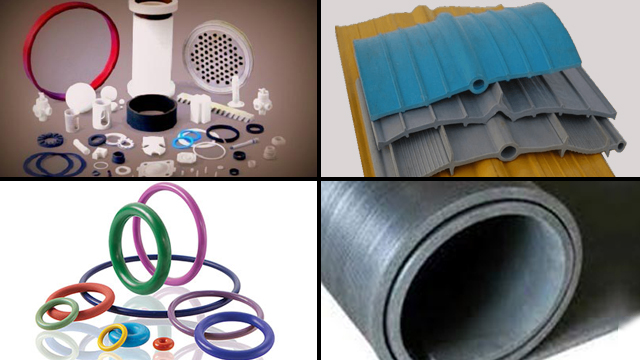 GL: How did you venture into exports?


Kirti: We started exporting 15 years back. I had prepared a sample for Burj Khalifa in two days. The Sheikh was so impressed by my sample that he gave me an order at the price that was quoted to him by a UK company. There has been no looking back since. We export to quality sensitive markets like Germany, US, UK and are expanding our market to Gulf countries. Our clients include established names like Caterpillar (USA), Ralf Bertelsbeck (Germany) and Tata Motors (India).


GL: What are some of the challenges you faced?


Kirti: Pricing was a challenge because in the global market you need to compete both in terms of quality and price. We specialise in providing the best quality in the most cost-effective manner. That is why our tagline is 'German Quality, Chinese Price'. In India dealing with government agencies is sometimes a hindrance in business. Exporters are being given incentives but getting benefits is tough.


GL: What are your tips for market expansion?


Kirti: You need to do rigorous marketing for market expansion. What is more important is quality and customer satisfaction so that you get word of mouth publicity and repeat orders. We constantly improve our products by incorporating new manufacturing techniques, technology and using improved raw materials.


GL: What is your big business dream?


Kirti: Our ultimate business goal is to list our company on the stock exchange and award generous dividends to our shareholders
Network with Kirti Agrawal by clicking on the 'Connect' button on her profile.


Disclaimer: This article is based solely on the inputs shared by the featured member. GlobalLinker does not necessarily endorse the views, opinions & facts stated by the member.
Posted by
GlobalLinker Staff
We are a team of experienced industry professionals committed to sharing our knowledge and skills with small & medium enterprises.