Earlier this year, Finance Minister Nirmala Sitharaman announced the NIRVIK (Niryat Rin Vikas Yojana) scheme to implement enhanced insurance cover and decrease the premium for small exporters. The NIRVIK scheme has been launched for high insurance cover, reduction in premium for small exporters and simplified procedures for claim settlements.
Dr Ajay Sahai, Director General & CEO, Federation of Indian Export Organisation explains, "NIRVIK (Niryat Rin Vikas Yojana) is aimed to ease the lending process and enhance the availability of credit to exporters. Under the Scheme, the insurance guarantee provided by ECGC (Export Credit Guarantee Corporation of India) to banks will now cover up to 90% of the principal and interest both or pre and post shipment credit. The ECGC currently provides such guarantee only up to 60% of the loss to the banks. The premium for the coverage will also get reduced thereby benefiting the MSME exporters."
Dr Sahai further adds, "This scheme is expected to enhance accessibility and affordability of credit to exporters, besides, less provision requirement and liquidity due to quick settlement of claims ensuring availability of adequate working capital to the export sector. FIEO is pursuing its early operationalisation."
What are the expected benefits of the NIRVIK scheme?
1. Enhance the approachability and affordability of credit for exporters.
2. Make Indian exports competitive.
3. Make ECGC procedures exporter friendly.
4. Cut down the cost of credit due to capital relief.
5. Reduce provision requirements and liquidity due to the quick settlement of claims.
6. Assure timely and adequate working capital for the export sector.
Also read: Key insights on starting an import export business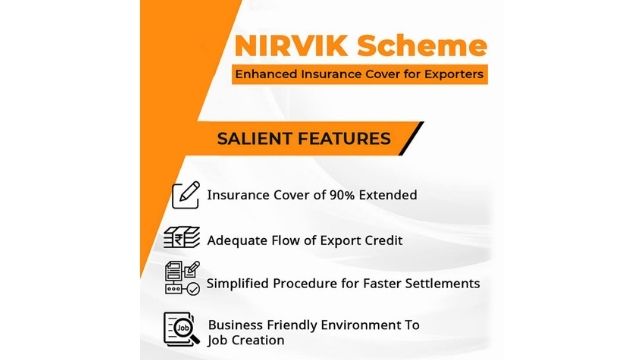 Also read: How to start an export business

To explore business opportunities, link with me by clicking on the 'Connect' button on our eBiz Card.
Image source: shutterstock.com
Disclaimer: The views and opinions expressed in this article are those of the author and do not necessarily reflect the views, official policy or position of GlobalLinker.
Posted by
Federation of Indian Export Organisations
FIEO is the apex international trade promotion organisation of India. Directly and indirectly it represents the interest of over 200,000 exporters in India. FIEO has 17 offices in...