WCIT-NILF 2018 hosted by NASSCOM, WITSA and the Government of Telengana will bring together global businesses from over 80 countries in the field of ICT (Information and Communications Technology). Jet Airways GlobalLinker is the business networking partner for the event which will see participation from industry and government leaders, and Small & Medium Enterprises (SMEs).
The theme of the event is 'Amplify Digital' and its aim is to find ways of fulfilling the promise of the digital age. WCIT-NILF 2018 will be held from February 19-21 in Hyderabad, India.
The event marks an opportunity for SMEs to learn and gain insights from over 150 global thought leaders and network with other delegates and experts. The insights on offer will enable SMEs to anticipate trends and better prepare for the present and the future. More than just gaining knowledge about current best practices, there will be an opportunity to learn about technological advances and trends that will shape business in the coming years. Disruptive tech, digitising to stay relevant and emerging imperatives of the global economy are all central themes of this year's event. Use cases and strategic discussions ensure that there will be concrete takeaways for attendees.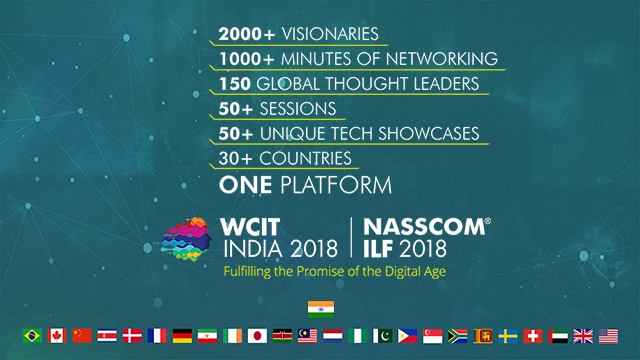 Take a step towards becoming a 'Firm of the Future' by attending WCIT-NILF 2018. Register for the event on Jet Airways GlobalLinker to get discounted rates on delegate passes, airfare and hotels.
Some specifics about WCIT and NASSCOM India Leadership Forum (NILF):
World Congress on Information Technology - WCIT
First held in 1978 by WITSA (World Information Technology & Services Alliance), the World Congress on Information Technology (WCIT) has become the premier international ICT forum. WCIT brings together over 2,500 visionaries, leaders of industry, government leaders and academics from more than 80 countries.
NASSCOM India Leadership Forum - NILF
The Tech Mecca of the east, India Leadership Forum is NASSCOM's flagship platform, a melting pot for ideas, innovation, strategy, business and the future. Three days of talks, showcase, networking, create an immersive experience for delegate that combines Business + Technology + Leadership. The 26th edition of ILF in 2018 is a limited edition and will host the WCIT 2018, creating an unparalleled experience for delegates.
Posted by
GlobalLinker Staff
We are a team of experienced industry professionals committed to sharing our knowledge and skills with small & medium enterprises.