Summary: Can you count the total number of advertisements you see in a day? Considering hundreds of billboards, online banners and social media ads that you come across every day, it is highly likely that you don't remember them all. So, as an entrepreneur and a digital marketer, how do you stand out from the crowd? How do you market your product to reach a constantly evolving audience? Well, the answer is, leveraging the power of digital lead generation channels for an effective B2B marketing. GlobalLinker member Alwyn Lasrado explains the need to using various digital channels to grab the attention of your audience and convert them better.

According to survey results published in the DemandGen's 2018 Benchmark Survey Report, eight out of ten channels most effective in driving 'early stage engagement' and 'conversions later in the funnel,' were digital in nature.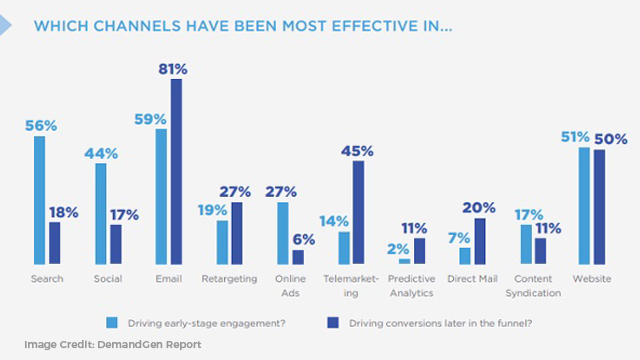 In-person events continue to be effective and are considered successful channels for engaging prospects throughout the entire funnel. However, the shift to digital has been underway for more than a decade.


Let's look at the top five digital channels and their impact in driving early stage engagement and late stage conversions and what one needs to consider when deploying them.

1. Email
Email marketing is the number one channel for B2B demand generation. In the Benchmark Report, 59% stated that email was most effective in driving early stage engagement, while a massive 81% indicated that it was most effective in driving late-funnel conversions.


Impact: The result means that email is the most effective channel through the complete stages of the funnel.

Things to consider: An email marketing campaign has to be part of the repertoire for all service providers and some best practices that need to be followed include permissions, great engaging content, target segmentation and ensuring content differentiation and frequency.
2. Search
Search continues to be most effective (56%) at an early stage engagement when prospective customers are looking to gain knowledge about solutions that they can use to solve problems. B2B organizations provide content to solve those problems. It's not so effective (18%) at late stages of the sales cycle – when customers tend to be looking for more value differentiators that can aid their decision making.


Impact: The result means that search can be effectively used by service providers and brands to introduce themselves and be part of the 'consideration set' of buyers who are beginning their process of scouting for solutions to their problems.


Things to consider: Search is clearly an indispensable tool for branding and awareness and hence it is essential that one appears around the top of the search results. Hence SEO (search engine optimisation) and PPC (pay per click advertising) should be on top of the best practices. Tracking relevant SEO metrics and ensuring proper keywords and phrases that target audience's use for search must be clearly enumerated.
3. Website
The ubiquitous website appears as the third most effective channel, both for early stage engagement (51%) as well as for late stage conversions (50%), according to the results from the Benchmark Report.


Impact: Having a web presence is an absolute necessity. It is therefore incumbent on us to provide visitors with a great experience, so that they spend quality time knowing you and exploring your offerings.


Things to consider: Website design is a deliberate process. Apart from the obvious considerations viz. purpose, provision of information, security etc. one needs to consider that it is creative, responsive, SEO friendly, easily navigable, multi-browser compatible and has social media integration etc.


4. Social
Social follows search in similarity as far as effectiveness is concerned with 44% at early stage engagement as compared to 17% at late stage as per the results from the Benchmark Report.


Impact: Prospective customers need to be engaged where they're present and relevant to one's industry. Be it Facebook. Twitter, LinkedIn, Pinterest, Snapchat or Instagram, to name a few.


Things to consider: Every social channel has its share of audience and most of them have across different platform. Identifying your target segment and engaging them with the right conversations, a great content, interactive element etc. and in a coherent manner requires research, analytics and production abilities that may not be necessarily available in-house.


5. Online ads
Rounding up the top five, as per the benchmark survey, online ads (or display ads) come in as being most effective (27%) at an early stage engagement and comparatively negligible (6%) for late stage conversions.


Impact: The PPC or pay per click is still relevant today and can be effectively used as a means to present yourself in front of the target audience and be part of their consideration set when they are scouting for solutions to their problems.


Things to consider: Clear defined objectives, knowledge about your target audience, a well defined campaign strategy, CTAs (call to action), metrics tracking are important factors. Identifying the best platforms (Facebook, Twitter, LinkedIn etc.), defining budgets and a scalable approach can contribute further to your success.
It's easy to get confused when establishing a digital demand strategy for your business. Obviously you cannot rely on a single digital channel to generate the results you want. There are always pros and cons that you need to consider specific to your goals, business as well as target audience. Which channels will drive results in the shortest time or give you the highest ROI (return on investment) requires thoughtful consideration. The DemandGen Benchmark Report provides some perspective.


It however also comes down to the available talent and the budget that you have. Watch the video to learn more.


To explore business opportunities, link with me by clicking on the 'Invite' button on my eBiz Card.
Disclaimer: The views and opinions expressed in this article are those of the author and do not necessarily reflect the views, official policy or position of GlobalLinker.