Background: In today's world, businesses, whether small or large, cannot afford to ignore cyber security. Exploring why SMEs in particular need to secure their digital assets to safeguard against threats.


The attitude towards cyber security in India is much like people not following the helmet rule. Their belief is that since nothing has happened to them by not wearing a helmet, nothing fatal will happen in the future too. Just like the helmet rule, if a business has not been hit by a cyber-attack doesn't mean it will not happen in future. Like always, prevention is the best cure. I have seen so many computers affected by viruses where the business has had to pay a lot of money to get their computers fixed to get back the data that has been compromised.


In the last 3 years alone, there has been a 75% increase in cyber-attacks on SMEs in India as shown in the figure below: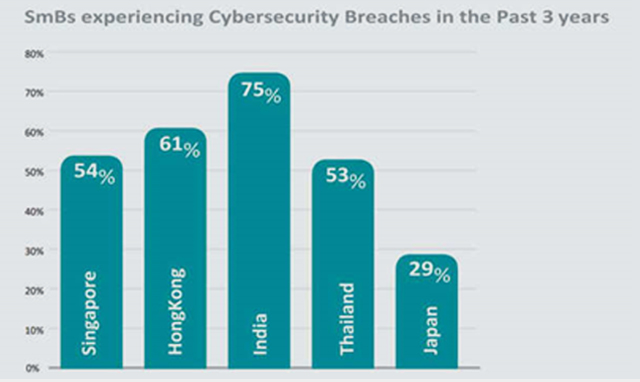 Also read: Cyber crimes: Be aware to circumvent threats

Why are SMEs a top target for IT attacks:
Hackers are aware of the complacent nature of small businesses when it comes to cybersecurity. They understand that small businesses invest little-to-no money on improving their cybersecurity situation. Ultimately, it gives an easy opportunity for attackers to exploit.


Data breaches can often mean doom for small and medium-size businesses. As a result, they are more vulnerable to ransomware attacks because they are highly likely to pay the ransom to save their data and their company from doom.


They have no processes or systems in place, nor do they hire dedicated cyber professionals.


Most of the SMEs are not prepared at all.


Shortage of qualified personnel also ranks highly on the list of challenges in cyber security adoption.


Another barrier to the adoption or upgrade of cyber security solutions is the constantly changing technological landscape. SMEs are unsure where and when they should invest in a solution as they are afraid that they are not investing in the latest technology. They are also unsure how well the technology suits their organisation. Companies in India face this dilemma the most, with 35% of SMEs in the country citing emerging technology as a barrier to ensure cyber security.


Also read: Cybersecurity best practices to secure and empower your business
Effects of a cyber-attack on a company
According to a study, 'Understanding the Cyber security threat landscape in Asia Pacific: securing modern enterprise in the digital world' by Microsoft and Frost and Sullivan reveals:


For mid-sized organisations it could account for about $11,000 (INR 7,89,718)
The country reportedly lost a whopping $4 billion (INR 28,717 crores) in fiscal 2016 to cyber crimes
Globally, the economic loss due to cyber-crimes stood at $455 billion in 2016
Couple of our clients in Hubbali city in Karnataka had to spend more than 2 lakhs to get back their data after a ransomware attack.
The good news
Blocking attacks doesn't have to be complicated or expensive.
Companies no longer need to rely solely on traditional AV solutions with well-documented gaps, and small businesses don't need to break the bank investing in cybersecurity infrastructure and hiring IT security professionals. Small businesses can get the protection and cybersecurity expertise they need at a price they can afford by working with companies like ours.

Also read: Protect your small business with these cybersecurity tips
Image source: shutterstock.com


To explore business opportunities, link with me by clicking on the 'Connect' button on my eBiz Card.


Disclaimer: The views and opinions expressed in this article are those of the author and do not necessarily reflect the views, official policy or position of GlobalLinker.
Posted by
Aftab Ahmed
Expert on cyber security and online privacy.