Gujarat is a land that inspires endless fascination. It is a place that has many fantastic spots to visit, explore and discover at leisure. Kutch is one such destination that is known for its unique landscape and various festivals that take place all year round. The region is divided in two sub-locales out of which one is the Little Runn of Kutch and the other is the Great Rann of Kutch. Both places are very popular tourist destinations. The high Aravallis create an opportunity for some fantastic scenery.
Gujarat is scenic in general but Kutch is an area here that is known for its extraordinary scenery that you will be hard pressed to find anywhere else. The place has a relaxed way of life but still produces craftsmen making intricate handicrafts and musicians and dancers who are talented and can transport visitors to another realm with their art.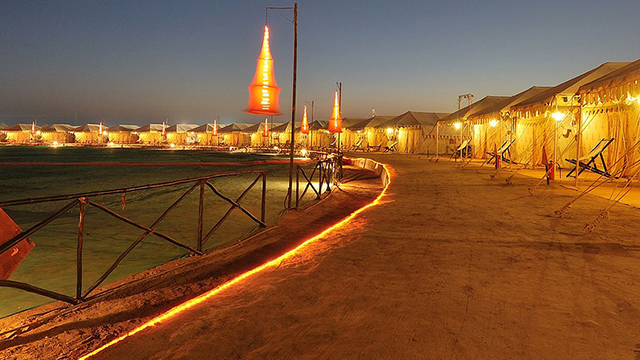 You must also travel to the White Salt Desert in the Kutch. This place is said to be an awe-inspiring experience that will live long in your memory. It is found 100 kms from Bhuj region. This place is almost out of a fantasy. Some say it is dreamlike and you can further enjoy the beauty of the terrain through a camel ride. You can likewise go out for a stroll to the clean sands where you may come across young children playing cricket.
At sunset, sit somewhere, watching the sun go down and spend some quality time with your friends and family. If you go during the Rann Utsav there will be even more activities to enthral you.
Another place of note is Kala Dungar. This place is otherwise called the Black Hill. This is a hill which has a Hindu sanctuary also known by the name of Dattatreya which is 400 years old. The top of the hill has as an exquisite vantage of the white sands.
Kutch truly is an astonishing destination and I urge you to travel there and further unravel the beauty of India.
To explore business opportunities, link with me by clicking on the 'Invite' button on my eBiz Card.


Disclaimer: The views and opinions expressed in this article are those of the author and do not necessarily reflect the views, official policy or position of GlobalLinker.
Posted by
Vicky Patel
RannUtsavOnline specializes in 1N/2D Kutch tour packages online owing to our extensive knowledge of Kutch & everything about it! RannUtsavOnline offers you comprehensive...