Background: Implementing a well thought out Diversity & Inclusion (D&I) programme has a positive impact on employee experience and business reveals a Kaya Middle East case study.

By the year 2025, 75% of the global workforce will be made up of millennials, which means this group will occupy the majority of leadership roles over the coming decade. They will be responsible for making important decisions that affect workplace cultures and people's lives. This group has a unique perspective on diversity. The 2018 Deloitte Millennial Survey shows that 74% of these individuals believe their organisation is more innovative when it has a culture of inclusion. If businesses are looking to hire and sustain a millennial workforce, diversity must be a key part of the company culture. At Kaya, the average age of employees is 31 years and our business model is based on innovation, service quality and customer service. Although we run a very robust Diversity & Inclusion (D&I) programme, its best showcased at Kaya Middle East.


Diversity & Inclusion (D&I) at Kaya Middle East
At Kaya Middle East, we deal with customers from diverse cultures. As our business demands high level of customer service and innovation, multi-cultural customer service requires recognising that our customer's needs and expectations may vary across cultures. Providing the same quality service to all customers frequently means adapting our personal delivery style and usual business practices to meet individual customer needs. The D&I programme which involves hiring employees from diverse cultures and orientations has helped us in achieving high level of service quality and customer service.
If businesses are looking to hire and sustain a millennial workforce, diversity must be a key part of the company culture.
To make the programme a success, we have a strong orientation programme for our employees. We also have a buddy programme that has helped us create an LGBT network, which is a powerful way for people to come together and share experiences and learn. That has led to positive changes in our company policies, as well as opportunities for mentoring, networking, and career progression for individual employees belonging to the LGBT community.


However, simply having a policy isn't enough. It is important to make sure that the organisation is clear about what is acceptable behaviour at the workplace and what isn't, and establish procedures for dealing with those who violate the policies.


The good news is that many of the steps we've looked at aren't expensive or difficult to implement. Things like supporting events, tweaking our recruitment strategies and creating employee networks require some time and commitment, but they're within the reach of any business, large or small.


Also read: They grow, we grow
Bringing clarity
Yet, some executives are still not clear in the ways and extent D&I is impacting our organisation. They question how D&I assists in meeting specific organisational, corporate and business unit objectives. To help them get a greater understanding, we communicate and coach them by creating certain frameworks and implementing practices and policies. We also sensitize our people on how we can leverage our D&I programme to help achieve our business goal. With organisational will, and effort our programme has met success, thanks to the framework we put in place and followed.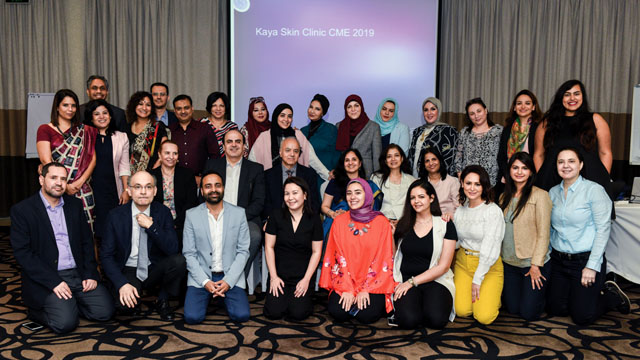 At Kaya Middle East, diversity and inclusion are part of the team's DNA

The D&I framework
Developed a strong structure and policies around implementation: A lot of the things in the initiative or policy can be holistic and grassroots within the company. Our D&I initiative is successful as we have a buy-in have from senior leaders. This enabled us to do a lot of inexpensive or even free initiatives with the support of the leadership team, which then cascaded down through the organization. This structure also ensured there are enough resources to accomplish the tasks, and that does not remain an HR-only agenda, keeping people at all levels involved and engaged. Moreover, it made sure that all activities are linked and aligned with the strategic framework.


Created a comprehensive learning strategy for employees at all levels: Launching a D&I initiative is like deciding to adopt a child. One needs to sensitize everyone in the family. At Kaya, we have sensitivity awareness seminars across the organization, for employees at all levels. There is a structured orientation programme for every role. Every person goes through mandatory induction that includes developing skills and organisation culture among other things.


Implemented the overall strategy to form the framework of the process: An important discussion when one launches a D&I programme is about its impact on the business and the NPS score. To ensure a positive outcome, we avoided piecemeal activities that are not tied to business strategy. We ensured that the strategy includes workforce, workplace and customers. The workforce consists of those who provide the organization's core products and services to the customers. The workplace consists of the culture, policies, procedures and practices that can have a positive or negative impact on the workforce's ability to meet the needs of an increasingly diverse customer base. Basically, we created a strong business case around the programme.


Included a comprehensive communication plan in the overall strategy: Often D&I is the best-kept secret. Many organisations create a D&I newsletter while others include D&I related articles in existing communication pieces. We treat everyone equally and have created an atmosphere wherein each member feels at ease to operate without any apprehension.


Also read: Employee experience and customer experience: Two sides of the same coin
Recommendation and conclusion
Although we have tried to adapt with the emerging paradigm of diversity management and to create a cultural synergy at the work place, there is still room for improvement. Managing diversity itself is a complex phenomenon and we are yet to implement it in Kaya India. For that we need further cross-cultural training and workshops to develop the diversity skills of the workforce. Similarly, diversity trainers and HR managers need to handle this sensitive issue with due diligence.


Adopting D&I has improved our organisation's level of adaptability. It has strengthened our ability to provide excellent service to diverse audiences, and ultimately has inspired our employees to think beyond their own realities and push their boundaries.


Strategies for a multi-cultural approach
Develop key leadership traits
Recognise individual differences
Give feedback sensitively
Encourage cross cultural awareness
Article by Nivedita Nanda published in STOrai Magazine. Nivedita Nanda is Group CHRO, Kaya Ltd. She started her career as Pilot Officer with the Indian Air Force and then moved to the corporate world. Prior to Kaya, she headed HR for Future Retail. She has also worked as Group HR Head at Prime Focus Ltd.; Chief People Officer at Reliance Health & Reliance Energy and Praxair Ltd. Nivedita holds an MBA in HR from Jamnalal Bajaj Institute of Management Studies and a Masters in Psychology from Utkal University.


Disclaimer: The views and opinions expressed in this article are those of the author and do not necessarily reflect the views, official policy or position of GlobalLinker.