Summary: What is the secret to business success? GlobalLinker member Nanda R encapsulates the winning formula in what he describes as the 4 C's of business success. Read on to find out more and share your formula for success in the comments section below.

While every entrepreneur has a unique business journey, I do believe that there are certain universal factors that can help you succeed in your endeavours. I like to refer to these as the 4 Cs for business success.

1. Clarity
The single biggest need is to have absolute clarity on your offering, be it a product or service. This clarity needs to be visible at every step such as the culture of the organisation, marketing materials and all communication tools. This way your marketing and sales channels are clear in their approach, which ultimately reflects positively on target customers.


2. Communication
'Why, what and where' to communicate is the essence. The 'why' is your purpose of communication; to your employees, to channel partners, to media, to customers and prospects. The 'what' is your articulation that would be tailored to the audience of stakeholders such as employees, media, customers, vendors and suppliers. The 'where' is the appropriate location to communicate which can include your social media, website, internet, events, business forums and face to face meet ups. Successful brands master their communication which is a game changer for them.


3. Collaboration
No one can achieve anything significant alone. We need to collaborate on forums like GlobalLinker so that we find the appropriate partners to help grow our business. These could include suppliers, customers or channel partners. We need to choose the right collaborator who should complement our strengths while also help to reduce our weaknesses. For example, if I am in South India and want to sell goods in North India, it would be wise to collaborate through a sales channel partner in North India who can help penetrate my products or services in that regional market.


4. Choice
Are you good at choosing? We need to be able to choose our partners, employees, vendors, marketing channels, sales channels, etc based on our values. If we can match our associates with our value system, the business can move forward and overcome challenges with ease. Ultimately this leads to success.

Do share your thoughts on the necessary ingredients for business success.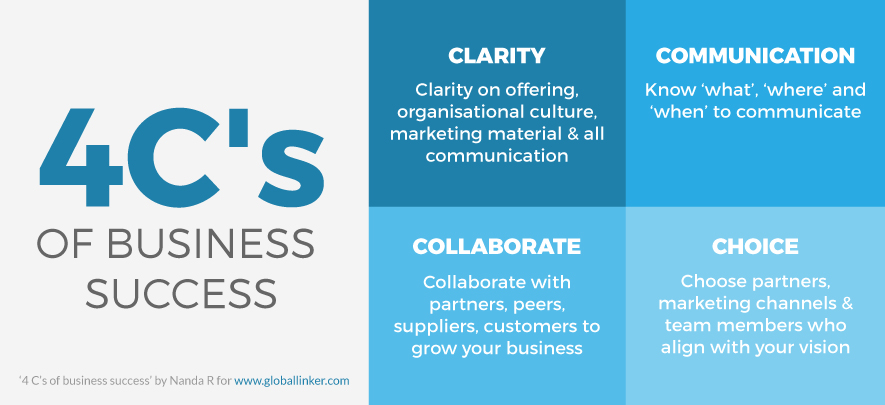 To explore business opportunities, link with me by clicking on the 'Invite' button on my eBiz Card.
Disclaimer: The views and opinions expressed in this article are those of the author and do not necessarily reflect the views, official policy or position of GlobalLinker.
Posted by
Nanda Kumar R
We Change Your Life by making a positive and sustainable difference to people's lives. We are looking to connect with other business owners and help them grow their business...