Thailand is a newly industrialised country that derives much of its GDP (US$366 billion), nearly 2/3rds, from exports. Thailand is the second largest economy in South-East Asia with Indonesia being first in terms of GDP. Thailand is a leading member of ASEAN (Association of South-East Asian Nations)
The infrastructure of the country is well developed, with successive administrations favouring free enterprise policies. There is a USD 10 minimum wage that exists nation-wide and efforts have been made to raise the economic standard of the middle class as well. As a result of these policies unemployment and inflation is low and Thailand is a hub for regional migration with people from neighbouring countries seeking out opportunities for a better life.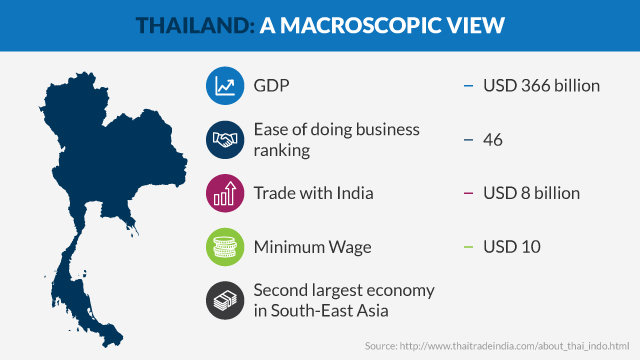 India and Thailand
India and Thailand have deep cultural ties that go back centuries. Theravada Buddhism is the main religion practiced by the Thais with over 90% falling under this denomination. As the birthplace of Buddha, India has a special significance in Thai culture and Buddhist sites in India are increasingly popular pilgrimage destination for the Thai.

India is considered as a prominent partner of Thailand in South Asia in many aspects. Trade between the two countries is increasing. Bilateral trade figures have risen by about 8 times to reach the present figure of USD 8 billion between the two countries. A commitment to increase trade is one of many affirmations made by diplomats and governments in recent times to grow a fruitful partnership.


Thailand is increasingly becoming a popular business destination. The strategic location of Thailand provides easy trade access to countries such as India, China and other member countries of the Association of Southeast Asian Nations or ASEAN. The country has a steady economic growth and has a large domestic market. Also, the governmental policies are business friendly and attract a huge amount of foreign investment. With the relationship between India & Thailand stable and the business environment sound, relative proximity and connectivity make the starting of a business or diversification into Thailand an opportunity worth considering. Moreover, Thailand has a developed infrastructure and the transportation facility is strong. The industries are provided with world class facilities and required support to thrive. The country has a liberal FDI policy that encourages free trade. It is ranked 46 in the ease of doing business index.
Major imports from India

Precious Stones and Metals

Machinery, Vehicles (Not Railway)

Fish And Seafood

Organic Chemicals

Iron And Steel

Spices,Coffee And Tea

Tanning

Dye

Paint

Putty Electrical Machinery

Pharmaceutical Products
Major exports to India

Machinery

Electrical Machinery

Plastic

Vehicles, Not Railway,

Organic Chemicals

Rubber

Iron/Steel Products

Copper

Iron And Steel

Misc. Chemical Products
Business opportunities
Any of the products and industries mentioned above present an opportunity. A growing demand in the garments and textile industry especially provides an opportunity for India which has a range of products and competitive prices for its wares.
Besides this, in the service sector, there is potential in opening restaurants, web designing services and content writing in English.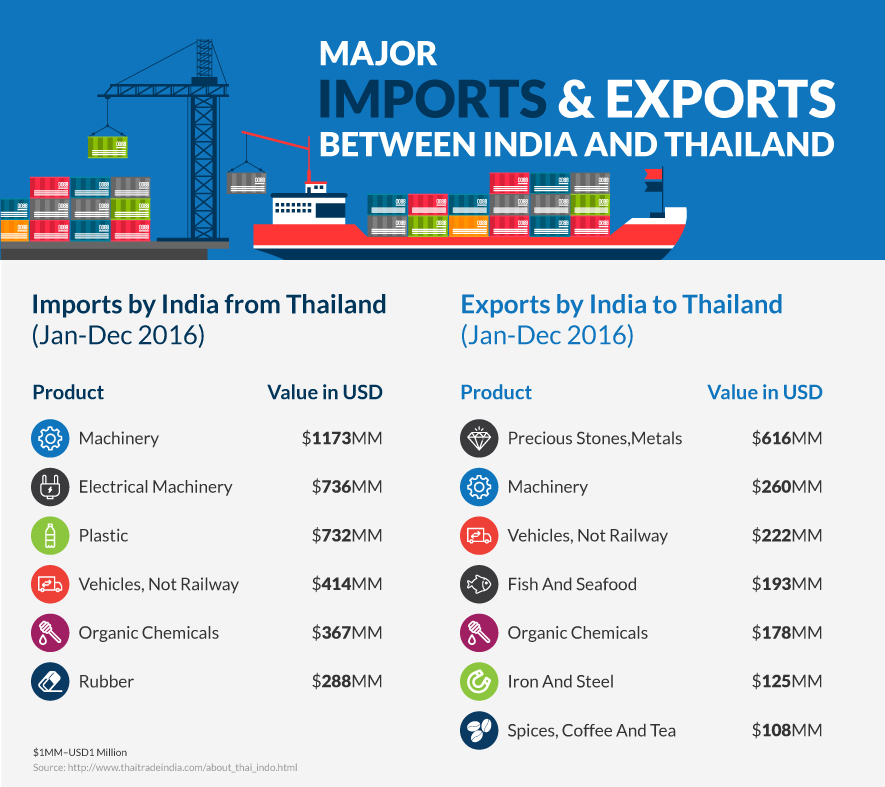 Posted by
GlobalLinker Staff
We are a team of experienced industry professionals committed to sharing our knowledge and skills with small & medium enterprises.