One of the most important factors to consider when setting up an eCommerce store is how you'll accept payments. Customers expect online payments to be quick, secure, and easy. To make the process as smooth as possible, you need to set up the right payment gateway for your business. GlobalLinker's eCommerce platform – Linker.store - provides you with three integrated payment gateway options: Razorpay, CCAvenue, Paypal.
In this guide, we will walk you through how to activate the Razorpay payment gateway.
Before you get to activating Razor for your online store, ensure you have completed your store setup. Click here for a detailed guide on setting up your store for free.
Once your store setup is complete, follow the below steps.
To activate Razorpay follow these steps
STEP 1
Login to your GlobalLinker account.
STEP 2
Click on the Online Store menu button at the top. Click on Manage store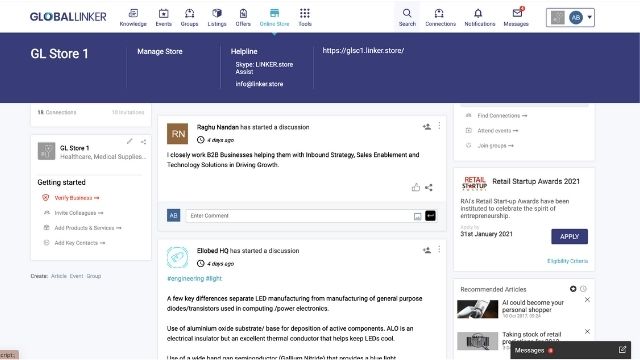 STEP 3
You will be directed to a new page, now click on the blue button, MANAGE.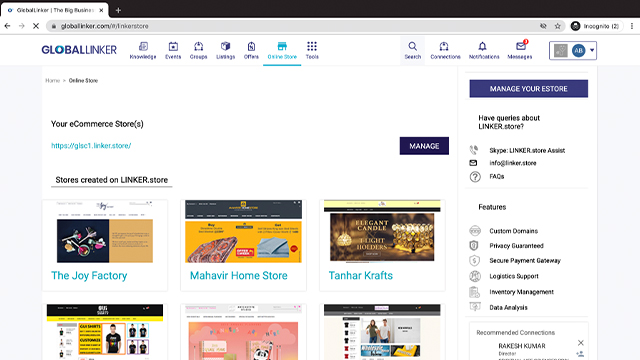 STEP 4
The below image is what your seller panel looks like (the left bar on your dashboard). Click on Stores, select Settings and click on the Payment tab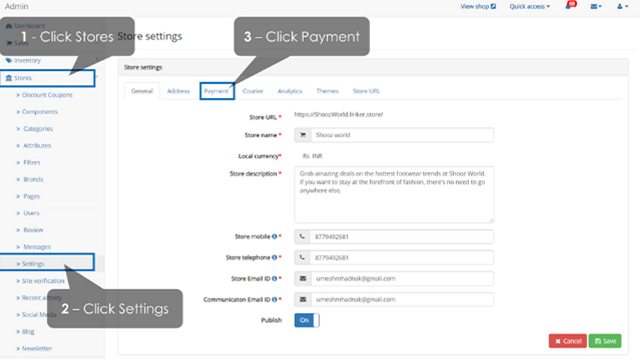 STEP 5
Under Payments, select Razorpay and click on Apply for Razorpay Payment Gateway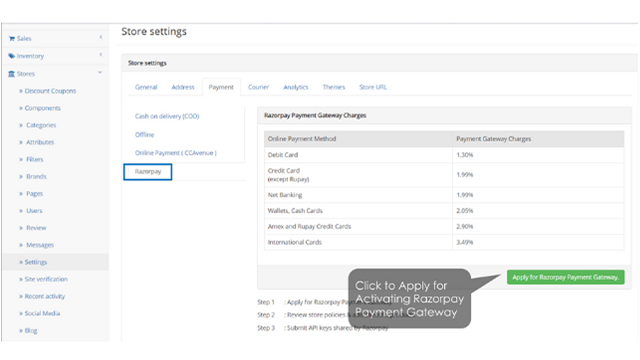 STEP 6
Enter your Merchant Name and Email ID. Click on Submit.
Once you complete this step, the GlobalLinker Team will connect with you to collect your required details and documentation to create your account with Razorpay.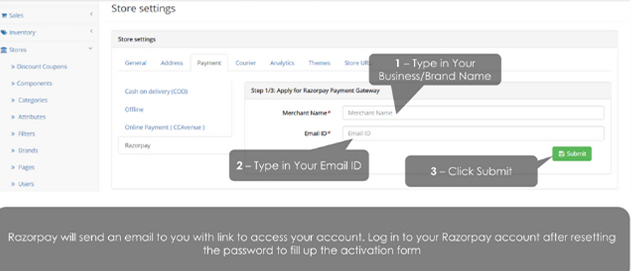 STEP 7
Ensure you have added the necessary Store Policy Pages. They are a prerequisite for payment gateway activation. In your Seller Panel, go to Online Store > Payment > Razorpay. In Terms and Conditions click on Add Page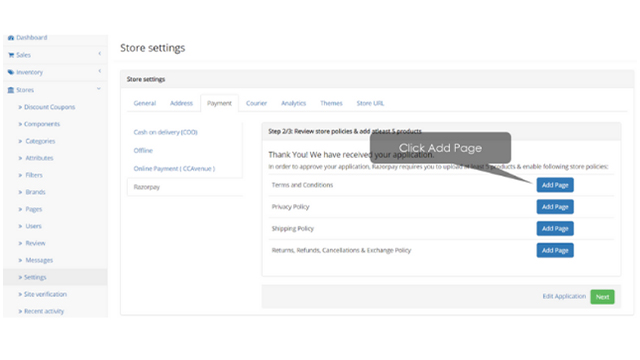 STEP 8
You will be directed to the List of pages section. Click on Edit for Returns, Refunds, Cancellations, and Exchange Policy.

STEP 9
To help you create the policy, LINKER.store provides you with a draft policy document that you can customise as per your business needs. Review the default policy, make required edits, turn the status on, and click on Save.
Repeat the same for all the pages documents.
Shipping Policy
Privacy Policy
Terms and Conditions
STEP 10
When the account is created, you will receive an email from Razorpay. You need to reset your password, fill the required forms, and submit KYC documents.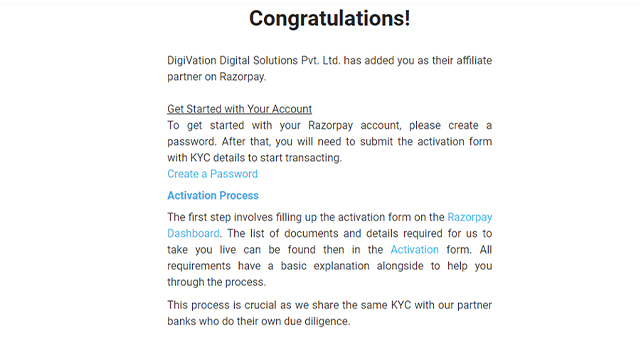 STEP 11
On receipt of the activation email from Razorpay, visit the Razorpay panel at https://razorpay.com/, log in with your credentials and click on Activate your account. In the Billing Label field, put in your brand name. Select your Business Category, add your PAN No., your Registered Business Address, select your Business Type, and enter your Business Name and store URL. Click on the Activate Account button.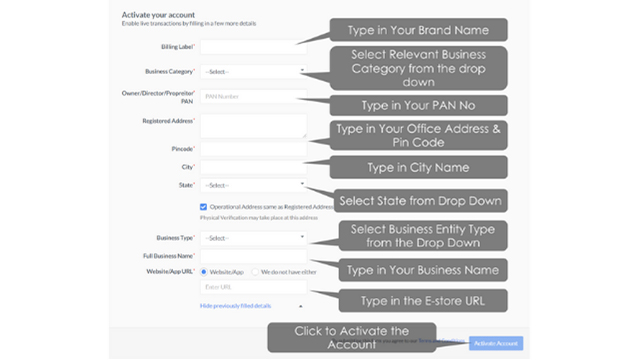 STEP 12
After Step 11, now click on Settings. In settings, click on API Keys and then on Generate Test Key.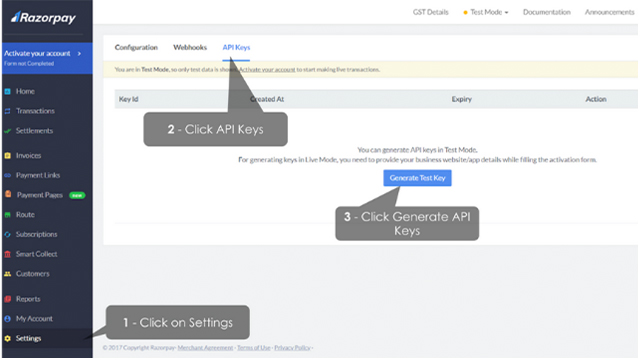 STEP 13
You will see a pop up with a Key Id and Key Secret. Copy them and log in to or go to your GlobalLinker LINKER.store seller admin panel.

STEP 14
In Seller Panel > Online Store > Payment > Razorpay, switch the toggle button to Enable. Paste the Key Id in the API Key field and paste the Key Secret in the API secret key field. Click on Save and do Rs.10 transactions to activate and confirm successful integration.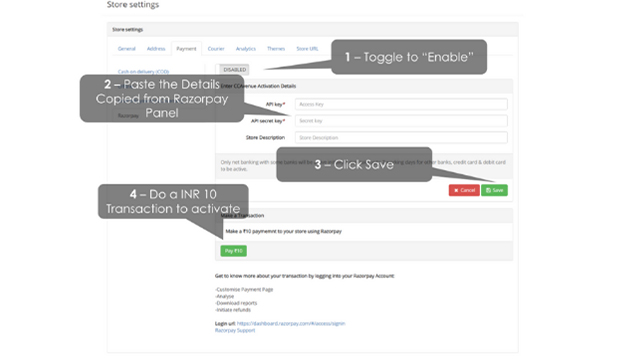 Note: To enable Razorpay, you have to have at least 5 uploaded products and have enabled the pages in List of Pages.
*In case you've less than 5 products, upload the maximum number of products available
For further assistance, write to us at 'info@linker.store' or call at +91-22-48931736.
Also read: 10 advantages of activating online payments on your eStore
To explore business opportunities, link with me by clicking on the 'Connect' button on my eBiz Card.
Image source: shutterstock.com
Disclaimer: The views and opinions expressed in this article are those of the author and do not necessarily reflect the views, official policy or position of GlobalLinker