Background: In his previous article Sridhar Narayanaswamy shared his perspective on people management. Here he explores how a flexible mindset can help embrace change, overcomes challenges and create customer-centric solutions.
Recently I participated in an event organised by a leading newspaper. The audience was all school principals and the topic was about guidance for students on what courses they can opt for, when they move to colleges.


My talk was about being flexible in one's approach and not to have a fixed mindset. If one does not get NEET (National Eligibility cum Entrance Test) or an engineering seat, it is not the end of the world. Fear of failure and unwarranted pressures make some take the wrong decisions which may be too late to regret.


I felt the same applies to those involved in running a business.


Understand what the customer wants, provide a solution that is flexible and can be adopted to their needs.
Working as an employee for most part of my life, I became an entrepreneur about eight years ago. I could have stopped mid-way, when challenges loomed in front of me. There was no compulsion for me but the one thing that is keeping me going on, is the passion to achieve something and to do something for the society.


Also read: Jugaad Innovation: A frugal & flexible approach to business success
As an entrepreneur, I have learnt to be flexible in adopting to the market needs and provide software solutions that exceed our customer's expectations. In my journey as an entrepreneur, I learnt a term called 'SPIN'. SPIN can be explained in this manner:


S – Situation - What is the present 'situation'? What systems are there now?
P – Problem - What is the 'problem' being faced?
I – Implications - What are the 'implications' – financial and otherwise due to the problems?
N – Need based solution - Provide a solution that addresses the above questions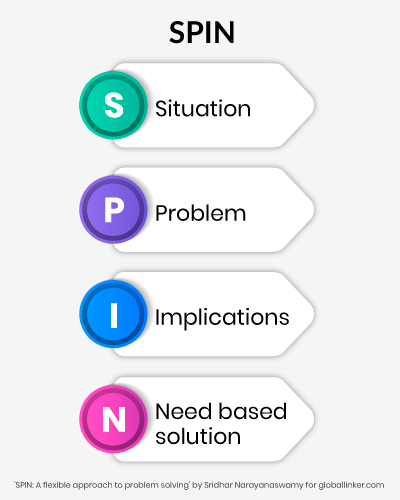 As I am in the software industry, my focus is mainly on providing software solutions that address customers' problems. I have learnt that a customer will never buy a software unless s/he is convinced of its benefits to their business. Whatever we have done, are all customised software and perhaps one of their kind.


Perhaps SPIN applies to other industries also. Let me give an example here. We work closely with a large paint products company and as we all know, shade cards and fan-decks and printed brochures are used to decide which colour to choose when painting a house. These shade cards cost money and are also bulky. We replaced these with digital shade cards that the sales executives carry on their smartphones, show them to their customers and get the choices finalised quickly.


Another example, on which we are presently working on, is to implement an effective solution for attendance management of labourers especially in construction sites. Any type of automation, we have found, has its own drawbacks and is not foolproof. Our solution uses face-recognition technology which can authenticate a person in less than a second. Absolutely secure, our solution takes care of all personal privacy rules in force. A person can lose his ID Card or RFID Tag or may have rough unclear fingerprints. But what about his face. It is always there!!


I started with 'being flexible' and ended up talking about SPIN. Don't you agree, both the topics are inter-related. Understand what the customer wants, provide a solution that is flexible and can be adopted to their needs.


Also read: How to be a good leader
Image source: shutterstock.com


To explore business opportunities, link with me by clicking on the 'Connect' button on my eBiz Card.


Disclaimer: The views and opinions expressed in this article are those of the author and do not necessarily reflect the views, official policy or position of GlobalLinker.
Posted by
Sridhar Narayanaswamy
Managing partner of Innovatus Systems, founded by him on January 1, 2013. Sridhar is a result oriented professional with over four decades in the Information Technology &...