Enterprise: Self Employed Women's Association (SEWA) Lucknow


Founder & CEO: Runa Banerjee

Industry: NGO & Social Enterprise

Year it was founded: 1984

Based out of: Lucknow, Uttar Pradesh
"It is not enough to be compassionate – you must act" - The Dalai Lama


Runa Banerjee's life is testimony to these words. Born and raised in Lucknow, Runa grew up with a strong commitment to social change. As part of a UNICEF-supported study in 1979, Runa was exposed to the plight of the artisans of chikankari – a traditional embroidery typical to Uttar Pradesh. Runa realised that this ethnic craft was on the verge of extinction since the craft persons, especially women, were being exploited by middlemen. With a vision to provide sustainable employment to these women artisans, education to their children and to safeguard their social and legal rights, she established Self Employed Women's Association (SEWA) Lucknow in 1984.


Over three decades, around 100,000 women and children have been beneficiaries of SEWA Lucknow. In recognition of her tireless efforts to empower women and revive chikankari, Runa was awarded the Padamsri in 2007.


In conversation with GlobalLinker (GL) Runa Banerjee (Runa) shares her journey.


GL: How did SEWA Lucknow come into being?


Runa: A study done by UNICEF in the year 1979 on child labour that zeroed down on the children of chikankari artisans in Lucknow revealed that there were more than 40,000 chikankari artisans who were being exploited by middlemen. This resulted in low income as poverty struck their homes and the children of the artisans had no other alternative but to support their families by working in different professions like working in homes or in tea stalls.
In the year 1982, the founders of SEWA Lucknow started a school by bringing some of these children to start learning, playing games and in the process teach basic lessons to them. Gradually, behavioral changes in the children were noticed by their parents and made them inquisitive as to what was happening in the school! Their mothers visited the school and were convinced that now their children were in safe hands and also realised that these children now had the opportunity to become good students. Thus, they approached the founders and made a request to start something beneficial for them as well. The result was that 31 women came forward and wanted to do some income generation activity. Thus, Self Employed Women's Association (SEWA) Lucknow was registered on 13th February 1984 as a not for profit organization under Society Registration Act of 1860.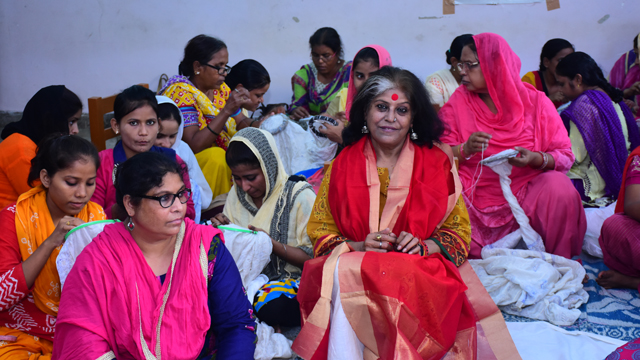 GL: How did you foray into exports?

Runa: In India, we sell our products directly to customers through retail outlets and exhibitions in several cities. A lot of foreigners showed keen interest in our products and this inspired us to hold international exhibitions. Since 2002, SEWA Lucknow has participated in numerous high-profile international exhibitions, including in London, Lyon, Melbourne, Barcelona, Washington. Our artisans themselves take part in these exhibitions and we follow fair trade practices. Our association with FIEO (Federation of Indian Export Organisations) has helped us reach the international market.
GL: What challenges do you face?


Runa: As a not for profit organisation, it is difficult for SEWA Lucknow to afford high profiled designers. Buyers are always on the look out for newer products and to meet this challenge, we try to get assistance from well-wishers. Other challenges include, regular wage payments of the artisans and suppliers of raw materials, piracy of designs and stiff competition from cheaper quality products. Though we have the artisans' strength and the correct know-how to maintain quality control, catering to the international market becomes a challenge due to lack of finance which impacts production capacity. We operate on bank credits, and this has its own limitations and constraints. For global visibility, it is important that both static & dynamic tools of promotion are applied; this also requires funds. Thus, our biggest challenge is finance.


GL: What is your vision for SEWA Lucknow?


Runa: My vision is to make women economically independent. The idea is to do away with middlemen, revive chikankari, bring in products that can be placed in the highest markets and customer segments, introduce a unique B2B marketing technique, and provide sustainable self-employment to women artisans.


GL: Your advice to aspiring women entrepreneurs?


Runa: Women must earn and live with dignity and avail of new opportunities to assume their rightful place in the third millennium.
Network with Runa Banerjee by clicking on the 'Invite' button on her profile.
Disclaimer: This article is based solely on the inputs shared by the featured member. GlobalLinker does not necessarily endorse the views, opinions & facts stated by the member.
Posted by
GlobalLinker Staff
We are a team of experienced industry professionals committed to sharing our knowledge and skills with small & medium enterprises.