Enterprise: The RedSaffron
Founder: Seema Lal
Industry: Retail
Year it was founded: 2008
Location: Pune


First-generation entrepreneur Seema Lal has her hands full these days, parenting 10-month old twins at home and managing a booming business - The RedSaffron. Her babies (the business and her twins) seem to be growing at a fast pace, and Seema is enjoying bringing up both.


Speaking to her about her entrepreneurial journey one realises that there seems to a story behind every aspect right from how she left her high-flying job to start a business to how she coined its name.


The back story

Born in the Middle East, Seema moved to Delhi with her family at the time of the Gulf War. Post liberalisation, when many foreign companies were entering India, Seema landed a job with a multinational firm, fresh out of college. A few years later, she was offered a senior management role in Pune. After working for almost seven years in the corporate sector, she took the bold decision to pursue the dream of building her own business. She then enrolled for an executive MBA at IIM Kolkata. The RedSaffron, established in 2008, was the culmination of Seema's desire to bring to Pune a fashion retail store that offers a wide range of women's ethnic wear at affordable prices. 'The brand name was an obvious choice for my husband and I. My last name is 'Lal' and my husband's 'Kesar' which literally translates to 'red saffron'.'

Seema shared more stories from her business journey in a free-wheeling chat with GlobalLinker (GL). Excerpts...


GL: Why business? And why fashion retail?


Seema: While working at my corporate job in Pune, I realised that since I had the drive and bandwidth, it was the right time to quit my job and experiment with starting a business. Although I don't come from a business family, everyone was supportive of my decision. This is where the executive MBA programme at IIT Kolkata helped as it exposed me to various subjects related to running a business. Exploring a few retail business options, made me realise that I have a passion for fashion and clothing. I used to follow the store 'W' as it was one of the first stores to offer causal Indian wear. Participating in exhibitions helped me identify what customers like. Finally, in 2010, we launched our physical store with a range of kurtas, leggings and other ethnic wear.

Also read: Manjir Chatterjee, Founder-CEO, Folk


GL: A milestone that transformed your business?


Seema: When I left my corporate job to become an entrepreneur, my husband gave me some great advice: 'You must never feel that you have a choice to come back to a job,' he said. Consequently, each time I faced a challenge in business, quitting was not an option.


About four years ago, buying of readymade garments started shifting from physical stores to e-commerce platforms. So, I started selling on various online platforms. It was then that we decided to focus on customised solutions—a decision that has worked very well for us. Customers come to us with their ideas and our designers help to bring this vision to life with expert inputs. While most retail outlets have mass products, we offer one-of-a-kind customised clothing at affordable prices. We invest time and energy to bring uniqueness to every outfit at our store. Moreover, our after-sales service has given us an edge over competitors in the customised sales industry. Our attitude towards our customers has led to a lot of referrals, making word of mouth marketing our biggest strength.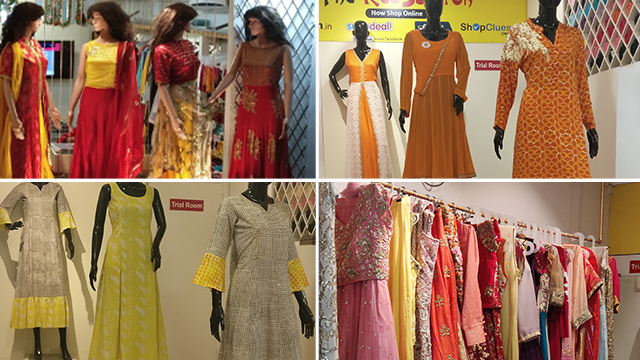 GL: What are your challenges and how do you plan to overcome them?


Seema: Customisation of outfits always restricts you to spread across multiple locations or larger markets. Procurement of specific and small quantities of raw material impacts the costing of the final outfits, as bulk purchase prices are lower. To tackle this issue, we are trying to figure out a way to mass customise where we can still customise 70% of the product within a shorter turnaround time and thereby reduce cost.


In retail, with changing times, you must do something niche, you must bring some value, over and above what others are doing.
GL: What is your leadership style?


Seema: Being a mother of 10-month-old twin girls, I am often pressed for time, but I ensure that at the start of each day I communicate all priorities to my team on WhatsApp.


We are a team of 12, working closely, covering all aspects of an order. Being a part of a smaller team keeps you in the know and enables seamless communication.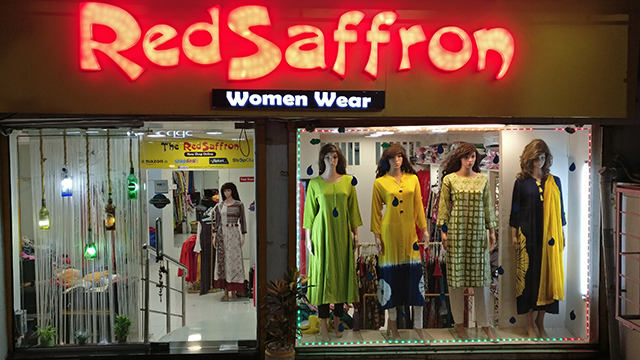 Being a daughter of an award-winning social worker who has represented her NGO at UN in the field of women empowerment, I have tried to do my bit. Since the start of RedSaffron, I have hired economically challenged girls to run the store. I empower them with relevant vocational training. Some girls are now happily married earning a living for their family.

Also read: From lawyer to owner of a global brand of sarees & Indian ethnic wear


GL: How can GlobalLinker help you grow your business?


Seema: Being part of a community of entrepreneurs helps in networking, sharing of best practices and interlinking needs. It's great to connect with other entrepreneurs, understanding their challenges, processes and getting a larger view.


GL: Do tell us about your relationship with RAI (Retailers Association of India).


Seema: I have attended several training sessions organised by RAI. There was one on visual merchandising that I attended to make sure that our store looks unique and calls the right customers. Then there was one on retail strategy and resource management. I also attended a conference where I had a fan-girl moment when I met Kishore Biyani (Founder of Future Group). That's the time I met a lot of entrepreneurs. I also met Manish Mandhana, MD of The Mandhana Retail Ventures Ltd. (Being Human). I ask many questions and learn a lot at these sessions.


GL: What is next on your business agenda?


Seema: With the focus on increasing revenues, we are looking at reducing turnaround time for orders by automating processes. We also aim to be more active on social media to reach out to our potential market.


GL: What is your advice to aspiring entrepreneurs?


Seema: Being an entrepreneur is a beautiful and satisfying journey. At the same time, it involves a lot of patience, positivity and discipline. Be strong, flexible, set small goals and accept change. My father once told me: 'If you haven't made a mistake in the last few days, it means you haven't done anything new.'

GL: We would love to know the person behind the entrepreneur.


Every day you wake up at – I am usually up by 7:30 am
Things you do to unwind – On some days, the moment my twins sleep, I rewind my days activities—be it work, kids or home. It highlights my shortfalls. I try to think through permutations and combinations to do those activities efficiently, with the aim of balancing all my fronts peacefully.
Your go-to person for advice - My husband Sangharsh Kesar. He has always given me a helicopter view of every challenging situation, simplified complex situations logically without stress. He has been my backbone, devil's advocate and motivator throughout our 12 years journey together.
A book every entrepreneur should read – 'It Happened in India' by Kishore Biyani


Also read: Foundation of the first generation, vision of the second, and their united commitment to build a growing business


Network with Seema Lal by clicking on the 'Connect' button on her profile.


Disclaimer: This article is based solely on the inputs shared by the featured member. GlobalLinker does not necessarily endorse the views, opinions & facts stated by the member.