The emergence of technology has given HR executives more time to focus on business impact initiatives like talent acquisition and leadership development, while allowing systems to handle tasks like business process management (BPM) and service delivery. This has made the HR function more strategic to organisations.


Nowadays HR systems are available on the cloud and can be accessed securely by employees via the internet, making it easier for companies to adopt technology.


According to North American IT services company Sierra-Cedar's 2016-2017 HR Systems Survey unveiled at the SHRM India Tech '17 Conference, more companies in India and across Asia-Pacific (APAC) region plan to increase their HR technology budgets this year.


The survey white paper suggests that 56% of all APAC organisations are planning to increase their HR technology spending this year, out of which 64% are India-based organisations. Close to 40% of all APAC organisations and more than 50% of India-based companies hope to improve or develop new enterprise HR systems strategies this year.


The strategies include areas like - adopting HR technology beyond payroll and core HR management systems, upgrading or shifting to new cloud-based HR systems and investing in new areas like analytics, mobile and social technologies. These strategies were recognised as vital to the survey's Asia-Pacific participants.


The study looked at the HR technology landscape across Asia and India in particular where rapid technological changes are coinciding with economic and cultural changes, making HR technology central to business outcomes. Many companies are revamping their HR processes through the use of technology.

A recent article pointed to how one of India's fastest-growing wealth and investment management player ASK Group deployed Oracle HCM Cloud applications with a view to quintuple the size of the assets under its management over the next five years. The company estimates that technology has played a critical role in boosting sales productivity by as much as 30% and also helped its four member HR team to raise its productivity by 50%. The team now spends much less time managing Excel spreadsheets, downloading, rechecking data and more time providing HR advice and partnering with other business units.

The above examples prove that technology has the potential to add real value to the HR function when it is implemented in the right way. Technologies such as cloud, social media, big data and gamification are transforming how HR professionals work. By choosing the right technology, HR departments can deliver a faster and smarter HR system that can save time and cost, giving them more strategic value. Everything that the HR department does ultimately has the singular focus of enabling employees to perform better.

The HR function is no longer a business enabler, but has become a critical business driver and organisations that adapt to the changing landscape by adopting technology will emerge victorious.


The infographic illustrates the functions where HR managers are investing 25% or more of their time and resources.


To explore business opportunities, link with me by clicking on the 'Invite' button on my eBiz Card.
Disclaimer: The views and opinions expressed in this article are those of the author and do not necessarily reflect the views, official policy or position of GlobalLinker
.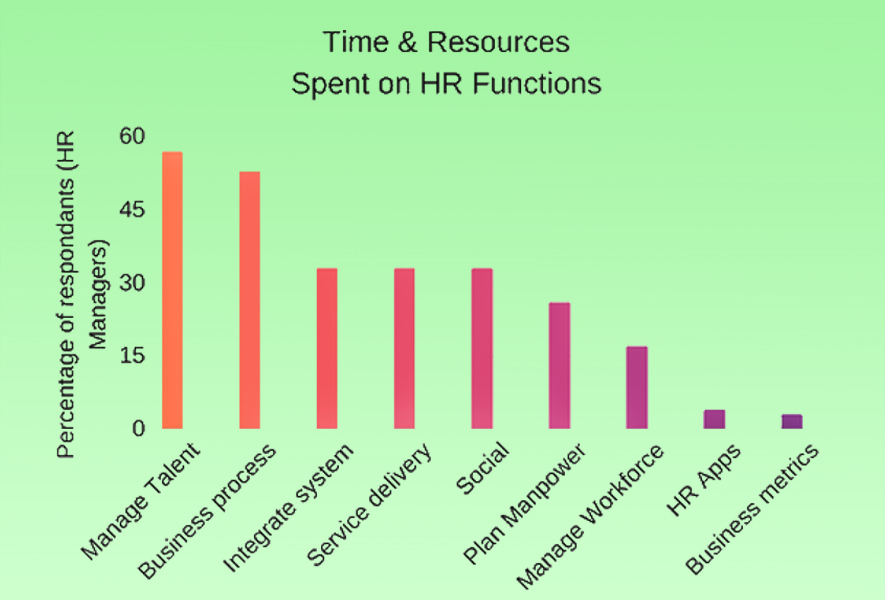 Posted by
Andre Lobo
Founder & CEO of a cloud technology company for HR and sales analytics. An avid reader, I have a passion for technology and how it can change our lives.