Background: The future of retail has arrived—retail as a service (RaaS). With its many benefits the new model is a clear win for all the stakeholders—the consumers, the brands and the retailers.

For all the talk of 'the death of physical retail', it has become clear that brick-and-mortar retail isn't dead as majority of sales still happen there. Today, consumers are offered the same brands over and over in all retail destinations making the shopping journey often very predictable and mundane. In parallel, we are in the era when many of the coolest brands offering innovative products are starting online and being discovered on social media.


How do they deliver a physical store experience to enable consumers to touch their products without having to invest in long lease real estate, operations and stocks needed to support an entire physical store? Thanks to 'necessity—the mother of invention', a new model in retailing has evolved successfully to make this possible.


RaaS (Retail as a Service) model, enables any brand to go offline quickly with minimum investment by renting a ready-to-retail space available on short lease periods at prime retail locations.
Ready to retail
Welcome to the new concept in retailing—the RaaS (Retail as a Service) model, much like the SaaS (Software as a Service) model. This enables any brand to be able to go offline quickly with minimum investment by renting a ready-to-retail space available on short lease periods at prime retail locations. A typical ready-to-retail space offers highly flexible fixtures, signage, lighting, Wi-Fi, point-of-sale hardware, a dedicated staff, tech-enabled phygital product info and experience devices supported with data capture, and insightful analytics dashboards.


Also read: Flourish or vanish
Big box rebooted
Fourpost, the brainchild of Mark Ghermezian, opened its first ready to- retail store called Studio Store at the Mall of America in Minneapolis, offering space to about 30 brands ranging from 50 - 100 sq. ft. in short term six-month and one-year lease terms priced at around $3,000. Curated brands like Baubles and Bobbies, Mend Jewellery, Still Kickin', Julia Knight and Namakan Fur were able to successfully set up their retail presence in this premium mall, by being present in the Studio Store, which normally would be way out of their budget.


The store offers an innovative department store experience offering a highly dynamic brand portfolio in a compulsive touch and tech-enabled environment. Probably, this is the future rebooted concept of the declining department store format.


Also read: It's about the story
Curated fashion studio
Restore, the creation of Selene Cruz, opened its first outlet in San Francisco's Tony Union Square to offer trendy and difficult to find, online brands in an immersive, experiential and instagrammable retailspace. Brands pay as little as $350 per month as well as a 20% commission. The store also features community workspace for start-up fashion entrepreneurs to work and interact with customers.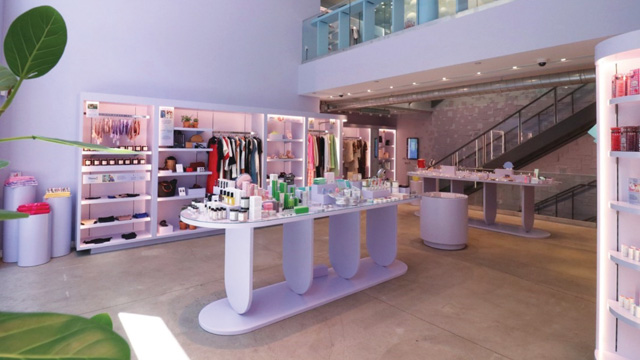 The Re:store outlet based on the Retail as a Service concept in Tony Union Square, San Francisco


Today, the store offers an exciting updated portfolio of fashion, beauty, home and wellness brands. Customers get to shop for well-known brands like Sézane, & Other Stories, Sleepy Jones and Mansur Gavriel, alongside new ones, like The Line by K, Boyish and Feals.


Un-boxed phygitally
Anec. (pronounced as Anec dot), creation of Inspired Kinematics in Bengaluru, is a compact readyto- retail concept that helps online and start-up lifestyle brands to connect with their consumers in an experiential retail format delivered through touch and tech. The first store, a first of its kind in India, was set up three months back in a footprint of 90 sq. ft. at the popular Forum Neighborhood Mall. It features trending styles of crafted fashion footwear offered by the brand VAPH.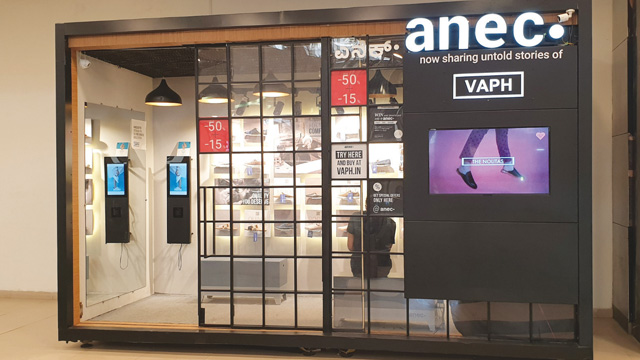 Bengaluru based Anec. (pronounced as Anec dot) is India's first ready-to-retail store


The store has a combination of RFID, imaging and digital technology to help present curated offerings in a phygital environment that enables frictionless trial, informed decision making, payment and purchase analytics. This ready-to-retail store has delivered a strong traction of over 1500 walk-ins since it opened.


Win-win-win
The RaaS model is quickly gaining ground as it is has shown promising results in delivering value to all its stakeholders—the consumer, the retailer and the brands. Consumers get to engage experientially with new brands offering different and differentiated products during every visit to the store.


For retailers, the burden of expensive long lease real estate, operations and stocks cost can be eased to short lease, intelligent compact spaces that deliver viable businesses. Brands get to build awareness and stronger relationships with their core customers, while testing, measuring, iterating and improving their retail strategies affordably. It's clearly a win-win-win for all.


Also read: Employee Experience and Customer Experience: Two sides of the same coin

Article by Surender Gnanaolivu published in STOrai Magazine. Surender Gnanaolivu has an experience of over two decades in Retail Strategy, Store Design, Planning & Development, Visual Merchandising, Roll-out Management, Retail Audits, and Training working with some of India's best retail brands. He is currently a Sr Retail Experience Consultant.

Disclaimer: The views and opinions expressed in this article are those of the author and do not necessarily reflect the views, official policy or position of GlobalLinker.