The much-awaited Limited Liability Partnership (Second Amendment) Rules 2018 containing the relevant revised rules and incorporation related e-form layouts which were notified on 18th September 2018 have come into effect from 2nd October 2018.


The re-engineering of the incorporation process has made the whole process of LLP incorporation seamless and also in lines with the Company incorporation process.


The Limited Liability Partnership (Second Amendment) Rules 2018 contains mainly the following changes:


Introduction of a Web Service titled 'RUN-LLP (Reserve Unique Name – Limited Liability Partnership)' replacing the erstwhile Form 1 (Application for reservation or change of name).


Introduction of a new integrated Form christened FiLLiP (Form for incorporation of Limited Liability Partnership) replacing the erstwhile Form 2 (Incorporation document and subscriber's statement) combining therein 3 services i.e.,
Name reservation
Allotment of Designated Partner Identification Number (DPIN/DIN)
Incorporation of the LLP


New field 'whether a name is already approved by Registrar of Companies' is introduced to accommodate names approved through RUN-LLP and reservation of name through FiLLiP.


New field 'Type of incorporation' inserted to enables users to prefill/enter the type of incorporation (New incorporation/ Conversion of a firm into LLP/Conversion of the private company/unlisted public company into LLP).


Each category of partner/designated partner (except non-individual partner/designated partner is divided into two types, one having DIN/DPIN and another not having DIN/DPIN.


Maximum of two DINs/DPINs can be allocated through FiLLip


In case none of the Designated Partners have DIN/DPIN, the form can now be signed by providing PAN details of the Designated Partner.
Below is a comparative list of the proposed changes: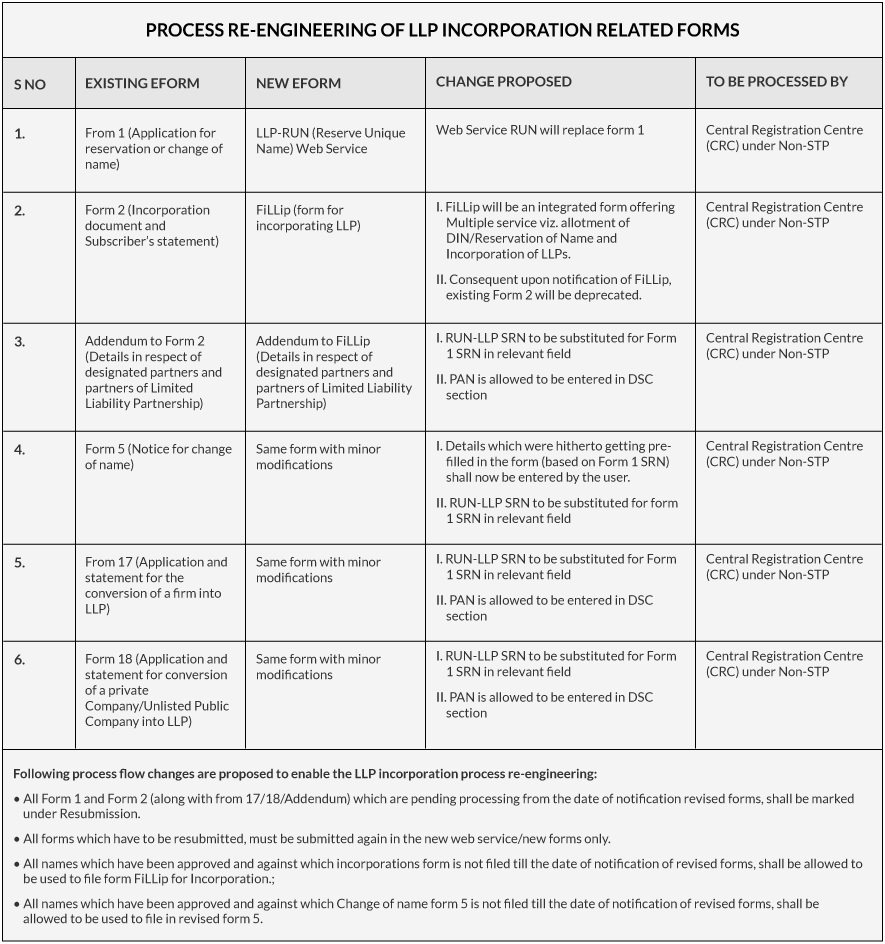 Source: http://www.mca.gov.in/

Image courtesy: EbizFiling
To explore business opportunities, link with me by clicking on the 'Invite' button on my eBiz Card.
Disclaimer: The views and opinions expressed in this article are those of the author and do not necessarily reflect the views, official policy or position of GlobalLinker.
Posted by
Ravi Haresh Kariya
EbizFiling.com is a motivated and progressive firm managed by like-minded people. It helps a variety of small, medium and large businesses to cater to all compliance requirements...