No country or business is invulnerable to the commotion that COVID-19 has caused across the globe. Moreover, the majority of Fortune companies are undergoing supply chain commotion due to COVID-19 and they have realised an adverse impact on business that has caused a downgrade in their growth outlook.
Also read: An unprecedented challenge, also an opportunity for SMEs to do unprecedented things
In the short-term, the supply chain must cope with the ongoing challenge and in the extended run supply chains are not likely to remain the same. There is a necessity for global synchronisation to aid establishments redefine their supply chain competencies to generate and maintain a rapid retort and suppleness, thereby creating intelligent supply environments. This will support organisations to reduce the perils, protect the working of global supply chains and reduce or minimise the disturbances while also acclimatising to a "new normal." The current disruption from COVID-19 is likely to have long-lasting insinuations on supply chain function and personnel in order to build flexibility and suppleness in value chains to succeed future challenges.
By way of adoption of exponential technologies, organisations worldwide are moving away from the outdated and linear supply chain models to connected, intelligent, scalable, customisable and nimble supply linkages. First adopters and innovative companies are shifting to dynamic and united networks that deliver an incessant flow of products, services, information and analytics for decision making. Traditional organisations are growing their supply chain functions to encounter increasingly volatile consumer preferences. Although the level of emerging technology adoption and use cases are comparatively less in India, it is only a matter of time before supply chains across industries would be reimagined, upgraded and disrupted.
Also read: Technology and business trends in 2020
Assisted by synchronised development and integration of the digital and physical technologies, Industry 4.0 is renovating the way supply chains operate across geographies as it integrates and extends digital connectivity within the context of the physical world in enterprises and supply networks. The development drives the physical act of manufacturing, distribution and performance identified as the physical-digital-physical loop.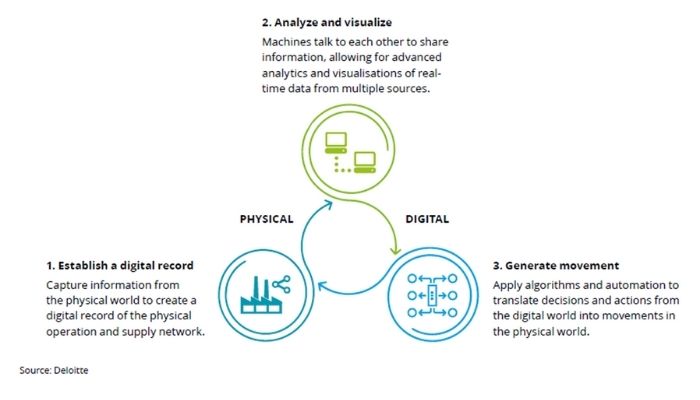 Generally, supply chain professionals accomplished the "four Vs" (volatility, volume, velocity, and visibility) as they endeavoured to augment results across a series of objectives that contain total cost, service, quality and backing for innovation. These traditional primacies are not likely to change but going onward, supply chain decision architects are likely to be able to achieve advanced levels of performance with supply chain competences developed in a non-linear setting.
Evolving supply chain styles
Companies address challenges associated to demand volatility, scattering and cost pressures, Digital Supply Networks (DSN) are ever more in focus as they offer an opportunity to exponentially increase efficiency and efficiency in the supply chain, optimise cost and attain end to end visibility. The fourth industrial revolution would therefore be compelled largely by DSNs where machines are anticipated to enhance human performance and as part of this alteration, implementation of the connected products, customers and supply chain and operations would be determined by a vast network of cyber-physical systems.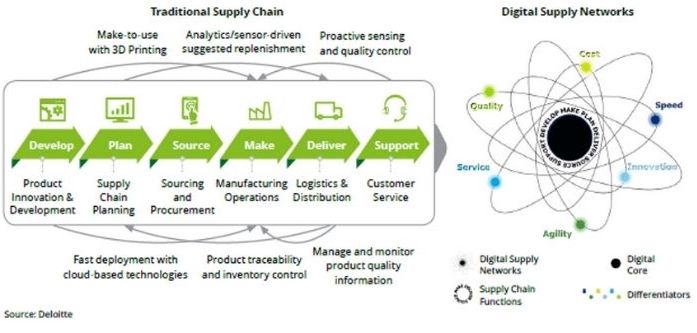 DSNs once wholly implemented can cause a paradigm move in the operational delivery for most industries and companies. Innovators and market leaders would endeavour to achieve operational digital equivalence and arrangement of the right capabilities in the right way within their operating model which would require a shift from the tradition functioning models to insight-driven and supple operating models with the customer at the core.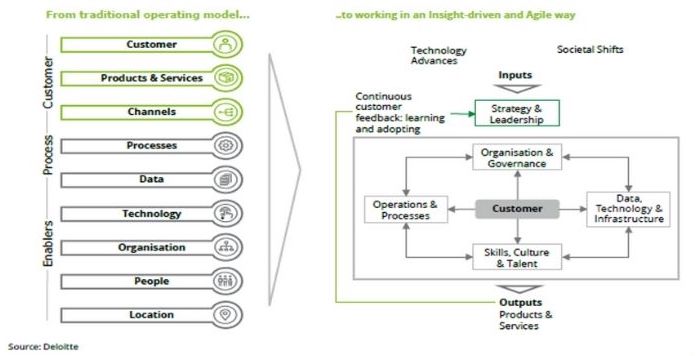 Organisations are returning to their planning processes which have always been a challenging and stimulating process free of scale and scope. Nevertheless in the current age of information and connected networks, these challenges have become even more frightening. Even though few leading companies have matured to an integrated business planning model, majority still depend on on traditional operational models to meet business requirements. Presently the planning cycles hang on on regular monthly meetings and follow a progressive approach to supply and demand planning. In today's vibrant environment, this unbending structure is ineffective to precisely respond to unexpected changes in demand and supply. The globalisation of the business setting and increasing difficulty in the value chain has made precise forecasting even more challenging and thus plummeting the effectiveness of traditional planning cycles.
Companies in order to come across today's challenges successfully and alleviate future risks need to consider shifting to a fundamentally new collaborative supply planning process. The next generation planning model that is developing is expected to be a really collaborative effort connecting real-time data gathering and analysis, improved decision making and is possibly to move away from unbending IT systems to highly supple and customisable cloud based platforms. This has the potential to deliver the organisation with customisability, platform for collaboration, speedy simulation & scenario planning and incessant monitoring of KPIs through role-based dashboards.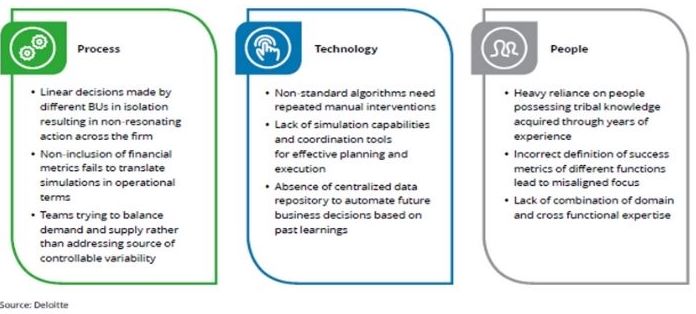 Augmenting the supply chain with real-time visibility supports in altering business operations and providing understandings needed to operate swiftly, accurately and more efficiently. Moreover, companies are exploring the norm of block-chain for real-time visibility of the supply chain and to confirm trust and genuineness in the dealings across the chain. Innovation and advanced technologies are critical to company and their competitiveness as they distinguish businesses and help them flourish amongst global competitions by creating premium products, processes and services that capture higher margins.
Digitally supported supply chain
Distraction within the supply chain is driving value-added integration across platforms, altering industries and changing consumer expectations.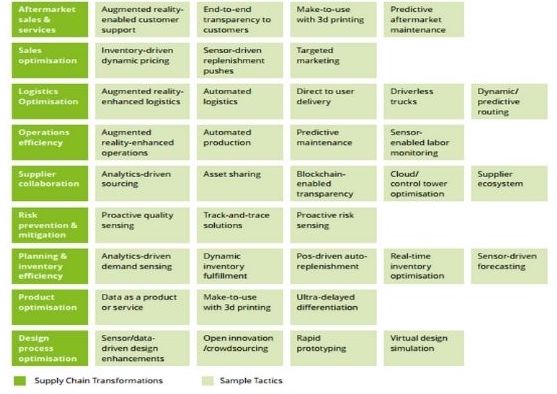 The significant differentiator in the world of information and analytics would be the usage of smart sensors which through its computing abilities have strengthened substantially, thereby enabling data processing and analysis at or near the source ("edge computing") and reducing the amount of data that moves between the device and platform. The fast-tracked exchange of physical-turned-digital information can exponentially upsurge the range of opportunities for improved performance, higher capacity, better dependability and progressive innovation. Once companies discuss about in what way these advancements are disrupting supply chains and the way they interact with all the ecosystem partners, including customers, suppliers and other partners the key is by what method they should address information flow between the physical and digital worlds as indicated in figure below. However, there are three elements that need to be addressed by the companies:
First, companies must establish a digital record to gather information from the physical world and create a digital inscription
Second, once the digital information is made, there is a digital to digital linking for sharing digital information to allow for advanced analytics and visualisations and start to make decisions
Third, how does that decode into movement in the supply chain system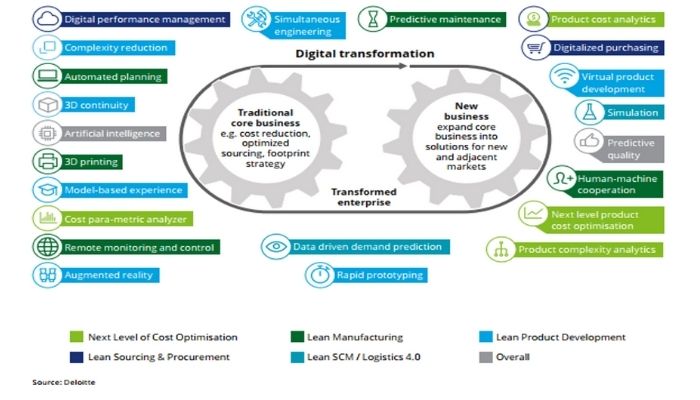 The significant for organisations is to break away from the traditional direct mind set which are set in boundary conditions around regulation, infrastructure etc. However, organisations need to identify and highlight discrete "proof of value" projects where these makeover (especially digital strategies) initiatives can be verified and noticeable ROI can be established. Once such implementations provide an adequate ROI, companies should position themselves to expand across the enterprise. In the process, companies should also think artistically in order to address challenges around finding, training and retaining skilled talent following a six step process as shown below.

Also read: Supply chain disruption: What firms can learn

The competitive capability is determined primarily by the competitiveness of the complete value chain. However, maximum industries are repositioning their value chains to a higher which means that they have to avoid making the similar errors they did in the past decade when some companies thought that improving only their operations performance would have been adequate to compete. In fact, the business precedence moved from efficiency to effectiveness or to speed of innovation in many industries across the globe. Digitalising the current-existing supply value chain means e-enabling all existing activities, using all possible e-digital systems and technologies as represented in figure below.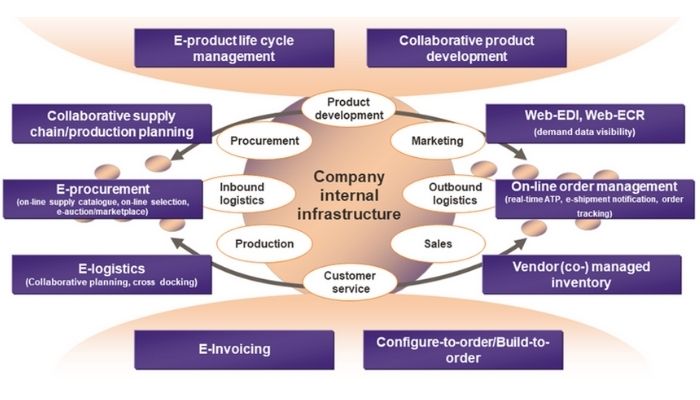 Nevertheless, if one review the supply chain beginning from possible evolutions of the Value Chain enabled by digitalisation, the development of the Value Chain could be represented as in figure below.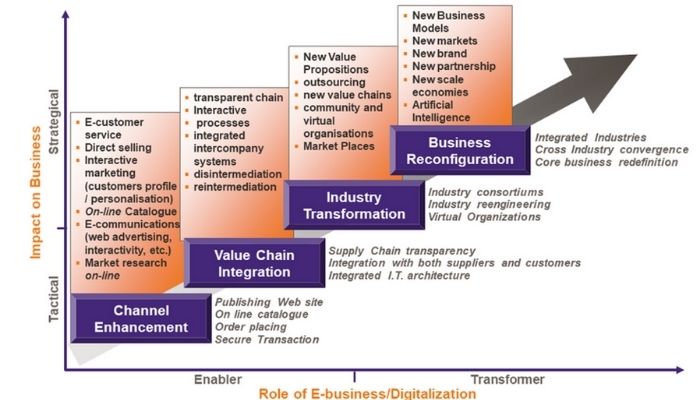 Conclusion
The developing new Business Models are meaningfully altering prevailing value chains and the related operational supply chains. Moreover, supply chain re-configuration with its new and upgraded performances possibly will be the starting point and enabler of the new Business Model. Digitalisation is considerably changing the paradigms of existing value chains and the two calculated key drivers of these new paradigms are the "disintermediation/ unbundling "of commercial streams (eCommerce) and the "Servitization" trend. Traditional companies have to reorganise their supply chains accordingly and they have to reshape them or even design new supply chains from scratch.
Also read: B2B businesses digitise their product catalogues with GlobalLinker's ecommerce platform
To explore business opportunities, link with me by clicking on the 'Connect' button on my eBiz Card.
Image source: shutterstock.com
Disclaimer: The views and opinions expressed in this article are those of the author and do not necessarily reflect the views, official policy or position of GlobalLinker.