COVID-19 pandemic has impacted the Indian economic activities severely and has deepened the uncertainty about the economy and that it may suffer its most severe recession since 1979. As a result of two months of lockdown, the industrial production as well as demand for goods have plunged into steep decline, the private consumption which is almost 60% of the domestic demand has shrunk drastically.


Considering the macroeconomic impact of the pandemic is turning out to be more severe than initially anticipated and that there is a downward risk to growth, on 22 May 2020, unexpectedly, RBI announced a reduction in the policy repo rate by 40 basis point from 4.4% to 4.0%, an 8th straight cut, bringing repo rate to lowest in last 15 years. Additionally, RBI also allowed lenders to extend an ongoing moratorium on loan repayment, which was initially for a 3 months period and was due to end on 31 May 2020, has now been extended by another three months to 31 August 2020.


The RBI also decided to continue with the accommodative stance as long as it is necessary to revive growth and mitigate the impact of COVID-19 on the economy, while ensuring that inflation remains within the target.

Also read: Covid-19 Business Unusual: How should SMEs tackle it?


Home loans: How much will be the EMI saving and how soon?
A 40 basis point reduction in repo rate will decrease your EMI by INR 1828 for a home loan of 75 lakhs for 20 years tenure leading to a total saving of INR 4,38,720 over total tenure and a reduction of EMI by INR 2446 for a 1 crore loan for 20 year tenure and total saving of INR 5,87,040.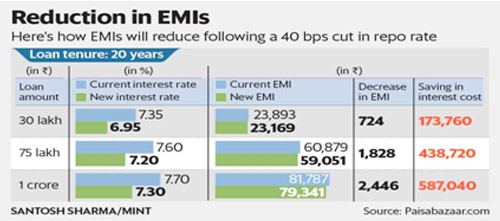 New home loan customers Vs Existing home loan borrowers
While new home loan customer will get the benefit of reduced EMI immediately, the existing borrowers will either have to wait for Banks to reduce their Benchmark Lending Rates before they start getting EMI saving. Why so? A study of past rate cuts announcements made by RBI and the reduction in home loan rates have clearly shown that the Banks have been slow in transferring the rate cut benefit to the borrowers.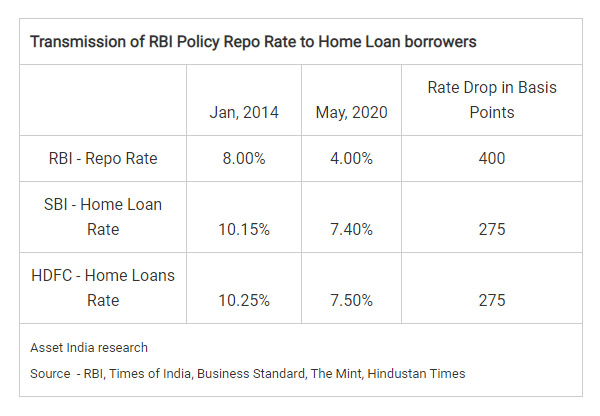 The past data on the transmission of RBI policy rate to home loan borrowers clearly shows that since January 2014, while RBI reduced the repo rate by 400 basis points, the banks cut the home loan rates by only 275 basis points. Repeatedly, RBI has been warning banks for not passing the benefit of rate cuts to the borrowers and to improve the transmission or rates, In October 2019, RBI forced banks to link their lending rates to the External Benchmark Rate and most of the banks chose repo rate as EBR. Since then there has been some improvement in transmission and consumers have benefited from the changes in policy rates much faster.


Interestingly, the Bank's argument on this is that the repo rate cut does not lower their cost of funds, hence the bank may resort to raising their spread. A case in example is on 8 May 2020, SBI increased the spread on their home loan rates for new borrowers by 20 bps over and above the benchmark lending rate of 7.05% benchmarked against the repo rate even though repo rate has been on decline. According to SBI, this was done as credit risk of consumers has increased due to COVID-19 crisis and so has the risk premium.


If the existing home loan is linked to the marginal cost of funds-based lending rate (MCLR), the rate cut may not mean a fall in EMIs immediately. Therefore, how much and when the interest rate on MCLR-linked loans would fall will depend on how soon the respective bank's reset the MCLR rate and by how much. So such existing home loan borrowers, most of whom have availed home loan before October 2019 need to approach the banks to get the loan converted to the repo rate as Benchmarking Lending Rate instead of MCLR to get faster the benefit of rate cuts.


Also read: How is the real estate sector impacted by COVID-19
Moratorium period – extension
With the extension of the moratorium period by another 3 months, the payment of three EMIs falling due between 1 March 2020 and 31 May 2020, is now extended till 31 August 2020. This will ease the liquidity of fund constrained borrowers. During this moratorium period, the borrower need not pay the EMIs but that will not mean that the EMIs are waived off. The borrower user has to pay the accrued interest at the end of the moratorium period. Considering that opting for this would mean that the interest burden is actually accumulated and not waived off, it is advisable not to opt for this, unless one is unable to make these EMI payments.


Overall, this unexpected rate cut by RBI is expected to instill confidence in the economy, revive growth and also lower the interest burden of millions of loan consumers, who are currently facing income uncertainties resulting from COVID-19 crisis. To pass on the rate cut benefit to borrowers, what remains to be seen is how soon Banks are responding by reducing their Benchmark Lending Rate.

Also read: Decoding AtmaNirbhar Bharat package for Indian developers & home buyers


Sources: RBI, Livemint, Financial Express, Times of India, Hindustan Times, Business Standard
Image source: shutterstock.com


To explore business opportunities, link with me by clicking on the 'Connect' button on my eBiz Card.


Disclaimer: The views and opinions expressed in this article are those of the author and do not necessarily reflect the views, official policy or position of GlobalLinker.
Posted by
Virendra Adhikari
Asset India is a London-based company that helps NRIs and PIOs buy and sell Indian real estate. And helps them grow their wealth in the process. we are currently serving NRIs/PIOs...