Enterprise: Mahathi Enterprises
Founder: Kakasani Haritha
Industry: Business Services
Year it was founded: 2017
Location: Hyderabad, Telangana


"Whatever you do, or dream you can, begin it. Boldness has genius and power and magic in it." — Goethe


Haritha, a homemaker and mother of two, dreamt of being financially independent. Despite no capital and banks not prepared to extend a loan, her dream of becoming an entrepreneur remained strong.


A breakthrough
Haritha started scanning the internet for low investment business ideas and carefully studied the local market in her area. In 2017 she came across a gentleman who had a small unit of paper cups and plates that he was shutting down. Haritha took one of his machines on rent and started producing paper cups (used for prasad).


She says, "My husband helped me procure the raw material and I worked hard in manufacturing paper cups. Then with my one-and-half year-old son strapped to my back, I would set out to find wholesalers for my product. Initially, to make inroads in the market, I sold my products at lower than market rates and this strategy paid off."


A shop of her own
Haritha found a measure of success with her products and eventually decided to have a space of her own and expand her repertoire of products to include disposable glasses, plates, cups, tissue paper, sanitary napkins etc. She shares, "To have my own location and do production was a big step for me. My quest is always to go the extra mile for my customers. For instance, I do free home delivery of disposable items for marriages and other functions."


Empowering other women homemakers
Haritha shares, "Being from a middle-class family, I know how hard it is for women to step out and earn a living. Some of the women I know are extremely talented but don't have the freedom to work." Keeping such women in mind, Haritha has come up with the concept to help women make simple products at home for which she does the marketing. Some of these products include low-cost sanitary napkins, and a pen with seed for government school children. She explains, "Pen with seed is an interesting concept. With seed, we can plant a tree and spread greenery. Moreover, women get self-employment with this."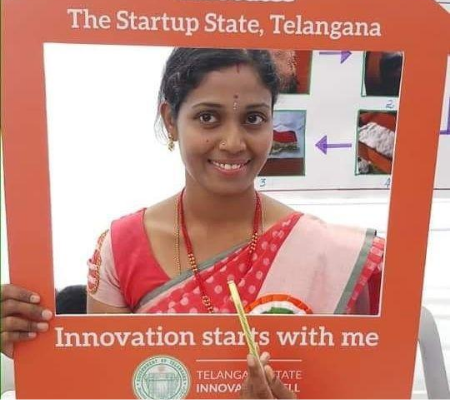 Challenge to grow bigger, better and faster
"Finance is the main challenge to grow my business. Finance is required to start a business or improve a business. Moreover, the Covid-19 outbreak caused a sharp decline in sales," reveals Haritha. Not one to dwell on difficulties, she is quick to add, "I am sure sales will pick up soon. And I am keen to identify more products to make women homemakers financially self-reliant."


The winning edge
Haritha believes that her passion, ideas and rich experience in her local market give her a winning edge. She is keen to expand her production unit and make every middle-class woman self-employed. She advises, "It's important to trust yourself and try until you succeed. Success is defined by your dreams and perseverance, not your circumstances."


The person behind the entrepreneur
Every day you wake up at - 5:00 AM
The first thing you do when you wake up? - I glance at my children's face
Something you do to unwind - 24 hours thinking about business
When you face a big challenge, you - Every day I face a big challenge because I am a married women, I need to handle my family and business at the same time.
The best piece of advice you've ever been given – Women are multitaskers and can handle any situation, but we need a chance to prove ourselves.
A book every entrepreneur should read -I don't read any book I learn things from my day to day life.

Also read: Chai, biscuits, and hardwork

Network with Kakasani Haritha by clicking on the 'Connect' button on her GlobalLinker profile.


Disclaimer: This article is based solely on the inputs shared by the featured member. GlobalLinker does not necessarily endorse the views, opinions & facts stated by the member.