Background: Startup India is an initiative by the government of India whereby eleigible companies can get recognised as 'startup' by DPIIT (Department for Promotion of Industry and Internal Trade) in order to access a host of tax benefits, easier compliance, IPR (Intellectual Property Rights) fast-tracking and more. Ripple Nagpal explains the process to register for the Startup India scheme.


Also read: Benefits of registration under 'Startup India': Financial, income tax & more
Step-1: Incorporation of business

The first step is to incorporate your business as a Private Limited Company or a Partnership firm or a Limited Liability Partnership.


| | |
| --- | --- |
| Private Limited Company | Fill the SPICe Form and file it before MCA (Ministry of Corporate Affairs) to get your registered as Private Limited Company |
| Limited Liability Partnership | Fill the FiLLiP Form and file it with the MCA |
| Partnership Firm | Prepare the Partnership deed and file it before the Registrar of Partnership |

Also read: How to form your own startup: A legal perspective
Step-2: Registration for startup

The following entities will be eligible for registration under the Startup India scheme -


An entity shall be considered as a startup -
Private limited company or registered as a partnership firm or a limited liability partnership in India.
Up to seven years from the date of its incorporation/registration; however, in the case of startups in the biotechnology sector, the period shall be up to ten years from the date of its incorporation/registration
If its turnover for any of the financial years since incorporation/registration has not exceeded INR 25 crores
If it is working towards innovation, development or improvement of products or processes or services, or if it is a scalable business model with a high potential of employment generation or wealth creation.


If you meet the above mention criteria, then only you can get yourself registered as "startup". For registration, as a startup under the Startup India Scheme, the entire process is online and facile.


On the screen on the right side, there is an option "REGISTER". Create an account by filling all the details
Fill all the details


Step-3: Upload the documents

Upload the document as asked. Mainly the following documents are required:


Certificate of Incorporation of your Company/LLP and registration certificate of partnership
Brief description of the Innovation in your product and service


Step-4: Availing of benefit

For availing the benefits under the Startup India Scheme, the startup should be recognised by Department of Industrial Policy and Promotion (DIPP) and must obtain the certificate from Inter-ministerial Board.


Step-5: Self certification of documents

You have to self-certify all the documents that you have uploaded.


Step-6: Recognition number
After all the above steps are completed, a unique recognition number will be generated and issued. Startup Recognition Certificate will be generated after all the documents are verified.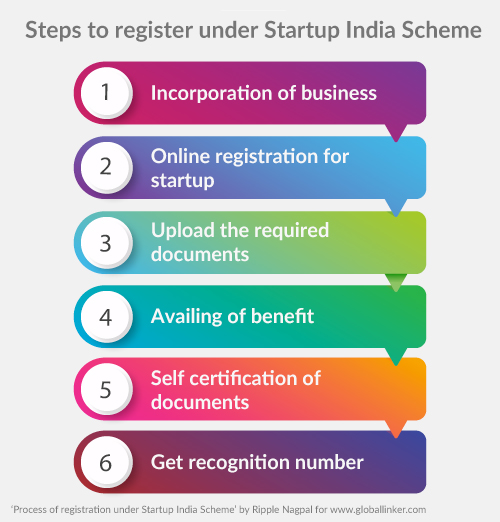 Also read: 10 legal tips to safeguard your business interests
To explore business opportunities, link with me by clicking on the 'Connect' button on my eBiz Card.


Disclaimer: The views and opinions expressed in this article are those of the author and do not necessarily reflect the views, official policy or position of GlobalLinker.
Posted by
Ripple Nagpal
I am looking to connect with other business owners and ready to work around the referral models for mutual benefit. Invite me to connect