Enterprise: Vaishnav Food Products
Founder: Mr Mayank Vaishnav
Industry: Food & Beverage
Year it was founded: 2011
Location: Udaipur, Rajasthan


From starting his healthy snacks business with an investment of just Rs 400 to growing to Rs 2.5 crore turnover business in 8 years—Mr Mayank Vaishnav's entrepreneurial journey is one of passion, grit and determination.


In conversation with GlobalLinker (GL), Mr Mayank Vaishnav (MV) shares his business journey.


GL: Mayank, tell us how you started your business and how it has grown over the years?


MV: We are in the business of manufacturing healthy snacks made from natural grains, pulses, seeds, dry fruits, berries and makhanas. I started my business journey in 2011 with an investment of just Rs 400. At that time, we made only two types of snacks - chana jor and moong jor. We used my grandmother's traditional weighing scale to weigh the snacks and sealed them with a candle. I distributed that first lot of 4 kilos of snacks to nearby grocery stores and thought to myself that if these will be bought by customers within seven days, only then will I carry on. By God's grace all the packets sold out within two days and I got repeat orders for the same.


Today, eight years later, we have a manufacturing facility, our very own brand called Leyo and a turnover of Rs 2.5 crores. We have also been recognised as the one of the top 10 startups by the Rajasthan government.

Also read: Esha Guha, Founder, Poochka & Co


GL: What major challenge did you face when you started out?


MV: When I started out in the healthy snacking segment, at that time the market was captured by bhujiya and sev (dough-based) snacks only. It was very tough to sell new products at a premium price. It took us three years to make people understand what is good to eat. Meanwhile, we have exhibited in many trade fairs to educate people about healthy snacks.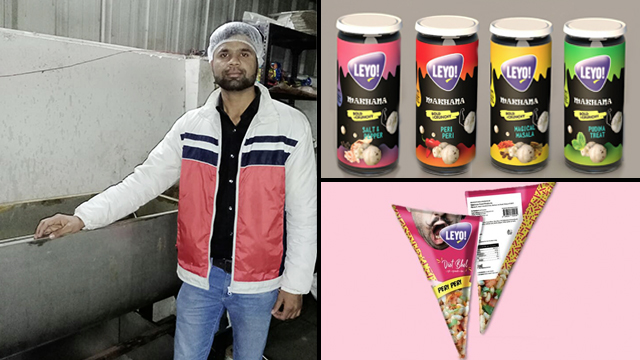 GL: How do you plan to grow bigger, better and faster from here?


MV: India is a very big market and most importantly the way of doing business is evolving day by day. We have found that one must focus on online sales as it's easy to educate and spread information to a large audience through the internet. We are also looking to increase our team size of specialised people to cater to modern hypermarkets like DMart, Reliance Supermarket and online sellers like Grofers and BigBasket. We have supplied to Indigo Airlines and now are targeting other airlines, airports as well as big hotels chains like Taj and Oberoi.


People share ideas and inspirational stories on GlobalLinker which motivates us to keep fighting hurdles that come our way. Also, it feels awesome when many people appreciate our efforts.
GL: How has being a part of GlobalLinker helped your business?


MV: People share ideas and inspirational stories on GlobalLinker which motivates us to keep fighting hurdles that come our way. Also, it feels awesome when many people appreciate our efforts. Many thanks and congratulations to the founder as well as the whole team who are working day and night to promote India's Small and medium-sized enterprises (SMEs).

Also read: Necessity is the mother of all inventions, proves this mompreneur


GL: Could you name 3 things that have been instrumental to your success?


MV: Determination is required to pursue a business dream. One has to be flexible and constantly innovate to create new products according to the market demand. To this end, research and development becomes very important. Lastly, in my journey I have encountered the right people at the right time, and this has been my good fortune.


GL: What is the next big thing on your business agenda?


MV: Our goal is to be the most preferred brand in the healthy snacks segment and to make innovative products for the market. Our aim is to capture the market share very aggressively.


GL: What advice would you give to a new entrepreneur?


MV: Focus on your value proposition and give some time to that. A plant doesn't grow in a day and neither does a business. Keep calm and don't listen to the naysayers. When your plan succeeds, people will appreciate your efforts.


GL: We would love to know the person behind the entrepreneur.


Every day you wake up at – 7:00 a.m.
The first thing you do when you wake up – Drink tea
The best piece of advice you've ever been given – Share your knowledge and experience.
When you face a big challenge - I just focus on the core of business that is sales.


Also read: Manjir Chatterjee, Founder-CEO, Folk


Network with Mayank Vaishnav by clicking on the 'Connect' button on his profile.


Disclaimer: This article is based solely on the inputs shared by the featured member. GlobalLinker does not necessarily endorse the views, opinions & facts stated by the member.