Enterprise: Folk
Founder-CEO: Manjir Chatterjee
Industry: Fashion & Fashion Accessories
Year it was founded: 2000
Location: Kolkata


Kolkata-based Manjir Chatterjee established Folk almost two decades back as a comprehensive design and manufacturing company that specialises in making bags and accessories from natural materials. With a focus on creating products that are sustainable and impeccably crafted, Folk has been producing merchandise for several international brands and has a thriving e-commerce portal with major retail projects in the pipeline. Manjir has built a business that not only has a loyal clientele but has also fostered a comprehensive skill development programme that has nurtured immense talent over the years.
In conversation with GlobalLinker (GL), Manjir shares her business journey.
GL: You started your business in the year 2000. What was the thought behind Folk?
Manjir: When I started Folk, my primary motivation was to make daily lifestyle practices simple, organised and clutter-free. I wanted to create products that I had always wanted to use, but never found in the market. When I turned to authentic, Indian craftsmanship for inspiration, I discovered that while those products certainly enjoy an exotic appeal, they fall short of meeting a user's practical needs.
Folk is my way of marrying traditional craftsmanship with minimalistic sensibilities and ergonomic solutions, so that our craftsmen have a profession that actually pays bills.
The beloved crafts of rural India were dying, primarily because the designs were not functional, and the brand of aesthetics didn't have significant takers in the market. Their livelihoods were getting affected as a result. Folk is my way of marrying their traditional craftsmanship with minimalistic sensibilities and ergonomic solutions, so that our craftsmen have a profession that actually pays bills. I call it Folk to create an idea space that accommodates people, and not ethnicity. It is not an ethnic brand, but an idea with a global appeal.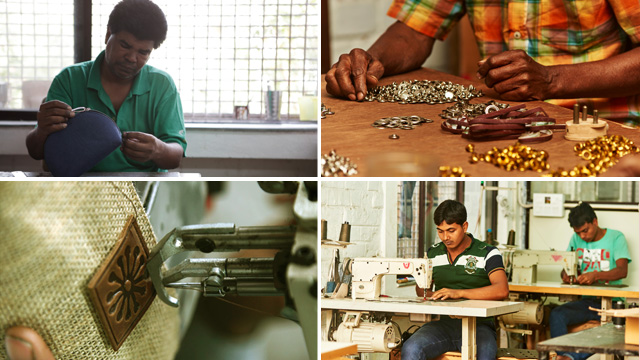 GL: What led you to become an entrepreneur and what have been the major influences in your business journey?
Manjir: Mine is an approach that breaks down water-tight compartments of knowledge and makes them flow into each other. It's an inter-disciplinary method. That's how I could weave three of my passions - traditional Indian crafts, design and manufacturing - into one harmonious enterprise. For as long as I can remember, I have been fascinated by different forms of crafts. As I cultivated them, I realised that every piece of craft was born of necessity. With changing needs, they ought to evolve and become more attuned to the modern user's lifestyle. That's where my design thinking came in. Coupled with my proclivity for lean manufacturing methods – optimising productivity while minimising waste – I was ready to set out on the journey of rethinking traditional Indian crafts.
I will remain grateful to my friends who used to study in ISI (Indian Statistical Institute) for helping me venture into the business. They set up my first email ID with which I could send my first export order to the USA. It is only fitting that my symbiotic business partner, Sandipan, would also be an alumnus of ISI. Sandipan lives by the motto of his alma mater's founding father, PC Mahalanobis, – selection, not elimination. It has had a part to play in our concerted effort to build an inclusive workspace based on fair practices. An MBA from IIM Calcutta, Sandipan became an entrepreneur at the age of 24 and gave rise to MoneyControl.com. His expertise in Data Science and Ethnographic Decision Modelling has not only contributed to the staggering growth of Just Dial enterprise but has also lent a very adept hand in shaping our business goals and modus operandi.
Also read: Vandita Vijayvergiya, Founder, Clay County
GL: Tell us a little about the team behind Folk?
Manjir: Ours is a social enterprise with 76 members belonging to diverse identity spaces. Folk is a people's brand. We don't draw any kind of line when it comes to employing those who are different from the rest. There is no distinction made between the work of an able-bodied person and someone who is speech and hearing impaired. On the contrary, we see their differences as a unique advantage. Employing differently abled people enhances the productivity of the workforce, this much I can endorse. I strongly believe that when one loses an ability, other abilities sharpen themselves, and open new possibilities.
Employing differently abled people enhances the productivity of the workforce. I strongly believe that when one loses an ability, other abilities sharpen themselves, and open new possibilities.
GL: What makes Folk different from its competitors?
Manjir: There are two things that make Folk unapologetically superior to the rest—design and quality. The global appeal in the products can be predicated by our ergonomic way of thinking. Our design thinking is informed by muscle memory; it's derived from our habitual gestures. For example, all our bags come with an elastic band where you can tie your keys. It's because we know that most people waste a lot of time looking for their keys in their bags. This design innovation saves time, and makes the user feel more organised and in control. The products have been made for a global market. They are the last word on quality and design.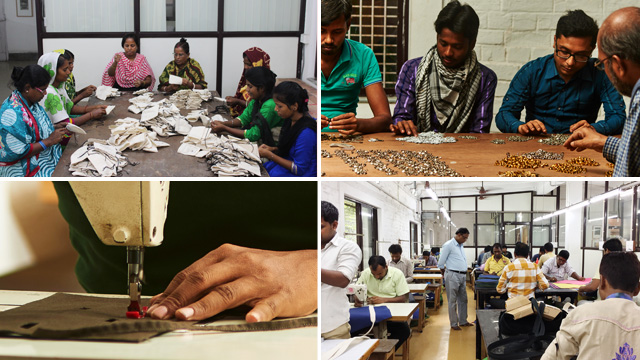 GL: Folk is associated with bags, how did this come to be?
Manjir: Folk is an idea, and limits don't define ideas. Our enterprise is a state of mind, nourished by radical exchanges between possibilities and probabilities. Our products are sustainable and eco-friendly. Our bags define us; but why should they be the only definition? We have range of home décor products. We are constantly experimenting with materials and forms. We already have plans for launching products enhanced by solar power. What's more, there's more!
GL: How would you describe your business journey so far?
Manjir: Like every momentous journey that shapes people, ideas and practices, our time with Folk has been nothing short of exhilarating. The biggest challenge that I have had to face was changing people's perception every time they heard the word 'Folk'. Folk simply means people. But the popular implication is ethnic. Reclaiming a word is not easy. To me, the journey of Folk has been the journey from ethnic aesthetics to functional products with a global appeal. Through the course of years, we have managed to strike the perfect harmony between what's relatable and what's aspirational. And that's only half the odyssey.
GlobalLinker is an important platform for anyone who is serious about doing business. I am fortunate to be able to learn so much from veterans in various fields of business and trade.
GL: What have been some of the highs and lows of this journey?
Manjir: The first historic landmark was when we set up a factory in 2003. It was one step up from being a merchant exporter, and a step towards greater beginnings. But through the course of our journey, we came to realise that every high point that Folk was to enjoy would be born of a low point. What apparently seemed like failures shaped our endeavours and made us rise higher than ever. I am reminded of the year 2008 when we had lost around Rs. 25 lacs on an export order. I was compelled to go to England to follow up on the payment. Once I got there, I thought to myself, 'why not set up a station here?'. That's how the office and warehouse came about in Liverpool. With the arrival of Sandipan in 2017, Folk rose to a new height from a proprietorship to a private limited enterprise. 2019 has been very promising indeed. We are all set to start our maiden retail venture with Khazana, a chapter of Taj. I don't believe in one beginning. I think we get several new beginnings, even within the breadth of a single journey.
GL: Tell us about the social impact of your business.
Manjir: We have definitely had an impact on the livelihoods of artisans and craftsmen, as well as a section of the youth—16 and above—who wouldn't have been exposed to a global platform had it not been for Folk. It has bridged the gap between genders, castes and other socio-cultural registers. 60% of our employees are women. We actively seek out physically impaired or socially ostracized individuals to train them in vocational courses and rehabilitate them in a vibrant work culture. We offer inspiration to work, and the dignity of labour. Discrimination is not tolerated here. Hard work and efficiency speak louder than individual subject positions. I think our venture has taken a step towards social mobility in ways that many have only dreamt about.
Also read: Yosha Gupta, Founder, Memeraki
GL: What's your big business dream and how do you plan to achieve it?
Manjir: As of now, Folk enjoys a European consumer base. The business operates in bulk orders, from our warehouses. It's majorly operated out of a wholesale enterprise. The time has come to make it a mainstay in every lifestyle corner. The big business dream is to have a retail presence in the global retail space.
I believe that a vast repository of untapped talent goes to waste, simply because nobody is ready to take a big leap of faith. We hope to glean every possible aspect of creative productivity that our nation has to offer. Folk derives its business aspirations from business giants like Amul and Tata. We feel a kinship towards these organizations based on our shared values. We believe in making a difference that's far reaching and sustainable. To that end, we have already joined hands with several CSR units of Tata enterprises. Soon, with the help of our design sensibility and quality consciousness, Folk will announce its grand entry into retail spaces.
We believe in horizontal growth. A business is much bigger than its owner, and there's more to a product than its apparent utility. The aim of our products is to leave a lasting impression on people's lives. To achieve that, one must ensure a process of sustainable growth. Now that our maiden retail venture with Khazana is about to begin, I am confident that that the goal is within reach.
GL: How have you benefitted by being a member of GlobalLinker?
Manjir: What can I say about the GlobalLinker…the name speaks for itself. It is an important platform for anyone who is serious about doing business. As a new member of this collective, I am fortunate to be able to learn so much from veterans in various fields of business and trade.
GL: Your advice to business aspirants?
Manjir: When you enter the foyer of competitive businesses, you are a professional first. The other identities that you inhabit come later. But being attentive to your business doesn't mean you have to become a conformist and tread the beaten track. Be adventurous, fail, and rise again. Stay away from naysayers and never say no to your untapped potential.
Also read: Esha Guha, Founder, Poochka & Co
Network with Manjir Chatterjee by clicking on the 'Connect' button on her profile


Disclaimer: This article is based solely on the inputs shared by the featured member. GlobalLinker does not necessarily endorse the views, opinions & facts stated by the member.