Background: By law, every Private Limited Company in India must adhere to certain compliances. In his previous article, CEO of Ebizfiling India Pvt Ltd, Ravi Kariya, had explained all about the new e-form AGILE. In this article he shares a comprehensive list of compliances every Private Limited Company must follow. Read on to make sure that your business is compliant.
Private Limited Company is the most preferred structure to carry on business for an entity intending to make a profit and enjoying the benefits of an incorporated entity, particularly limited liability. Besides, limited liability, separate legal entity, perpetual succession and various other benefits there are also mandatory compliances applicable to the Private Limited Company in India.


Here entrepreneurial skills come into light on how an entrepreneur manages the day to day business operations along with the mandatory compliances. You may also require the help of experienced professionals in order to have a better clarity on what are the mandatory compliances applicable to your Private Limited Company.


Looking at the recent scenario, the Ministry of Corporate Affairs (MCA) has outperformed and struck off more than 2 lakh companies and disqualified more than 3 lakh directors for non-compliance of DIR-3KYC and various provisions of Companies Act, 2013. In order to save yourself from heavy penalties imposed by the Ministry, one needs to follow the required compliances. The compliances applicable to the company could be segregated into two parts: mandatory compliances and event based compliances.


1. Mandatory compliances
Here are some of the mandatory compliances that a Private Limited Company must ensure: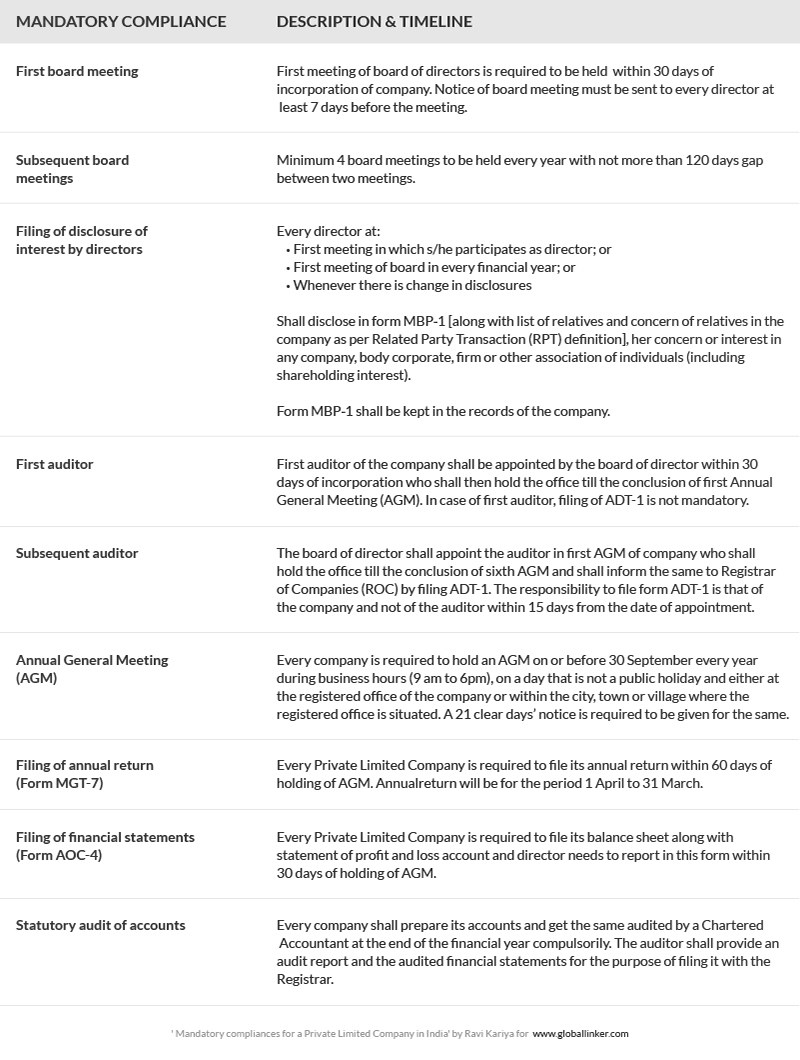 2. Event based compliances
Event based compliances are those which gets triggered upon happening of certain events like change in directors, change of registered office, change in authorised share capital etc. Hence, it is necessary that the happening of such events get tracked and compliances met with on time in order to avoid penalties or additional fees. Some of the event based compliances are mentioned below along with the time limit: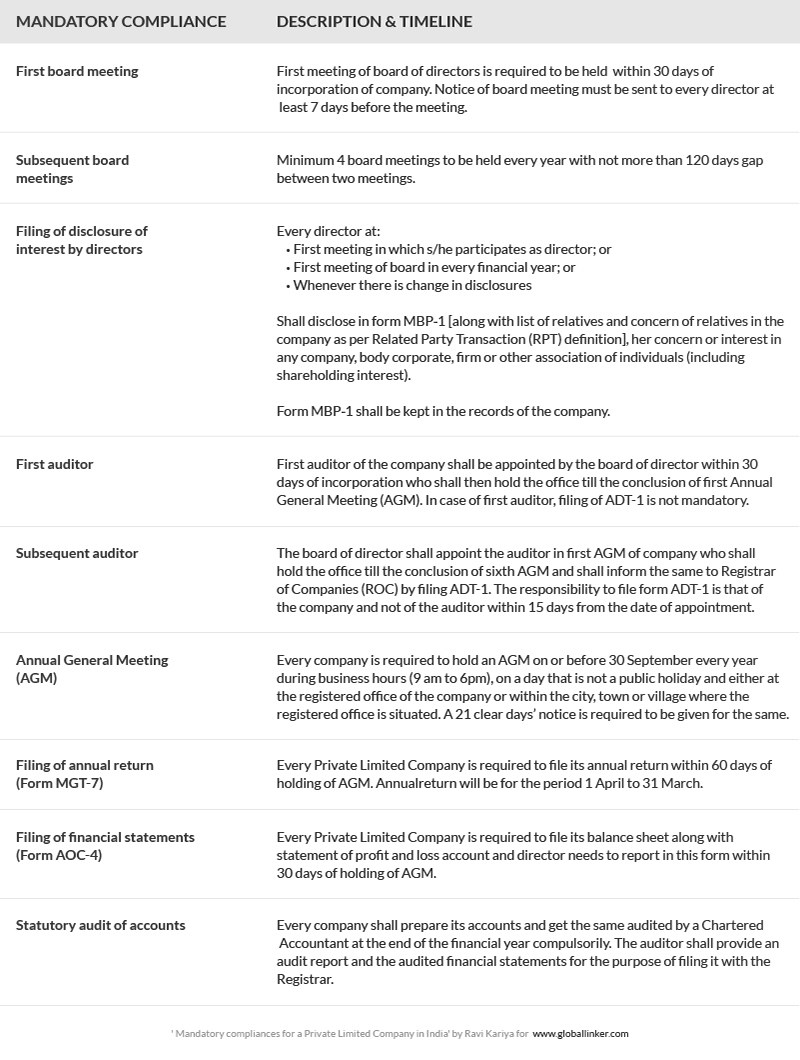 Consequences of non-compliance
If a company fails to follow any of the regulatory compliances, then the company and every officer who is in default shall be punishable with fine for the period for which default continues. Hence the penalties will keep on increasing as the time period of non-compliance increases.

Looking for more compliance related posts? Check out our other articles:
Are you a compliant startup?
Compliance helps achieve cost saving in business
What are the compliance challenges faced by SMEs

Image courtesy: www.freepik.com


To explore business opportunities, link with me by clicking on the 'Connect' button on my eBiz Card.

Disclaimer: The views and opinions expressed in this article are those of the author and do not necessarily reflect the views, official policy or position of GlobalLinker.
Posted by
Ravi Haresh Kariya
EbizFiling.com is a motivated and progressive firm managed by like-minded people. It helps a variety of small, medium and large businesses to cater to all compliance requirements...