Background: "A goal without a plan is just a wish." – Antoine de Saint-Exupery
Arnab Ray explains the ins and outs of writing a business plan and how it's an action plan for making your business goals a reality.


I am an entrepreneur and crazy about startups. Over the years I have set up seven successful ventures and in my experience a sound business plan becomes your action plan for strategic growth.


When you set out to create a business plan, the basic questions that arise are:
What is a business plan?
Why do you need a business plan?
What are the uses of a business plan?
What is the process of business planning?
What are the sections of a business plan?


What is a business plan?
A business plan is a roadmap for your business implementation. It outlines your vision, goals and showcases the plan for achieving them.

Also read: Business Plan: A blueprint for success


Why do you need a business plan?

Analyse the feasibility of your idea and thereby helps you decide to proceed or stop
Planning improves your odds for success
The valuable insights you gain from creating a business plan, helps you improve your business
To keep your business on track a business plan is extremely helpful
Helps communicate your idea to other stakeholders


What are the uses of a business plan?

Communication to stakeholders
Raising funds
Project roadmap for structured implementation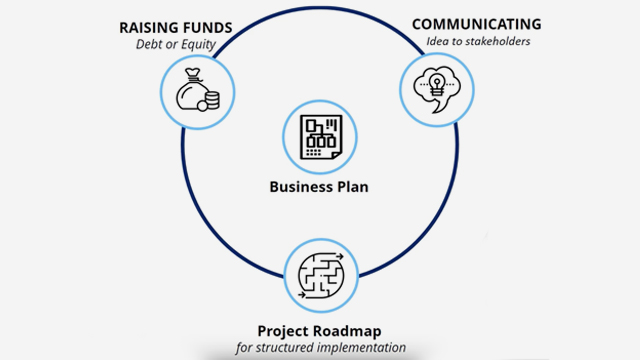 Also read: Business planning is like cricket - Here's how you can get a strategic edge


How to create a business plan? What is the process?
Ideation and feasibility: Basic documentation of the idea. Understanding the conceptual feasibility.
Market analysis: Economic, industry, competitor analysis which can help understand the opportunity.
Strategy formulation: Draw out the marketing, operation, human resource strategy for your venture.
Financial projections: Forecast your costs and sales over the timeline to understand the startup expenses.


What does a typical business plan looks like?

The following are the main components of a business plan.


Executive summary: Summarised version of the entire business plan.


Company overview: Vision, mission, objectives and a little about the company and founders.


Products and services: Detailed overview of products or services you are offering to the market.


Business model: The way your company interacts with stakeholders.


Revenue model: How you are going to make your revenues and what are the revenue streams.


Strategies and tactics: The marketing, operations and human resource strategy.


Milestones: The operation rollout and the different initiatives you are going to take for your business at different phases of your business timeline.


Startup expenses: Extremely important to identify costs to get the business off the ground.


Financial Statements: Usually projection over 3-5 years and includes balance sheet, profit and loss, and cash flow statements.


Return on Investment: If you are pitching your business plan to investors like Venture Capitalists (VCs) or Angel Investors you should also have an ROI strategy in place for your business.


If you need any help with preparing a business plan or an investor deck, connect with my team of Business Plan Experts.


Image source: shutterstock.com


To explore business opportunities, link with me by clicking on the 'Connect' button on my eBiz Card.


Disclaimer: The views and opinions expressed in this article are those of the author and do not necessarily reflect the views, official policy or position of GlobalLinker.
Posted by
Arnab Ray
Arnab is an entrepreneur, management consultant, mentor and an early stage investor, deeply involved in the startup ecosystem. Arnab is the CEO & Managing Director at Array...