Retail is constantly evolving. And Indian retail is at an interesting juncture with several factors working together to change the market dynamics to irreversibly change not just consumers but also businesses. Select factors like ONDC, 5G, Live Commerce or Quick Commerce, supply side innovations, maturing of data technologies among others have the potential to truly disrupt the landscape. As these factors play out, retailers will need to make strategic choices two critical fronts: Core Consumer Proposition and Operations.
Choices around the Consumer Core Consumer Proposition made on target segments; product range, price, quality, design and service; and brand promise.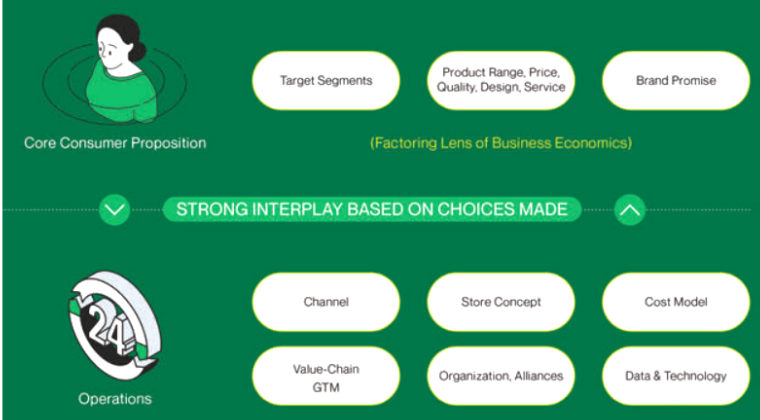 On the Operations front, retailers will have to contemplate, channel, store concept, cost model, value-chain GTM, organisation, alliances and data and technology.
These will pave the way for select themes that could gain prominence. Retailers would need to make business model innovations on value proposition and operating model.
There are a set of critical imperatives for retailers to follow:
Build own unique portfolio / platform - invest in models that work, divest where needed


Improve customer experience, personally connect with customers, focus on customer relationship versus product leadership alone


Develop destination products / experiences, the more differentiated the better


Look out for partners, alliances help to maximise resources, capabilities, play to own strengths


Attract best talent with new and unique capabilities


Build cost-efficient and technology enabled retail operations, essential ingredient to success


Speed organisation, be on the look-out to evolve retail model to stay relevant with emerging trends


Apply a test-and-learn approach, consider when and how to scale aligned with goals.
Also read: Made in India game changers
Image source: Canva & STOrai Magazine
Article source: Excerpted from RAI-BCG report 'Racing towards the next wave of Retail in India' for STOrai Magazine.
Disclaimer: The views and opinions expressed in this article are those of the author and do not necessarily reflect the views, official policy or position of GlobalLinker.