Background: The only way for stores to catch the attention of today's connected consumers and hold it, is to touch their hearts through appealing design narratives that go beyond mere window displays.


This world, as predicted by futurists, is soon to be run with algorithms driven by machine learning that will use 'ulta' logic to predict our preference and enable our daily lives. Human science studies have proven that the way to get a person's attention is to surpass the logical mind and appeal to his or her emotions. There's no better way to do this than through telling a story. How often does a movie, book or TV show draw us into a world of imagination and into an emotional state where we are open to new possibilities. Try and recall the story and you will realise that it is the plot, the emotional layer, and not the logical facts in the story that you would be able to narrate.
Why a story in a store?
It's a war of competing prices, 'endless' aisles, marketing muscle and technology in the marketplace. Consumers are being bombarded with an overload of 'logical' information. That is why, storytelling is being increasingly used to touch their emotions and inspire them to have personal and memorable interactions with the brand. Retailers and brands are using different narratives to create this emotional bond with the consumer.
Also read: Empathy for experience
Brazilian Beach Story
Havaianas, a 56 years old Brazilian brand of flip-flop sandals, embodies Brazil's fun, vibrant and spontaneous way of life. It sells a staggering 200 million pairs every year! The store design and visual merchandising tell the story of the brand in a fun and differentiated brand proprietary concept. The colour and form have been inspired by trees, a sunny blue sky, a sandy beach and beach benches to emote the fun and enjoyment Brazilian beaches are popular for.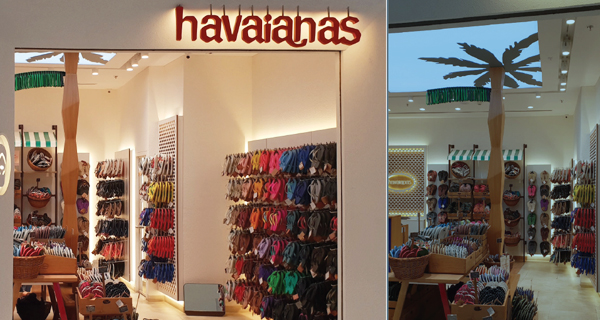 Havaianas store design and visual merchandising tell the story of the brand in a fun and differentiated way
Curated Lifestyle Story
Anthrolpologie is a brand that curates assortment of clothing, jewellery, home furniture, décor and beauty by partnering with artists and designers from around the world. The store is a 'home of discovery' for the brand's core customers and is presented in collections that represent different art stories like classic, boho and modern.
The store design and visual merchandising uses the narratives of its customers' sense of adventure and individuality—what she wears and how she lives—in arty vignettes that tell stories through 'art installations' of the curated collections.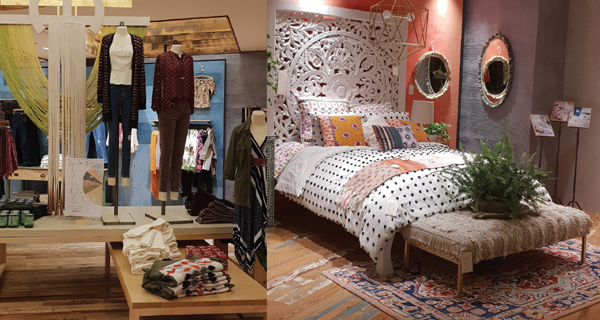 The store Anthrolpologie tells stories through 'art installations' of its curated collections
Natural Beauty Story
Lush, meaning 'fresh, green, and verdant', produces cosmetics for the face, hair, and body using only vegetarian or vegan recipes made in factories (or 'kitchens' as they prefer to call them) around the world. The store experience uses sensorial design in a natural reclaimed palette pepped up with vibrant colour, delightful fragrances and stunning displays of product groupings to tell its story with great panache.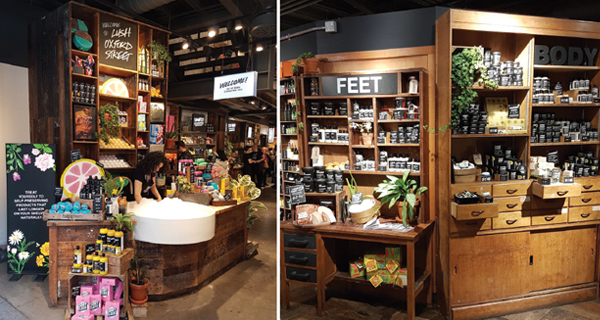 Cosmetic brand Lush uses stunning displays of product groupings at its stores to tell its story with panache

Also read: Business site selection: The science behind it


Storytelling using design must evoke the customers' imagination and clearly deliver an experience that they believe would enhance their lives. Today, visual merchandisers, store designers, brand marketers and technology developers are collaborating to create great concepts that are differentiated and effective.
They lead to 5 learnings…
Stories need to be IMAGINATIVE to transform customers into an emotional realm
Stories need to be UNIQUE to help create memorable experiences for customers
Stories need to be BELIEVABLE for customers to trust the brand
Stories need to be INCLUSIVE of customers in the narrative to create a strong emotional bond with them
Stories need to be CONSISTENT in all the tenets of the design to make the experience immersive

With the future of shopping steadily heading towards becoming more and more technology enabled, the art of storytelling will become less of an option and more of a necessity to keep the connected consumer emotionally engaged and loyal.


Also read: Give AI a chance


Article by Surender Gnanaolivu published in STOrai Magazine. Surender Gnanaolivu is currently a Sr Retail Experience Consultant. He has an experience of over two decades in Retail Strategy, Store Design, Planning & Development, Visual Merchandising, Roll-out management, Retail Audits, and Training working with some of India's best retail brands.
Disclaimer: The views and opinions expressed in this article are those of the author and do not necessarily reflect the views, official policy or position of GlobalLinker.