Not surprising to read recent McKinsey findings that 90% of executives "believe that the COVID-19 crisis will fundamentally change the way they do business over the next five years."


But concerning to learn that only 21% "feel confident that they are prepared to capture new growth opportunities" — to move toward a future that is unfolding daily, here and now.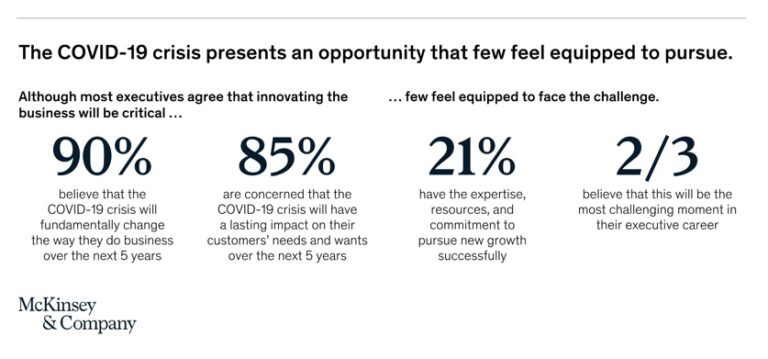 What will it take to be an innovation outperformer?
Innovations will not be discovered, developed and scaled by groups of like-minded people of similar background. Solutions will demand diversity and inclusion leapfrogs. Leaders will take a fresh look at how they:


Define what diversity means for their organisation, redesigning processes and metrics to manage progress,
Act and engage personally to create a more inclusive culture, with clear incentives to motivate change, and
See and leverage the linkages between a diverse and inclusive culture and innovation.


Too many conversations about innovation prioritise technology as the major driver. Technology is one element of the complex innovation puzzle. Technology is abundant. Diversity — of thought and perspective, not simply gender and racial representation — and Inclusion — the culture and environment where all members feel respected, valued and heard — are core to building and sustaining an effective innovation pipeline. Diversity and inclusion must be created and nurtured organically.


Also read: Purpose is your innovation catapult
Diversity must be broadly defined, sought and measured
Reality is that while increasing gender and racial representation are essential, these are insufficient drivers of diversity. A gender and racially diverse organization will not be assured of innovation success. Also required in the composite profile: diverse life experiences, education backgrounds; people who bring different perspectives and knowledge to problem solving. An organization embracing this definition is set up to make brisk headway on their innovation priorities.
Also read: The key to closing the gender diversity gap
Executives must personally engage
Korn Ferry has identified five qualities of the inclusive leader. They:


Are open and aware, and able to adapt their behaviors to the needs of others
Advocate for diversity
Create a psychologically safe environment
Leverage differences, seeing difference as a source of greater insight
Drive results by fostering a diverse and inclusive environment.


What else is required to build an inclusive culture? Especially for cultures in transition, being inclusive means proactively and constructively rooting out and showing zero tolerance for exclusionary behaviors, and rewarding inclusive behaviors that support the target culture. It means, for many organisations, innovating how diversity an inclusion efforts are designed and led.


Recognise the linkages between diversity and inclusion, and innovation
Unlikely any of us can name a CEO who will say they are not customer centric. Many of their organisations fall short. Why? Only organizations that are diverse and inclusive can maximize their abilities to:


Understand customers as human beings
Develop empathy to build enduring and mutually viable relationships
Anticipate customer needs with speed and depth of insight
Address diversity risks, e.g., the loss of mid-career women with children and or aging parents, emerging as a consequence of the pandemic.


We all see the severity of the challenges arising this year, many of them with long tail effects. As leaders, innovators and change makers it is up to all of us to advance diversity and inclusion in whatever organizations we lead or influence. It's the morally right thing to do, and it is the only commercially smart answer.
Also read: We are all innovators … so now what?
To explore business opportunities, link with me by clicking on the 'Connect' button on my eBiz Card.
Article source: https://www.amyradin.com/innovations-urgent-priority/

Image source: shutterstock.com
Disclaimer: The views and opinions expressed in this article are those of the author and do not necessarily reflect the views, official policy or position of GlobalLinker.
Posted by
Amy J. Radin
Business Builder | Portable Expert | Marketing, Digital, Innovation | Speaker | Advisory Boards