India's outlook for growth as measured by the International Monetary Fund (IMF) ahead of the World Economic Forum in Davos gives the nation cause for optimism.

Growth is projected at 7.4% giving India the fastest growing economy tag among developing countries. The country has recovered from a slowdown caused by demonetisation and the rollout of GST last year.
The forecast for 2019, the year after, is set at an even higher 7.8% with the country expected to build on the momentum generated over the course of this year. India's growth rate which was at 7.1% in 2016 had slowed down to 6.7% in 2017. China was ahead in the past year with a robust growth of 6.8%.
IMF's first Deputy Managing Director David Lipton had said at the Asian Financial Forum in Hong Kong last week that, "India is reclaiming its place as a growth leader after a short slowdown. And the ASEAN-5 have gained momentum in response to higher investment and increased exports."

The region as a whole is experiencing growth. The outlook for Asian economies being largely positive with China and India leading the way despite a tempering in China's growth.
"Emerging and developing Asia will grow at around 6.5% over 2018-19, broadly the same pace as in 2017," IMF said. The region accounts for 50% of the world's growth in recent years.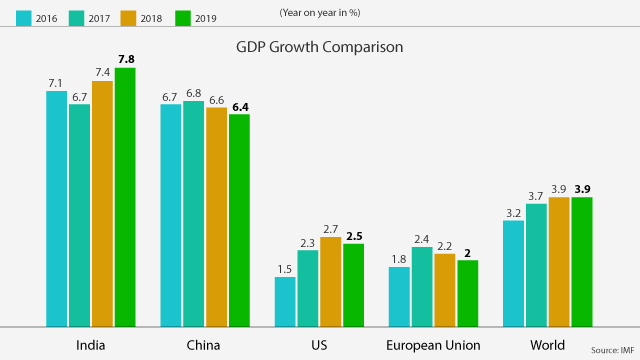 "Growth is expected to moderate gradually in China (though with a slight upward revision to the forecast for 2018 and 2019 relative to the fall forecasts, reflecting stronger external demand), pick up in India, and remain broadly stable in the ASEAN-5 region," IMF added.
Posted by
GlobalLinker Staff
We are a team of experienced industry professionals committed to sharing our knowledge and skills with small & medium enterprises.