You don't need to despair if a visitor does not purchase on your eStore, abandons cart or abruptly leaves your online store. According to reports, over 97% of visitors do not convert on the first visit. Retargeting (also known as remarketing) is a must in your arsenal that allows you to engage with bounced off customers by placing contextual ads on other sites for the dropped-off customers to view and engage with to draw them back.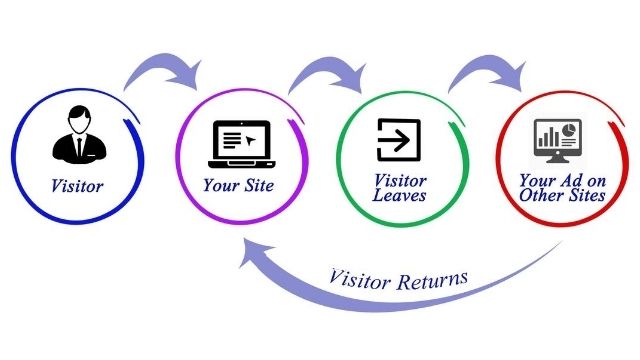 When customers bounce from your online store, retargeting is a way to stay connected, and ensure top-of-mind recall to win them back. The key to smart retargeting is to know your audience and zero in with the appropriate time to send a message via the best medium. Want to know more? Read on…
Know your retargeting audience
You can divide your customers into the following groups:
Cart abandoners: These are hot prospective customers that were one click away from making a purchase. Retargeting is likely to be the most effective with them.


First-time visitors: Their interest was piqued by something you sell. Find out from where they came, draw them back. It may take a few tries to home in on a sale.


Recent visitors: They are recent visitors probably scouting for a good deal. Strike while the iron is hot and get their attention with retargeting.


Repeat customers: You already have a rapport with these customers. Send them a reminder if they haven't made a purchase in some time.
The right time to retarget
Customer retargeting is most effective when it's done at the right time. Consider these timing options:
Immediately: In most cases, your first retargeting ad should show up quite quickly. Cart abandoners need to be retargeted before they change their mind; first-time visitors before they completely forget about you; and the recent visitors before they go with your competition.


On special occasions: An excellent time to retarget customers is around the holidays or special events. You can capture customer attention with a new product, service upgrade, or an event. Occasions are a great way for you to galvanise your audience without seeming too intrusive.


Remind customers to restock: If your product has a definite shelf life or is perishable, you can retarget according to when stock is about to get over (as per purchase history). This can apply to food items, printer cartridges, or a subscription that's about to run out.
Choose your retargeting medium
Pixel-based retargeting
Pixel-based retargeting allows you to gather information about visitors to your site and display your ad to them. With pixel-based retargeting, your eStore ads can be seen as soon as visitors leave your website and thus draw their attention back to your products or services. The disadvantage of pixel-based retargeting strategy is that it's connected to your website's traffic and with no traffic, you won't be able to display any ads.
Google Display Network
When you advertise on the Google Display Network—which has over 2 million sites and reaches over 90% of people on the Internet—your ads can appear across an extensive collection of websites, mobile apps, and video content. You can show Google ads to your previous site visitors while browsing the vast number of Google partner sites in the Google Display Network.
Social retargeting
Social media retargeting is a pixel-based retargeting on social networking sites. It concentrates on displaying ads to people that visited your website and/or interacted with your posts on social, be it likes, shares or comments. Social media platforms that offer a variety of retargeting options include Facebook, Instagram, Twitter, LinkedIn, etc.
Email or list-based retargeting strategies
Another way to retarget your audience is to use email addresses on your current mailing list. This approach is known as email or list-based retargeting. This is how it works:
Upload a list of your customers' email addresses and/or prospects to a retargeting campaign platform (e.g. Facebook)
Create an ad that is targeted at customers in this mailing list
Show high impact ads only to users that correspond to the uploaded email addresses.
List-based retargeting allows marketers to create niche ads highly for their audience.
Push notifications/ Browser push notification
A push notification is a message that pops up on mobile devices or desktop browsers. Push notifications are concise and smart messages to retarget customers on multiple channels.
Push notifications can be sent to notify customers of select offers, promote events or products, or draw a response. It has been observed that eCommerce customers respond to push notifications rather well.
Push notifications are simple yet efficient retargeting tools that will get your online shop a significant revenue uplift with the right campaign optimisation. They will allow you to retain your customers on multiple-platforms and strengthen brand communication through campaigns like Order Follow-ups or Discount Announcements.
Putting it all together
Here's a checklist to get started with your retargeting plan.
Classify your audience: Decide which audience segments you are going to reach out to and with what messages, basis your budget.
Schedule your ads: Determine the timing and frequency of your ads.
Design strategic ads: Keep your brand identity consistent and messaging direct.
Track responses: Try A/B testing to see if it's a specific headline, a visual, or offer that helps draw more customers
Retargeting is a proven method for increasing conversion and reaching bounced off and new customers. Retargeting is the art of striking a fine balance. You want to ensure effective recall without bordering on intrusive stalking.
Also read: Power of content: How to generate traffic to your eStore using content
To explore business opportunities, link with me by clicking on the 'Connect' button on my eBiz Card.
Image source: shutterstock.com
Disclaimer: The views and opinions expressed in this article are those of the author and do not necessarily reflect the views, official policy or position of GlobalLinker
Posted by
Mohammad Adnan
Contributing to the business growth of SME businesses globally by helping them properly utilize our affordable and easy to use digital commerce solutions.