Summary: Ripple Nagpal explains how to legally establish a startup in India. She also shares a comprehensive overview of the three main types of legal structures a startup may have in India. Read on to find out how to get your startup idea off the ground.


Do you have an idea in mind? Do you have a strategy to implement that idea? Do you think that you can monetize your idea by doing business? Do you have the resources to do business? Do you have people with whom you want to partner? Are you ready to take the plunge and build your brand?


If you answered all the above questions in the affirmative, then fasten your seat belt because you are now ready to form your own startup. So, you must be wondering that with all the hype created around it, what does a startup entail?


In general parlance, a startup is a formal organised structure through which business could be set in motion and be established over a period of time. In India, this formal organised structure could take the following forms:


Company incorporated under the provisions of the Companies Act, 2013
Partnership firm registered under the provisions of the Indian Partnership Act, 1932
Limited Liability Partnership incorporated under the provisions of the Limited Liability Partnership Act, 2009.


Individuals wanting to have their own startup get baffled as to which structure is most suitable for them. For such individuals who are confused about the same, here is a crisp distinction between the three structures to provide some clarity: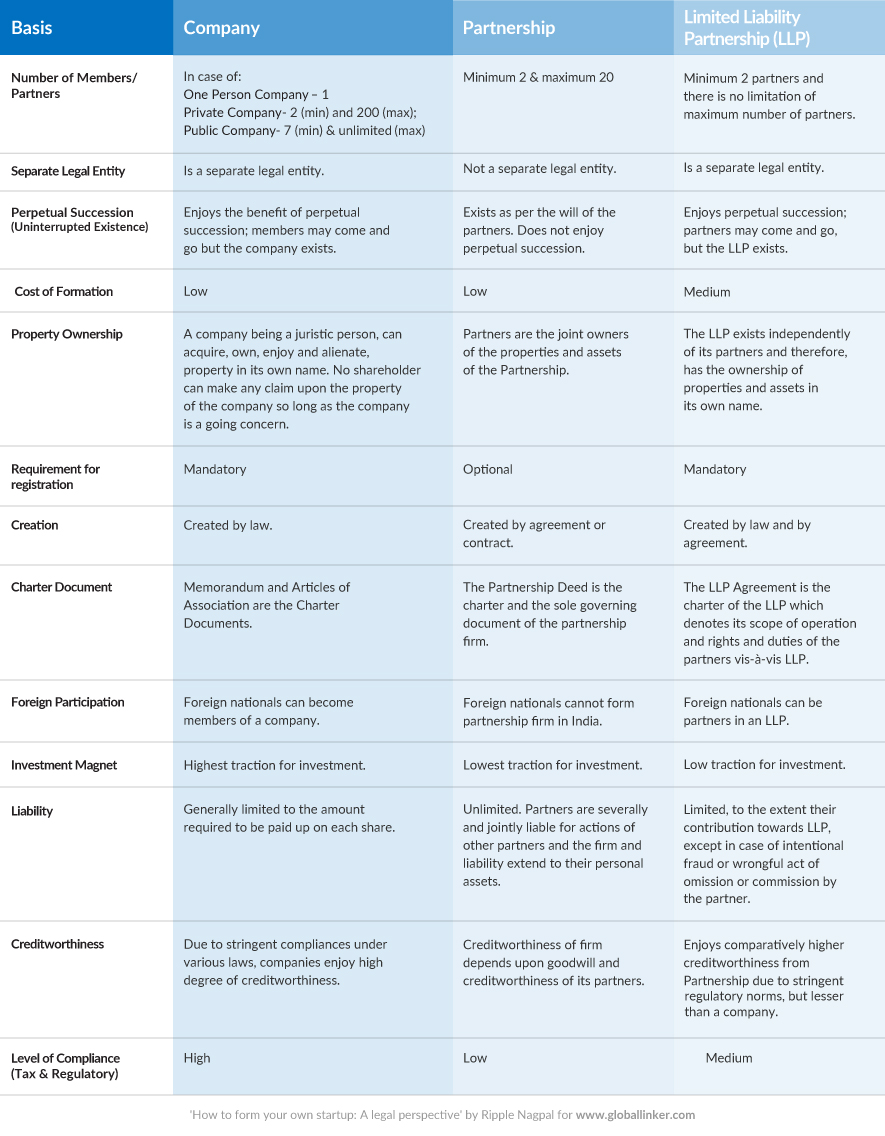 After getting some clarity on the fundamentals of each structure, one may analyse their requirements and further may obtain professional advice for choosing the best suitable structure as per requirements.


Though, from the above points it could be observed that from the perspective of roping in investments from angel investors, VC funds, seed funds, etc., the best form of organisational structure for a startup is to form a company. With the recent amendments initiated by the Ministry of Corporate Affairs (MCA), forming a company has never been so easy.


On 1st October, 2016, the MCA introduced SPICe (Simplified Proforma for incorporating Company Electronically) for simplifying incorporation of a company through online application form INC-32. Additionally, the Ministry has also launched electronic submission and filing of the Memorandum of Association (INC-33) and Articles of Association (INC-34). This step by the Government of India is progressive and welcomed by the Indian startup ecosystem.


Following is the procedure on how to incorporate a company via SPICe, (Please note that the process is for formation of private limited company):


Firstly, take a note of the mandatory documents required to be attached with the form of incorporation:
1. Affidavit and declaration by the first subscribers and directors
2. No Objection Certificate (NOC) from the owner
3. Address proof of the Company which includes copies of utility bills (not older than 2 months)
4. Copy of Rent Agreement, if the office premises are rented
5. Copy of PAN card of the subscribers/ directors
6. Identity Proof - Copy of AADHAAR card (mandatory if applicant has valid PAN) otherwise Voter ID or Passport or Driving License of the Subscriber/Director;
7. Address Proof - Latest bank account statement or telephone bill or electricity bill not older than two months of the subscriber/director
8. In case of foreign nationals, passport is to be mandatorily attached and all the documents shall be adequately apostilled or notarised.


Secondly and lastly, follow the below stated procedural steps: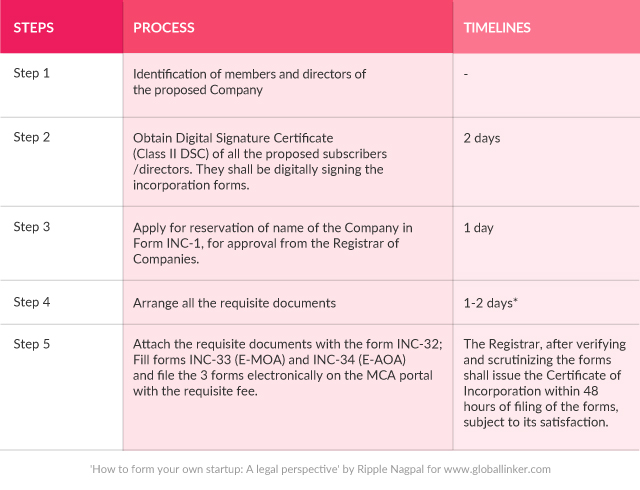 I hope this helps you in establishing a strong legal foundation for your startup. Do share your questions and insights related to establishing a startup.
To explore business opportunities, link with me by clicking on the 'Invite' button on my eBiz Card.

Disclaimer: The views and opinions expressed in this article are those of the author and do not necessarily reflect the views, official policy or position of GlobalLinker.
Posted by
Ripple Nagpal
I am looking to connect with other business owners and ready to work around the referral models for mutual benefit. Invite me to connect