The Covid-19 pandemic has transformed the way we work and work from home has now become the new normal. In such a scenario, it becomes imperative for business owners, managers and human resource personnel to have a clear framework to manage their team effectively. Here are a few aspects for team leaders to keep in mind.

Also read: How to effectively manage a diverse team


Maintaining the emotional health quotient
Keep your employees feeling connected, prevent isolation
Set up meeting with remote employees to monitor and improve their emotional well-being – focus on optimal frequency for your meetings
Identify the unique ways to collaborate
Solve their fears, address concerns


Maintaining & building accountability
Give employees more autonomy, and freedom
Create a Weekly Meeting Rhythm to keep your team accountable and productive
Use 'Minimally Viable Components' to make delegating easier and faster (while still maintaining sufficient control over deliverables)


Mastering virtual meetings
Use a Checklist - what do you hope to achieve from this meeting?
Clear agenda, timelines and managing the meeting flow
Share the rules of the meeting in advance


Critical productivity tactics
Set aside time to complete critical tasks to achieve optimal efficiency
Create a weekly Productivity Map
Be aware of key barriers to working remotely


Technology tools & rules for hassle-free functioning
Ensure that the team is aware of the 'Tech Stack'
Create and circulate FAQs with respect to connectivity, VPN access, echoes
Address queries on security / data concerns


Leadership mindsets to adopt
Acknowledge fears of self and team working remotely
Be aware of the benefits and potential pitfalls of working remotely
Build on competencies and adapt your working style to accommodate the new normal
Seek coaching / mentoring help, if required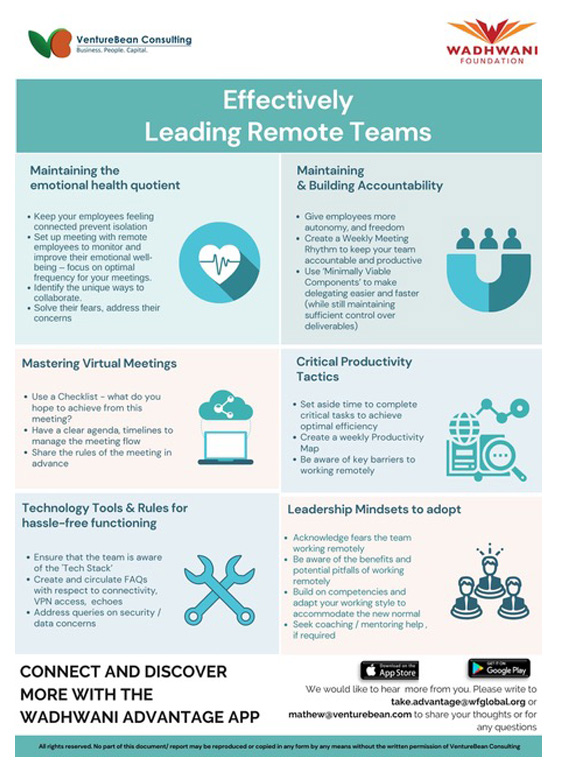 Also read: Manage & motivate your team: 6 effective tips


We would love to hear from you!
Do reach out to us on this link or write to Mathew Isac if you have any questions or comments on the article.
Image source: shutterstock.com

To explore business opportunities, link with me by clicking on the 'Invite' button on my eBiz Card.

Disclaimer: The views and opinions expressed in this article are those of the author and do not necessarily reflect the views, official policy or position of GlobalLinker.
Posted by
Mathew Isac
Expert Advisor and Consultant for SMEs on the platform, specially to address queries on the impact of COVID-19 on business owners in India With over 28 years experience in...