A domain name is your website name. Much like your house address helps others locate your home, a domain is the address where online users can access your website.


In this article we will explore:

So, let's get started.


How to optimise your e-store domain name
In ecommerce, an optimised domain name can significantly boost search engine performance. To maximise search engines ranking, domain names should be optimised according to certain best practices.


Keep it short and relevant

It's always a good practice to keep the domain name short, unique and not stuffed with unnecessary keywords. For an ecommerce store, the domain should ideally reflect the brand name.


Below are few examples:
- https://satvik.linker.store/
- https://arcana.linker.store/


Use alphanumeric lowercase characters (abc123)
When it comes to forming a domain name, the best practice is to always use alphabet letters in lowercase. Also, adding numbers to a domain name can cause confusion or worst cause typography errors, unless you are a really big brand like https://www.7-eleven.com/


Avoid use of special characters

You may indicate separate words with a hyphen. Do not use underscores, spaces, or any other characters to separate words. Avoid all special characters, including exclamation points, and apostrophes. This is because certain symbols when encoded, becomes a completely different output of what they were to start with. Even the famous URL https://www.7-eleven.com/ can be misspelled like www.7eleven.com, www.seven11.com, etc


How to get a custom domain on GlobalLinker's ecommerce platform
When it comes to creating a custom domain for your estore on GlobalLinker's ecommerce platform, you have 3 options:
When you create an online store with GlobalLinker's ecommerce platform, the 'linker.store' domain extension is given to you free to start with.


You also have the choice to purchase a domain on GlobalLinker's ecommerce platform at a pre-negotiated discounted price.
In case you are purchasing a domain name then you will have to buy an SSL certificate, which can also be bought from GlobalLinker at a discounted price by entering the Code: CJCSSLR389


Alternatively, you may choose to use your own existing domain for your online store.

It's important to note that when you change the store domain using any of the above options, your existing e-store, its products and categories remain unaffected.

Also read: All the documents you need to create an e-store with GlobalLinker's ecommerce platform

All of the above features can be easily accessed on GlobalLinker's ecommerce platform via Store Settings >> Store Details >> Enter Store URL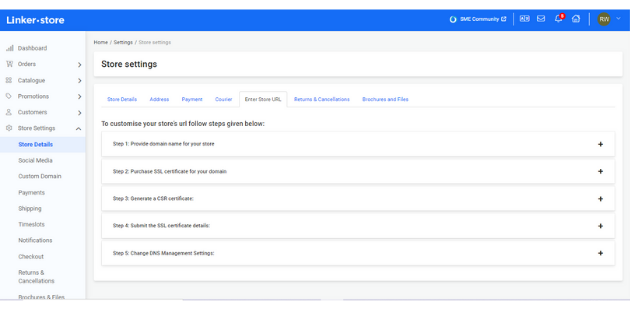 GlobalLinker's ecommerce platform enables you to create a customised domain to boost your brand online and make it easily searchable. In a fiercely competitive ecommerce landscape, an optimised and customised domain name can give you a definite advantage, even over larger brands.
Related articles
Image source: shutterstock.com
Posted by
GlobalLinker Staff
We are a team of experienced industry professionals committed to sharing our knowledge and skills with small & medium enterprises.