Summary: Embracing digital transformation is the key to ensuring that your enterprise remains relevant in a fast changing business ecosystem. Lester Fernandes explains how John Kotter's 8-Step Change Model can be adapted to adopt digital transformation in an enterprise.
Going digital is a business imperative today. It is no longer a question of whether your business will go digital, it is simply a question of when will your business go digital.

How do we as leaders then build a strong bias for action and take the steps to leapfrog our business into digital transformation?

To begin with, identify what your business priorities for digital transformation are. Is the current focus on business optimisation by increasing your revenues, improving operating margin, improving customer experience, improving employee productivity or increasing asset utilisation? Or is it business transformation by increasing connected revenue, platform revenue or new industry revenue?
Identify how the Artificial Intelligence foundation elements can digitally transform your business? The building blocks for Artificial Intelligence are Machine Learning, Text←→Speech Translation with Natural Language Processing and computer vision with OCR (Optical Character Reader), image and video. Together, they can be combined in various ways to digitally transform the business and bring about new ways of operating.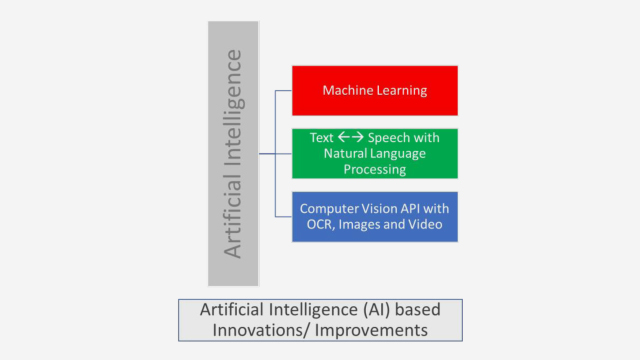 Integrate the identified business solutions seamlessly with the 'People, Process and Technology' aspects of the organisation to get actionable insights and predictable outcomes. Ensuring the combination building blocks from above are adopted and utilised by the people, embedded in the current processes and ways of working and meshes with the existing technology architecture is crucial for the success of digital transformation.
This is just the beginning of the journey towards digital transformation.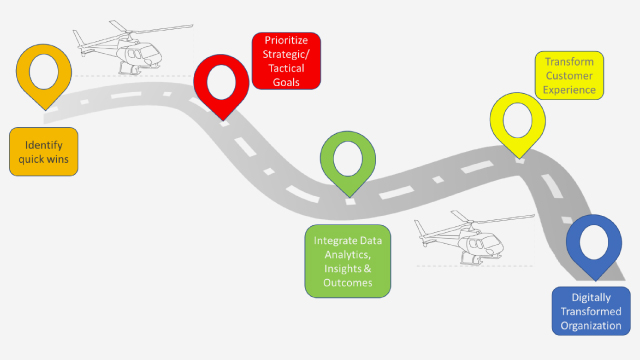 Customise a roadmap with business and technology key stakeholders to brainstorm it together - clearly identify the quick wins, short term tactical imperatives and long term strategic goals along this roadmap.

Plan a multi-vendor consultant strategy that will cover Business Insights and Analytics as a Service (BIAS) across the technology and business landscape. This will also trigger immediate change as the catalyst.

To institute the changes within the organisation, John Kotter's 8-Step Change Model has been adapted to digital transformation as follows:

1. Create urgency: How digitally transforming the business is critical to the survival and growth of the organisation

2. Form a powerful coalition: This coalition comprises of the business and IT leaders as well as the change agents

3. Create a vision for change: This should also be the vision that encompasses the digital transformation roadmap

4. Communicate the vision: Ensuring that this transformation message is communicated to the rank and file within the organisation

5. Remove obstacles: Facilitate forward movement towards the digital transformation roadmap by anticipating and removing obstacles

6. Create short term wins: Identify quick wins that can be quickly achieved and put them early on within the roadmap

7. Build on the change: Quick wins are only the beginning; every success provides the opportunity to build on what went right and what could be improved

8. Anchor the changes in corporate culture: Putting the transformation in alignment with the People, Process and Technology imperatives

Identifying business priorities for digital transformation, utilising the building blocks of Artificial Intelligence and integrating these changes with the People, Process and Technology aspects of the business are the starting points for digital transformation. Customising a roadmap with business and technology stakeholders and institutionalising organisational change ensure that these changes persist through various known and unknown challenges. Business Insights and Analytics as a Service (BIAS) through a multi-vendor strategy will further ensure that the digital transformation is initiated, insights identified and acted upon with due diligence and outcomes closely monitored within the organisation with its customers and supply ecosystem.

References
John Kotter's 8 Step Model of Change, Harvard Business School 1996
To explore business opportunities, link with me by clicking on the 'Invite' button on my eBiz Card.

Disclaimer: The views and opinions expressed in this article are those of the author and do not necessarily reflect the views, official policy or position of GlobalLinker.
Posted by
Lester Sebastiao Fernandes
I am looking to connect with other business owners who need to extract analytical insights from current data and take informed decisions. We make your Data Insights journey easier...