Launched in 2003 by founders, Matt Mullenweg and Mike Little, WordPress is a free web publishing software to create a website or blog. It provides a full-fledged website content management system (CMS).
As per latest reports by W3Techs, WordPress is used by 29.3% of all websites. From business owners, to hobby bloggers to the largest online news sites—WordPress is being used widely to create free websites and blogs. However it is more than just a blogging tool, it is in fact an extremely flexible content management system that gives you the freedom to build and manage your own website.
WordPress features include a plugin architecture (53,845 plugins) and a template system (free and paid), where you can install and switch among different themes without altering the core code or site content.
Advantages of WordPress
1. Diverse websites can be created
With WordPress you can create almost any type of website. For instance, you can develop an online e-commerce store, galleries, mailing lists, forums, analytics, video, photography, directory, classified, membership website and much more.
2. Powerful features
WordPress offers simplicity of operations, flexibility and easy user management, inbuilt themes, multilingual options, media management, extensions and plug-ins.
3. One click install
Many hosting companies do provide one-click installation facility of WordPress in their control panel. Ask for this before you purchase hosting.
4. SEO-friendly
WordPress is fantastic because it has the best possible Search Engine Optimisation (SEO) options. It is quite easy with the help of SEO plugins to make it search engine friendly.
5. Security
WordPress has a high security standard. They do have regular version updates and it is an ongoing process. There are many security tools and plugins offered by WordPress.
6. Community
Thousands of developers, bloggers, content creators and website owners gather at the WordPress meet-ups in 400+ cities worldwide. Another great way to meet people with the same interests is to attend WordCamps which are low-cost events that happen all around the world. In India, local WordCamps are #WPMumbai, #WPDelhi, #WPPune, #WPNashik, #WPAhmedabad, #WPTrivandrum, #WPKochi, #WCUdaipur
7. Localisation & translation
Translating on WordPress is done by translation contributors worldwide in more than 160 languages. Every 30th September is dedicated as WordPress Translation Day 3, one of the most important global event for WordPress where the community comes together as a whole to contribute. Interestingly, this day has also been designated as the International Translation Day by the United Nations.
To explore business opportunities, link with me by clicking on the 'Invite' button on my eBiz Card.
Disclaimer: The views and opinions expressed in this article are those of the author and do not necessarily reflect the views, official policy or position of GlobalLinker.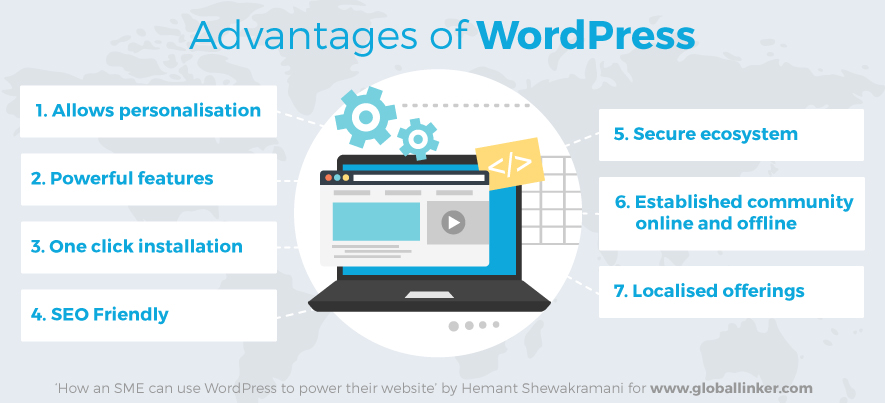 Posted by
Hemant Shewakramani
- B.COM - Diploma in Cyber Law - Diploma in Business Management - Google AdWords Certified - Bing Ads Certified - Amazon Trained Ecommerce Specialist