Out of all that I have read about entrepreneurship, this phrase attracted me the most:


'Entrepreneurs do not take risks. They learn how to manage risks."


Having been an employee for most part of my career, working under different bosses, sometimes suppressing the innovative spirit mainly because the ideas would not be acceptable to the board, I was always looking forward to being my own boss. Of course, I must add that even as an employee, I did have my independence and authority to decide. Except that all decisions were bound within the corporate objectives and vision. My contributions as an employee were well recognised and I did have a good quality of life and so did my family.


Being an employee, however, I was out of touch with some areas like long-term planning, business strategies etc. and so was mainly the implementer of these strategies and plans thought by someone else.


In 2006, I became a sort of semi-entrepreneur when a close friend of mine started an InfoTech company. I was the Chief Executive Officer and had all the freedom to decide what I wanted to do. Still, there was some sort of chain tied to my hands that prevented me from going forward in the direction of my choice.


Later in 2013, I became my own boss, by acquiring the same organisation for which I was the CEO.


Recall the phrase that I have mentioned at the beginning of this article. Yes, now I was treading a risky path having to invest my own money. But, my customers supported me and here we are in the fourth successful year. My team has been changing but there are a few who have stood with me through thick and thin.


Now I am in a better position to answer the question, 'How does entrepreneurship make one truly independent'?


The first thing I realised on the day I registered my new company, was that I did not have a boss anymore! In other words, the buck stopped right at my desk and there was no place to push it further. That is when I realised the meaning of the phrase that I quoted at the beginning of this article.

Decision-making suddenly assumed new dimensions. Should I take this risk or not? Should I quote this amount for this inquiry? Will there be a cash flow crunch at month end? Salaries payable to staff, will there be any hiccups?


As an entrepreneur I realised it is not just about managing the day to day affairs but so many other things and therefore one has to play the role of an all-rounder. I enjoyed this new role and am still enjoying it. Risk management is a skill that I acquired perhaps automatically due to the pressures of this new role - an entrepreneur, a business owner, an employer - you can give it any name.


The vision of my company is 'Be Innovative. Stay Ahead'. Now as a business owner, I am able to foster and spread my innovative spirit, true to this vision. My staff, though they have a boss, also have the freedom to display their innovative skills and creativity at all times.


Being an entrepreneur I would say, enables one to bring joy to the lives of his/her dependents not only at home but also in the office and this itself is a matter of pride. My skills have been honed for decision-making, to handle tight situations, anticipate problems and be ready to face them.


As an entrepreneur, I am also able to educate my team about team work and the need to put in each one's different skills, together.


When I checked the Internet for contents on the topic, I could see several references to 'ability to work own hours, being with the family, being creative, freedom to do what one wants' and so on. Entrepreneurship is much more than that, I would say and I realise that.


After all, even in a true democratic country no one is fully independent but rather dependent on each other in some manner. We human beings do need the support of others at all times. If one realises this fact of life, the spirit of being independent will not go to one's head and prevent imminent downfall.


So now you decide whether entrepreneurship gives one total independence or not!


Wish you all a great Independence Day.
Disclaimer: The views and opinions expressed in this article are those of the author and do not necessarily reflect the views, official policy or position of GlobalLinker.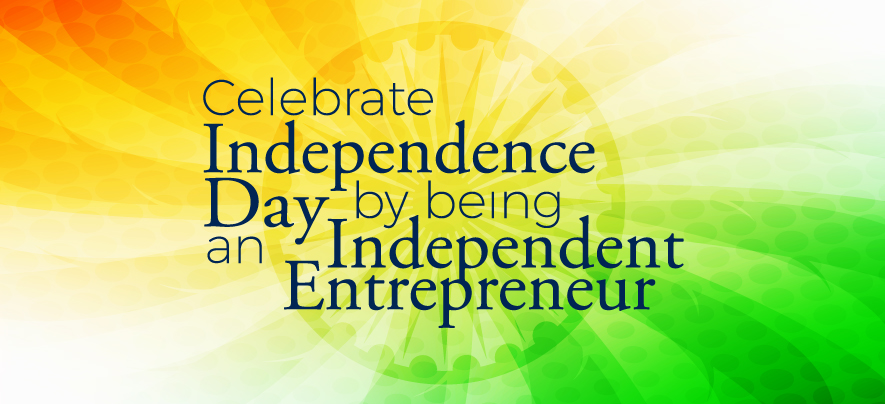 Posted by
Sridhar Narayanaswamy
Managing partner of Innovatus Systems, founded by him on January 1, 2013. Sridhar is a result oriented professional with over four decades in the Information Technology &...