Technology has made huge inroads into many sectors and has affected businesses in more ways than we can count. Like other functions, human resources also has had to adjust rapidly to automation and technology. It has traditionally been known to be mired in time-consuming duties and significant amounts of paperwork. But technology has changed much of that with HR platforms digitising much of the information that needs to be processed. The cloud is another innovation that's changing HR in a big way, removing inefficiencies in the process of collection and analysis of people data. Information is more easily accessible today and can help to uncover hidden insights into an organisation.

The transparency and cost savings brought about by HR technology has made it hard for organisations to ignore it. However, the potential impact of automation on HR careers is something that has started weighing on the minds of HR professionals.


A recent report by HR solutions firm PeopleStrong states that by 2020 a quarter of people may lose jobs in India due to automation. According to the company's research, India will make up around 23% of jobs to be lost to automation globally by 2021. HR technology companies are increasingly investing in areas such as big data, artificial intelligence and machine learning to augment HR service delivery. But, according to Daniel Culbertson - an economist with global job site 'Indeed' – the HR function is likely to withstand automation given the high level of complex human interaction it entails. It thus could make HR a future-proof profession.


Growing threat or not, employees are positive about the impact of technology on their jobs and they are open to re-skilling to help them leverage technology better.


Extensive adoption of new software is harder than it seems due to the initial costs like beta testing, debugging and training that are attached to it. Hence automation is a slow process and its impact will be felt at a slower pace. The need of the hour for HR is to understand how technology will shape the future of work. While there is no doubt jobs will be impacted, there is a likelihood of new positions being spawned to handle new technology. This will be largely driven by the role data-driven decisions play in business. In order to meet these evolving needs HR practitioners will have to upgrade their capability to manage data and leverage automation to remain relevant. Because at the end of the day if HR wants to play a strategic role within organisations, it needs technology to help it measure how human capital decisions affect the business and how business decisions affect human capital.
To explore business opportunities, link with me by clicking on the 'Invite' button on my eBiz Card.
Disclaimer: The views and opinions expressed in this article are those of the author and do not necessarily reflect the views, official policy or position of GlobalLinker.
Image source: Freepik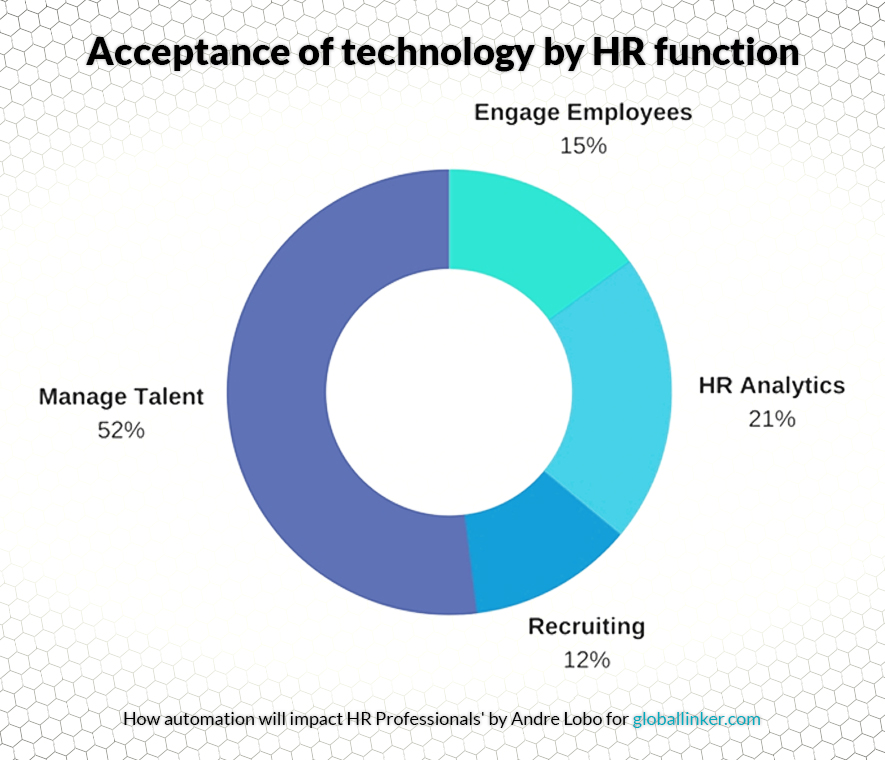 Posted by
Andre Lobo
Founder & CEO of a cloud technology company for HR and sales analytics. An avid reader, I have a passion for technology and how it can change our lives.