The past few years have witnessed Korean popular culture taking centre stage on a global scale. From Korean dramas to pop music, the world is witnessing a phenomenon that is commonly referred to as the 'Korean Wave'. Riding on this wave, entrepreneurs Sneha Arora and Bhavish Choksi created an eCommerce store, under the brand Karnival, that is a one-stop-shop for all kinds of fun Korean merchandise.
Sneha Arora (SA) spoke with our team at GlobalLinker (GL) about their brand and how creating an online store with GlobalLinker's eCommerce platform has amplified their sales and geographic reach.
GL: Tell us about your business.
SA: We are an eCommerce business that sells designer Korean inspired merchandise. The products we currently sell are notebooks, pocket diaries, planners, bookmarks and greeting cards of various K-Pop, K- Drama and Kawaii designs. We were motivated to address a gap in the Korean merchandise market where consumers faced issues with regards to the availability of good quality products at economical rates. Additionally, the official merchandise available was very expensive. Hence, we decided to fill this gap in the market with affordable merchandise available Pan India.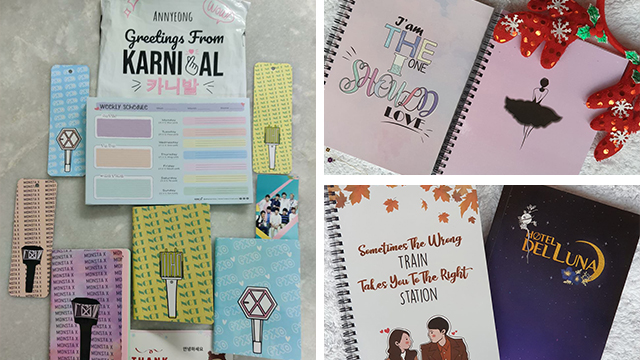 GL: What motivated you to take your business online?
SA: For market testing purposes, we initially started with offline events and Instagram DMs. However, it started getting difficult for potential customers to find us. Moreover, it got difficult for us to manage orders. We faced issues, right from inventory management and analysing customer behaviour, to payments and shipping. We realised that aside from an online store being key in today's day and age, it would also help us with credibility, wider reach, deliveries and making data-driven decisions.
GL: How did you learn about GlobalLinker's eCommerce platform - Linker.store?
SA: We heard about Linker.store from Artchetype Studio while scrolling through their Instagram page. The experience of creating our store was good, as there were tutorials available on Linker.store's YouTube page. For a few aspects that were not clear to us, we were able to easily get connected to the right people in the GlobalLinker team, and all our queries were quickly resolved. We had one-on-one sessions to set up tag manager and pixels for tracking. All in all, the navigation is very easy and convenient for any business trying to set up a store online.
The journey so far has been filled with learnings. We have seen immense growth of customers and sales. We love GlobalLinker for giving us the platform to express ourselves sustainably.
GL: What have been the positive outcomes of selling online?
SA: In one month, sales on our eStore crossed the figures that we made over the past three months through Instagram. We have reached the farthest corners of India from tier-4 cities to North-Eastern states. This has previously been a challenge for us. Customers also started trusting us more as our website became our online identity.
GL: Share your thoughts on your eCommerce journey so far.
SA: The journey so far has been filled with learnings. We have seen immense growth of customers and sales. We now have a much better vision for our future goals and growth strategies. GlobalLinker has all sorts of facilities that any online business owner requires - right from a 'Search' button, which is extremely important for sales conversions, to options for customisation, bulk uploads, tags, labels, filters, SEO and our personal favourite - OTP Login! The Do-It-Yourself (DIY) model of the website makes it extremely easy for anyone and everyone to start selling online from anywhere, with a bang! We love GlobalLinker for giving us the platform to express ourselves sustainably.
GL: Advice to business owners that are not selling online yet?
SA: Why restrict yourself to 1,000 customers in one city, when you can reach lakhs of customers across 1,000+ cities with just a few clicks! Make yourself known and let your website speak for your business.
Visit Karnival - www.lovekarnival.com
Also read: An online store that has helped this retailer increase sales even during the pandemic

Disclaimer: This article is based solely on the inputs shared by the featured member. GlobalLinker does not necessarily endorse the views, opinions & facts stated by the member.
Posted by
GlobalLinker Staff
We are a team of experienced industry professionals committed to sharing our knowledge and skills with small & medium enterprises.