The 'Make In India' campaign launched by Prime Minister Narendra Modi has already caught the attention of the world – and also people in India with entrepreneurial spirit. That's because small and medium enterprises such as your own organisation, have been the opportunity to start or expand their businesses. And now, says Minister of State for Finance, Jayant Sinha, PM Modi is slated to make a series of 'very important' announcements in December to further promote startups in the country.
Growing, Growing, Growing
According to a National Association of Software and Services Companies (Nasscom) report, startups in India have shown a tremendous growth over the last few years. More than 80,000 jobs have been created with total funding seeing about 125 per cent growth in 2015 compared to the previous year.
And with the easing of norms and opening of markets, SMEs and startups have seen a steep growth in recent months. The announcements are expected to help SMEs and startups do business easily and also to ensure that financing is made available. The budget included a number of important steps to encourage startups, including the India Aspiration Fund and the Atal Innovation Mission.
Where's The Money?
In the near future, the country is expected to see a growth in a number of hotspots for startups too. Currently, Bangalore has been ranked as number one hotspot in the country, ahead of Delhi-NCR and Mumbai. Following them are cities like Kolkata, Ahmedabad, Jaipur, Kochi, Pune and Thiruvananthapuram.
Bangalore saw a 4x rise in the amount of funding, making it a thriving city for startups. A total of $2.43 billion of venture investment was made in Bangalore this year, making it the 7th biggest investment destination in the world. The bulk of this investment was made in e-commerce website Flipkart.
The online shopping firm raised $700 million in July this year. But the firm had also raised around $1000 million in July 2014, which was the biggest round of funding for any Indian startup. Congress vice-president, Rahul Gandhi praised the Karnataka government's active role in making Bangalore a favourable place for startups and SMEs.
New Delhi-NCR (National Capital Region) attracted about $1.43 billion. Around $500 million from that amount was put into another online shopping startup, Snapdeal. Mumbai, meanwhile, stood at third place with $610 million investment.
The Centre Of It All
Cities like Bangalore and Delhi-NCR are brimming with tech-savvy talent, which makes them popular with startups. Bangalore is home to the Indian branches of several US corporate giants, including Amazon, IBM, and Microsoft, and most entrepreneurs have learned the ropes in companies like these. For entrepreneurs, Bangalore is a startup haven.
Mobile penetration has also risen. According to an estimate, India will soon surpass US as the second largest market of smartphones, with China being the leader. Most startups now are concentrating on smartphone apps to reach a wider customer base as now even delivery boys carry smartphones and are easier to reach.
Successful startups also depend on a favourable ecosystem created by the government. Bangalore is India's hub of startups, and so events, seminars, meet-ups, conferences and weekend getaways are organised to bring together entrepreneurs to raise funds and connect with each other. These events play a crucial role in bringing together like-minded people and also help in understanding the market and payment methods. A startup hotspot also acts as a common point for major investors to track the business models and growth of SMEs and startups.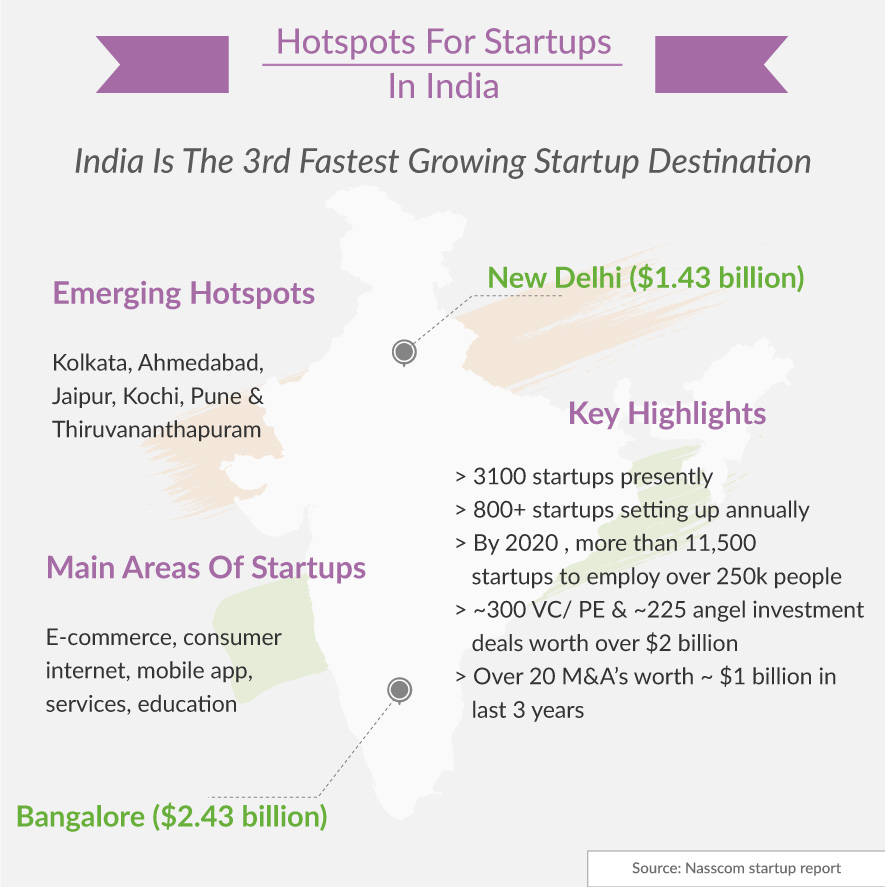 Posted by
GlobalLinker Staff
We are a team of experienced industry professionals committed to sharing our knowledge and skills with small & medium enterprises.